Sandra Memory Bandwidth

AIDA64 Memory Performance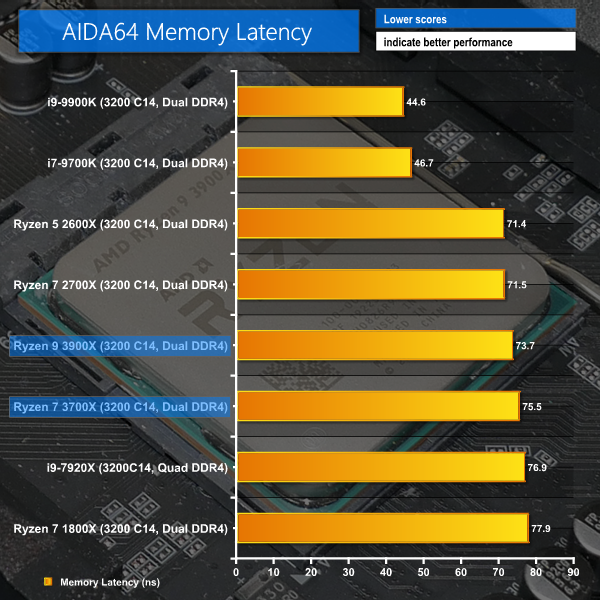 Memory bandwidth is close to where we'd expect it for 3200MHz C14 DDR4 in dual-channel mode. There is a slight performance reduction for Zen 2 versus Zen and Zen+ and this is perhaps attributable to the memory controller's residency in the segregated IO chiplet.
We checked with AMD regarding the roughly half-speed memory write performance from our Ryzen 7 3700X in AIDA64. According to the response, this is to be expected given the application of one CCD for the eight-core Zen 2 part, as opposed to two CCD and therefore two links to the memory controller in the IO die for the 12-core chip.
Memory latency from Zen 2 is comparable to that of Zen and Zen+. This performance is, again, in spite of the segregated IO die for Zen 2 parts.
As a point of reference, AMD's claimed cache latency improvements look to hold true. Our SiSoft Sandra Cache and Memory Bandwidth test delivers 58.9ns for the Zen Ryzen 7 1800X, 52.6ns for the Zen+ Ryzen 7 2700X, and 33.1ns for the Zen 2 Ryzen 7 3700X and Ryzen 9 3900X. Running 3600MHz C16 DDR4 with Ryzen 9 3900X reduces that latency figure by 6% down to 31.1ns.