Cinebench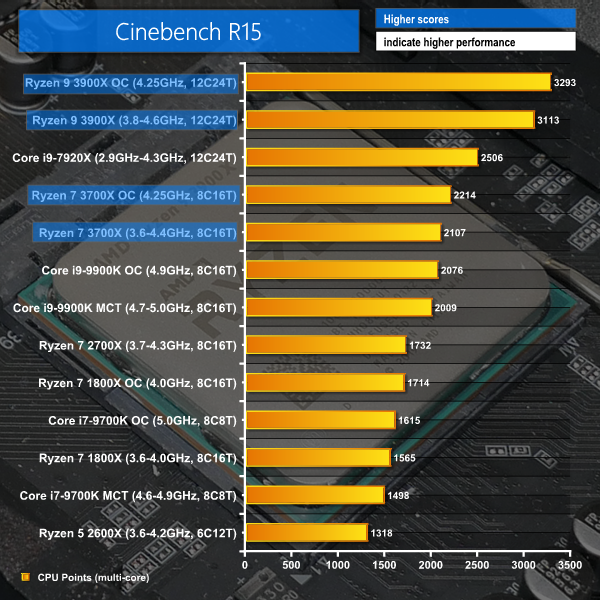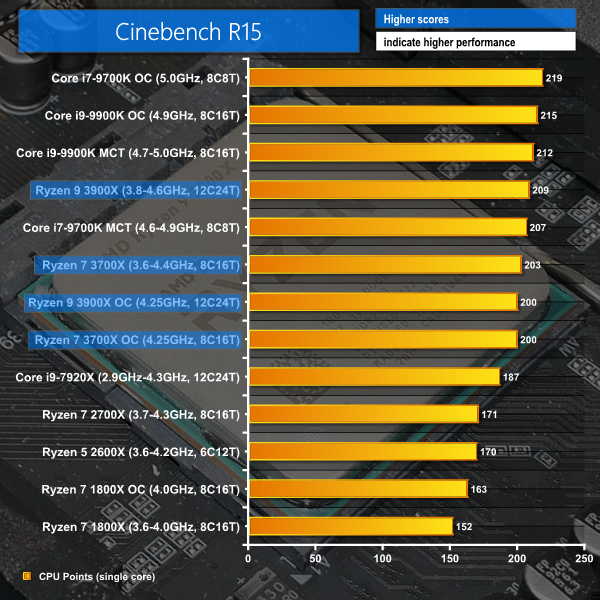 Starting with everybody's favourite – Cinebench R15 – we see AMD cementing their already-strong position obtained through Zen. The twelve-core, 24-thread Ryzen 9 3900X takes top spot in our chart, even before overclocking, handily beating out the significantly more expensive Intel HEDT 12-core chip. Overclocking boosts the 3900X's score by a little over 100 points but you'd have to be pushing pretty hard to make the doubts of stability and poorer power efficiency worth it over the stock configuration, in my opinion.
Breaking past 3000 points on a mainstream platform is impressive, to say the least! Equally impressive is the Ryzen 9 3900X's ability to outperform the similarly-priced Core i9-9900K by a margin of 55%.
Switching focus to the eight-core Ryzen 7 3700X and we see another excellent showing for the chip based on AMD's new Zen 2 architecture. Out-of-the-box speeds, with a strong CPU cooler, allow the 3700X to outperform Intel's Core i9-9900K – a chip that costs around 50% more. Again, overclocking isn't particularly worthwhile given the limited frequency headroom available on our sample. The value on offer from AMD is unquestionable when analysing Cinebench performance.
Looking at the price competitor – Intel's eight-core, eight-thread Core i7-9700K – the 65W Ryzen 7 3700X outperforms that part by 41%. Not bad for a chip that only requires 65W of cooling grunt to operate correctly.
Compared to previous generation eight-core, 16-thread Ryzen chips – the 1800X and 2700X – we see a performance uptick for the 3700X of 35% and 22% respectively. That performance improvement is driven by a combination of the frequency advantage permitted by AMD's 7nm design process, in addition to the under-the-hood architectural improvements for Zen 2.
Let's take a look at single-thread performance in Cinebench R15 – an area where AMD has historically struggled against Intel.
Aided by the preferential boost frequencies that Precision Boost 2 gives to Ryzen 3000 chips, the Zen 2 offerings deliver respectable score in this single-threaded test. Intel's highly-clocked Skylake architecture in the Coffee Lake Core i7 and Core i9 CPUs still tops the chart. However, AMD has practically eliminated the single-threaded performance deficit that was significant with Zen and Zen+.
Now, the percentage loss versus Intel Core i7-9700K and i9-9900K sits at around 1-2% – close enough to call the scores almost even. A significant improvement over the circa-15% performance loss expected when comparing the Zen+ 2700X to the Coffee Lake i7-9700K and i9-9900K .
Impressively for Ryzen 3000 is the ability for AMD to compete strongly with Intel's single-threaded performance, despite Team Blue maintaining the significant frequency advantage provided by the robust 14nm++ process technology. Clock-for-clock, the architecture in Zen 2 looks strong, even compared with Intel's Skylake. The Skylake-X Core i9-7920X highlights this point perfectly, with its more constricted boost clock speeds that are comparable to Ryzen 3000 forcing Intel's 12-core HEDT chip to sit behind the AMD Zen 2 options in single-threaded performance.
Versus 3200MHz C14 RAM, 3600MHz C16 DDR4 with the Ryzen 9 3900X delivers a 0.4% performance improvement for the multi-threaded test and 0.0% for the single-threaded test.
Cinebench R20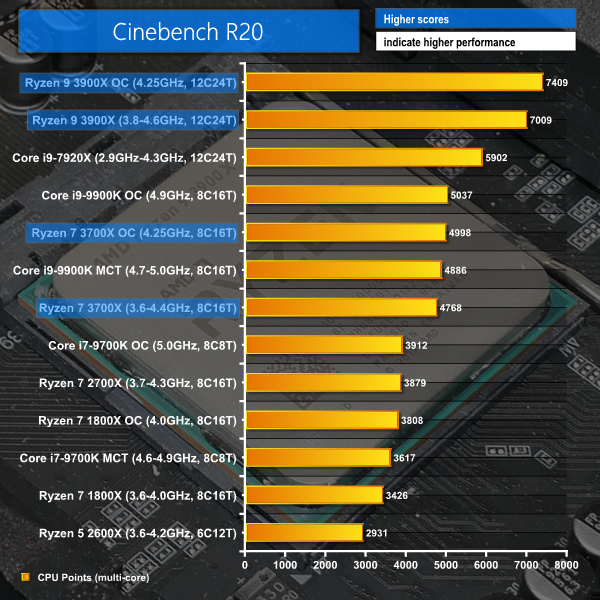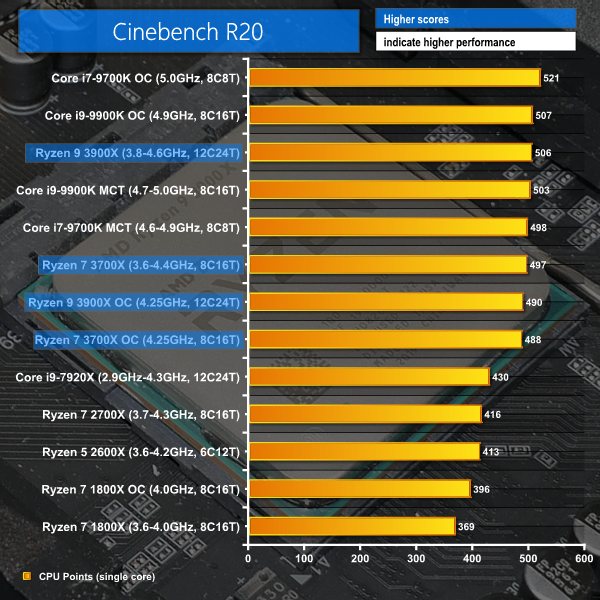 A new addition to our test suite is Cinebench R20. The longer benchmark run gives us a good opportunity to examine performance over extended load periods, thus allowing short-duration boost frequencies to settle down into long-duration speeds.
The multi-threaded performance picture is very similar to that of Cinebench R15. AMD's Ryzen 9 3900X still tops the chart, comfortably, with the nearest competitor – Intel's 12-core HEDT Core i9-7920X – sitting 1100 points or 16% behind. This time, however, Intel's Core i9-9900K leapfrogs the Ryzen 7 3700X. This jump is largely influenced by the forced-turbo speeds of Intel's chip when used with our Gigabyte motherboard, in addition to the slightly reduced all-core frequency for the 3700X in this longer benchmark run.
Against the Core i7-9700K, Ryzen 7 3700X wins by a comfortable 32% margin. The 23% performance jump versus AMD's Zen+ Ryzen 7 2700X is also noteworthy.
Zen 2 continues to prove its single-threaded might with strong shows in the Cinebench R20 1T test. Both of the Ryzen 3000 chips place closely enough to Intel's Coffee Lake competitors to call this result a tie. The 12-core Ryzen 9 3900X outperforms the 12-core i9-7920X by a healthy 18%, while the single-threaded performance uplift from the OG Ryzen 7 1800X is a sizeable 37%. Not bad for two generations and 22 months' worth of work.
Versus 3200MHz C14 RAM, 3600MHz C16 DDR4 with the Ryzen 9 3900X delivers a 0.3% performance improvement for the multi-threaded test and a 0.7% improvement for the single-threaded test.
Blender BMW Benchmark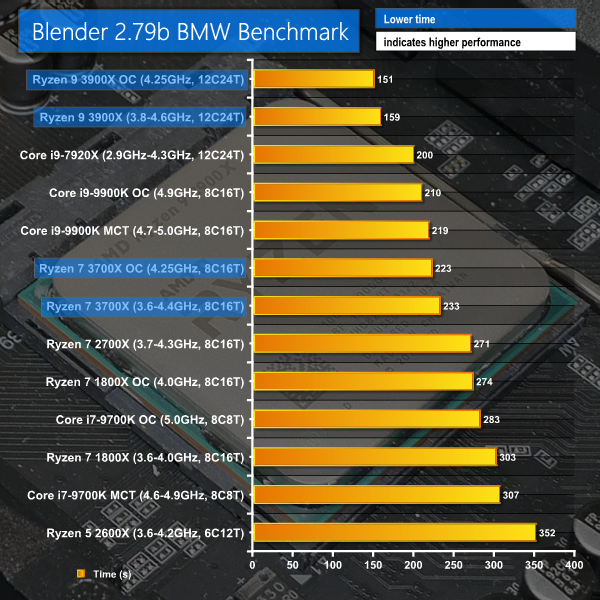 Unsurprisingly at this point, AMD takes another commanding victory in the heavily multi-threaded Blender test. The Ryzen 9 3900X completes the BMW benchmark in 159 seconds – a full 41 seconds faster than the i9-7920X which translates into a 20% performance improvement. AMD's ability to maintain full clock speed through the Blender test is one of the key factors for its heavy performance increase versus the Intel HEDT part that reverts down to AVX-type operating frequencies close to the 3GHz mark.
And compared to the equally expensive Core i9-9900K, those 50% added threads for the AMD Zen 2 chip give it a performance lead of 27% against the Intel octa-core.
AMD's Ryzen 7 3700X cannot match the i9-9900K in this test, largely due to the superior operating frequency of Intel's 14nm++ chip. Compared to its price competitor, however, the 3700X outperforms the straight-eight i7-9700K by a healthy 24% margin. Even pushing the i7 to 5.0GHz only allows the performance deficit to be reduced to 18% versus the stock 3700X.
And looking at the Ryzen predecessors, AMD's eight-core Zen 2 part is 14% quicker than the 2700X and 23% faster than the 1800X. That 14% improvement over the 2700X speaks loudly for AMD's architectural improvements with Zen 2 as the all-core clock speeds for both parts will be similar in this lengthy workload.
Versus 3200MHz C14 RAM, 3600MHz C16 DDR4 with the Ryzen 9 3900X delivers no performance improvement for Blender.
If you do a lot of CPU-based rendering using Blender, AMD's Ryzen 9 3900X is a superb choice and the Ryzen 7 3700X is also a strong offering at its lower price point.