The Core i9-9900KS is fundamentally a pretty simple product; Intel has taken the best of the Core i9-9900K chips, pushed the frequency even higher, and released them on a limited run as the 'special edition' Core i9-9900KS. That's about the crux of it, and that's not such a bad thing.
For years, enthusiasts have been bored by Intel's single-digit percentage point performance uplifts and more refined iGPUs on successive product launches. While the Core i9-9900KS does nothing to argue against those points, seeing as it isn't really a fundamentally new product, it does go some way to giving enthusiasts a piece of hardware that is desirable.
At the cost of power efficiency and operating temperatures, there is little performance left on the table by Intel. And that's a good thing for enthusiasts who want a fast product that doesn't feel shackled by efficiency constraints or cooling limitations.

Don't have or want a high-end CPU cooler? Don't buy the Core i9-9900KS. Don't have or want a Z390 motherboard with a respectable power delivery solution? Don't buy the Core i9-9900KS. Want an uncompromising Coffee Lake-based eight core chip that gives you 5GHz out of the box? Take note of the Core i9-9900KS.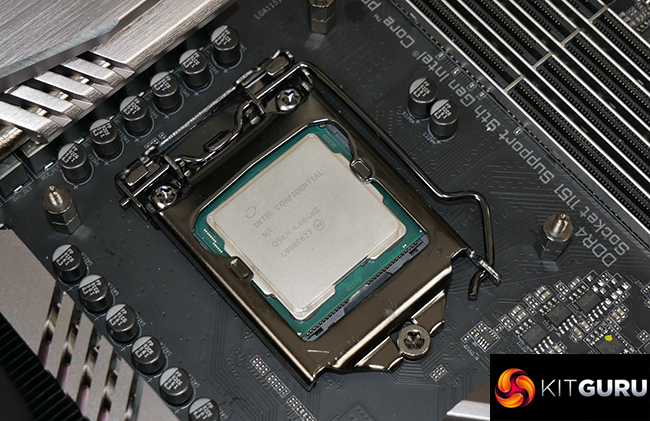 When you break it down, the Core i9-9900KS shares all of the same downfalls as the 'non-special' Core i9-9900K. Ryzen 3000 is more power efficient, offers competitive IPC from the Zen 2 architecture, provides extra cores at similar price points, sits on the more feature-heavy AM4/X570 platform, and is all-round far superior value. Taking all of those points into account, there would need to be a specific reason to opt for Intel's Coffee Lake Core i9-9900KS.
That specific reason is all-out high refresh rate gaming. Coffee Lake in its highly clocked, eight-core forms is still the best there is when it comes to gaming performance. You'll generally need to be running at high frame rates in excess of 120 FPS to recognise the frequency-rich Intel processor's advantage versus Ryzen 3000, but the gaming performance uplift for Team Blue is undeniable.
If you are a high refresh rate gamer who demands the best performance and were previously considering the Core i9-9900K, the slightly more expensive and 'special edition' Core i9-9900KS now becomes a reasonable consideration. Otherwise, Ryzen 3000 is generally the more balanced, better value option even at this £500 price point. Plus, you get a 3-year warranty with the Ryzen 9 3900X, instead of 1-year on the Core i9-9900KS (yes, I am still sour about that)!

You can find the 9900KS over at Overclockers UK HERE. Intel set its pricing at $513 MSRP, but in the UK we have been told to expect pricing around £599.
Pros:
5GHz all-core out of the box, even in AVX workloads.
Solid overclocking headroom on our sample – 5.2GHz was manageable.
Higher quality silicon compared to an average Core i9-9900K (according to Intel).
Fastest gaming processor on the market.
Ideal for lightly threaded workloads that demand frequency.
Novelty of a limited run, 'special edition' piece of hardware may appeal to some.
Reasonable price increase over the Core i9-9900K.
Cons:
Productivity and multi-threaded performance deficit versus Ryzen 9 3900X is generally large.
Value versus AMD's Ryzen 3000 line-up is generally poor.
1-year warranty instead of the usual 3 years.
Demands a high-end motherboard and expensive cooling to operate.
KitGuru says: 5GHz on all eight Coffee Lake-based cores is impressive. If you were in the market for a Core i9-9900K, spending an extra few pounds for the special edition Core i9-9900KS is a logical move. This is the fastest gaming processor on the planet and will appeal to enthusiast gamers. However, most other users will generally find better value in AMD's Ryzen 3000 competitors.