A few weeks ago, AMD began showing off its new CPU cooler known as the Wraith, which was set to offer much quieter operating temperatures compared to current stock cooler solutions. Now, the Wraith is finally making its way out into the world, alongside some new processors, including the A10-7860K APU and the Athlon X4 845 CPU.
The new Wraith cooler has been designed to deliver 34 percent more air flow and 24 percent more surface area for better heat dissipation compared to the previous stock cooler. There is another newly designed cooler also coming, which is rated for chips with an up to 95W TDP.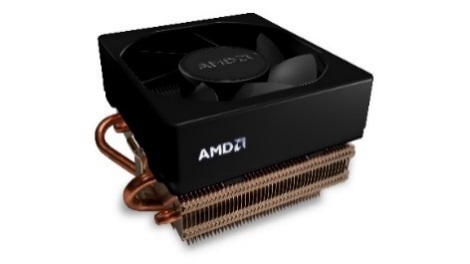 The Wraith and the new 95W TDP cooler will be shipping with the following processors:
AMD FX 8370
AMD A10-7860K
AMD A8-7670K
AMD A8-7650K
AMD Athlon X4 870K
AMD Athlon X4 860K
AMD Athlon X4 845
AMD also announced the new A10-7860K APU, which uses four CPU cores clocked at 4 GHz along with eight additional GPU cores powered by Radeon R7 technology. This is aimed at gamers who want to play less demanding competitive games like Counter-Strike, League of Legends or Dota 2.
There is also the Athlon X4 845, which is the first desktop CPU featuring AMD's 'Excavator' cores, this chip comes clocked at 3.8 GHz and is rated for a 65W TDP. This chip is said to offer the highest Instructions Per Clock performance of any X86 chip from AMD yet.
KitGuru Says: Stock CPU coolers tend to get loud and allow the chip to run quite hot so it is nice to see AMD making some improvements in that area. It is also nice to see them launch a desktop CPU using the Excavator architecture though many are still probably going to hold out for Zen at the end of the year.