It has been just a few weeks since AMD first announced the specs, pricing and availability dates for 3rd Generation Threadripper processors. We've all been waiting keenly for the proper launch day and now, reviews are officially live and retail availability has begun. If the glowing praise coming out for the first two new Threadripper SKUs wasn't enough, then AMD has also announced an even bigger TR 3990X with 64 cores and 128 threads. 
Over the last week, our very own Luke Hill has been hard at work preparing a comprehensive technical review and analysis for both the 24-core TR 3960X and the 32-core TR 3970X. While Intel attempted to challenge AMD's latest HEDT chip launch with the Cascade Lake-X series, the new Threadripper chips are "clear market leaders and are basically unmatched in terms of heavy multi-threaded compute performance", as Luke puts it.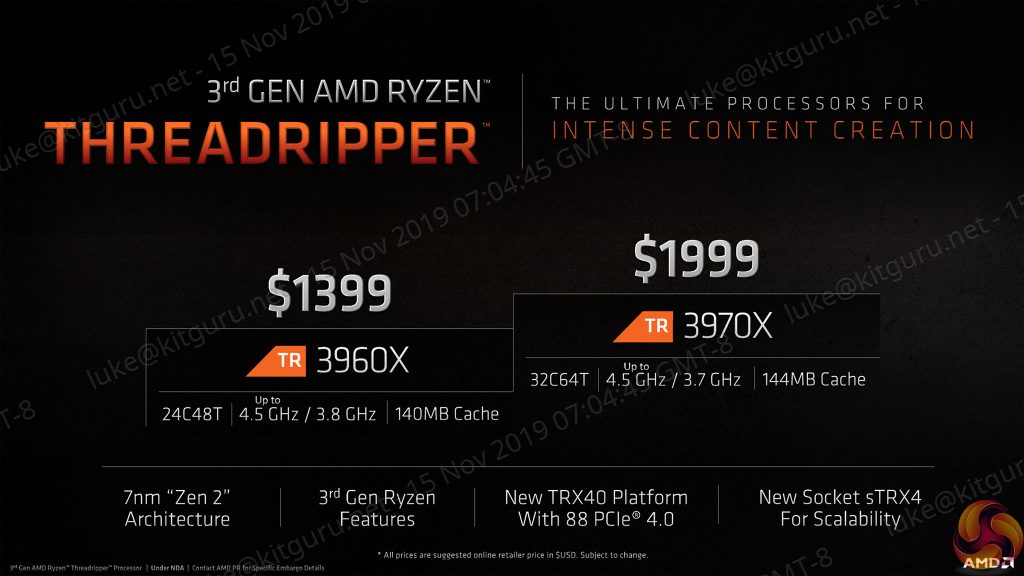 As always though, market leading performance comes at a price. Due to several key platform upgrades, the new 3rd Gen Threadripper processors do require a new sTRX4 socket motherboard and are not backwards compatible with previous socket TR4 motherboards. This does make the upgrade path more expensive, particularly for those that invested in the previous platform in hopes of a simpler CPU upgrade path. However, according to our review at least, this upgrade does seem justifiable due to new features like PCIe 4, higher TDP chips and higher core counts over Gen 2 Threadripper thanks to the upcoming TR 3990X. Older socket TR4 coolers will be forwards compatible though, as the mounting points are the same on newer TRX40 motherboards.
In terms of price, we are currently looking at £1,349.99 for the TR 3960X and £1,889.99 for the TR 3970X here in the UK. Meanwhile, the first TRX40 motherboards landing in the UK start at £389.99, with prices going up to over £800. There is a limited selection of motherboards listed at retail at the moment though, so we can expect more variety in features and cost over the coming months.
AMD's 3rd Gen Threadripper launch is already a huge critical success but there is still more to come. Today, AMD has also announced the TR 3990X, a 64-core, 128 thread monster chip with 288 MB total cache and a 280W TDP. We don't know any details on clock speeds or pricing yet, but a launch is coming in 2020, so we can expect more details when the new year rolls around.
KitGuru Says: AMD's 3rd Gen Threadripper processors are pricey, especially compared to the first generation and even Intel's new Cascade Lake-X CPUs. However, there is no denying that there is also a huge performance bump arriving with it. What do you all think of the new HEDT CPU launches today from AMD and Intel? Are any of you planning to pick one up?