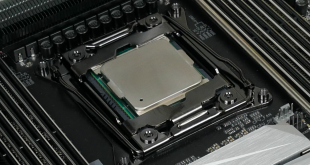 Intel's new Cascade Lake-X processors have launched for the X299 HEDT platform, with the new flagship Core i9-10980XE featuring a huge price reduction to $979 MSRP. That $1000 trimming of the ticket price places Intel's new HEDT line-up in a far stronger position to compete against AMD's Ryzen and Threadripper offerings.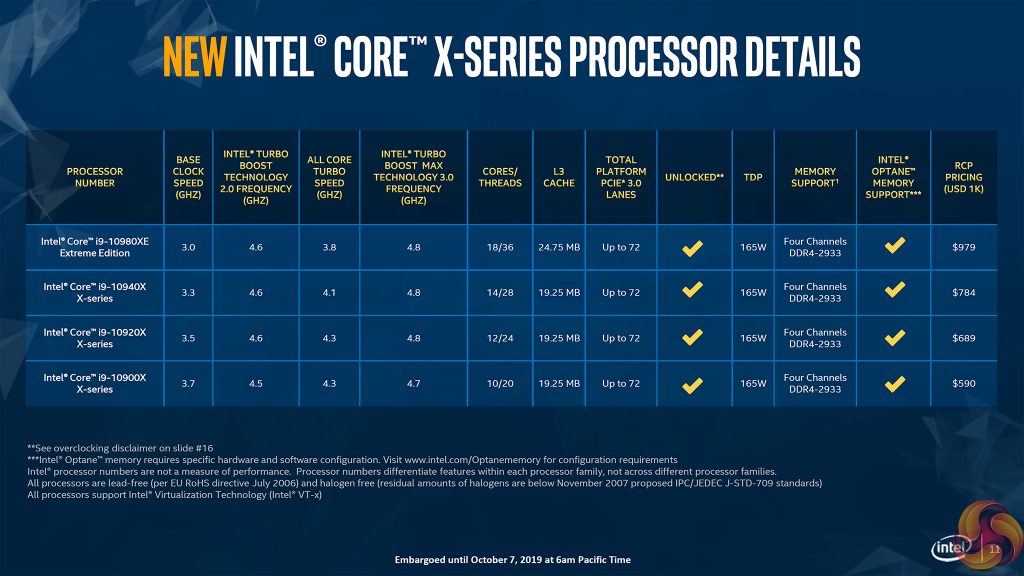 Fundamentally, the Cascade Lake-X chips are slight revisions of their Skylake-X 9000-series predecessors (which in themselves were slight revisions of the Skylake-X 7000-series processors). They slot into the same LGA 2066 socket and are compatible with existing X299 motherboards with a BIOS update.
The flagship Core i9-10980XE features 18 cores and 36 threads built on Intel's revised 14nm process technology. Say what you want about Intel's struggles with 10nm, but the company's ability to keep pushing and refining 14nm is really impressive given how competitive TSMC's 7nm node is. Intel still maintains a frequency advantage versus TSMC 7nm, but power efficiency is far better for the smaller process used by Zen 2.
The base clock is 3.0GHz with a maximum Turbo Boost Max 3.0 frequency of 4.8GHz, Turbo Boost 2 frequency of 4.6GHz, and an all-core frequency of 3.8GHz. It is important to note that the frequencies may be reduced under heavy AVX operations as such workloads can eat more greedily into the power budget that Intel uses to control boost frequencies.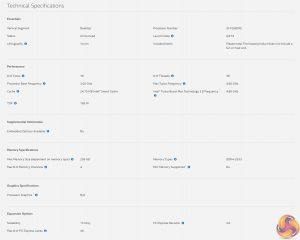 The official TDP figure is still 165W for the flagship, even though most X299 motherboards will blatantly ignore this when settings such as XMP are applied.
Cache capacity comes in at 24.75MB of Intel Smart Cache, you get AVX-512 support with 2 FMA units, quad-channel memory is still available, and there's support for Intel Optane memory, if that's important to you.
If you're thinking that those specs sound familiar, it's because they are. Intel's 'new' Core i9-10980XE is a slightly tweaked version of the current i9-9980XE. To keep things simple, we will highlight the main differences between the two 18-core parts.
The new Core i9-10980XE features higher maximum boost frequencies than its predecessor. Turbo Boost Max 3.0 is up to 4.8GHz versus 4.5GHz for 9980XE and Turbo Boost 2 is now 4.6GHz versus 4.4GHz for the older chip.
Digging into XTU under our own usage, we can see that the frequency uplift for Intel's 10980XE (screenshot on the left) will be especially predominant versus the 9980XE (screenshot on the right) when 1 and 2 cores or 3 and 4 cores are loaded. Once you go beyond loading 12 cores, the operating frequencies, according to our XTU data, are identical.
As a note, up to 4 cores at 4.7GHz is certainly an impressive operating frequency for this level of processor. You get high lightly-threaded frequencies and scalability for heavily multi threaded workloads.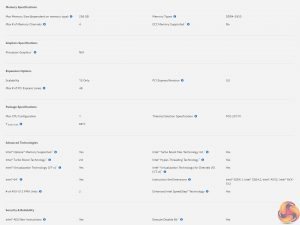 There's now support for 256GB of DDR4 memory, thanks to new 32GB DIMMs coming to market. Though, unlike Threadripper, Intel still does not offer ECC for its Core i9 chips, which we don't feel the need to complain about.
Official memory frequency support is improved to DDR4-2933MHz in 1 DPC mode and DDR4-2666MHz in 2 DPC mode. No doubt, X299 motherboards will support higher, as they did with 7000-series and 9000-series processors. We ran 3200MHz XMP in 1 DPC mode without problems. This official bump is more important for OEM system vendors like Dell and HP, though.
You now get 48 PCIe Gen 3 lanes from the CPU, up from 44 lanes for the 9980XE. That's in addition to the up to 24 PCIe Gen 3 lanes for the X299 chipset, though they connect via a very limited DMI 3.0 interface (which is effectively a PCIe 3.0 x4 connection). An extra 4 lanes is certainly a nice value add, but AMD's competing TRX40 HEDT platform is far more bandwidth generous by offering PCIe Gen 4 support and a fatter pipe to the chipset.
One of the key differences is support for Intel Deep Learning Boost, or DL Boost for short. Intel pushes this AVX-512-based feature set for workloads such as AI image inference. Though software packages that take advantage of DL Boost are currently scarce, it's certainly a feature that's worth paying attention to if you plan to work with AI inference-type projects in the future.
The i9-10980XE's Tjmax is now 86C versus 84C for 9980XE. The older 7980XE was higher at 94C, which made it good for pushing hard overclocks, especially when de-lidded. Thankfully, Intel gives the Cascade Lake-X flagship a heatspreader that is soldered.
Also worth noting is support for Intel's Performance Maximizer overclocking tool, in addition to security mitigations that are baked into Cascade Lake processors.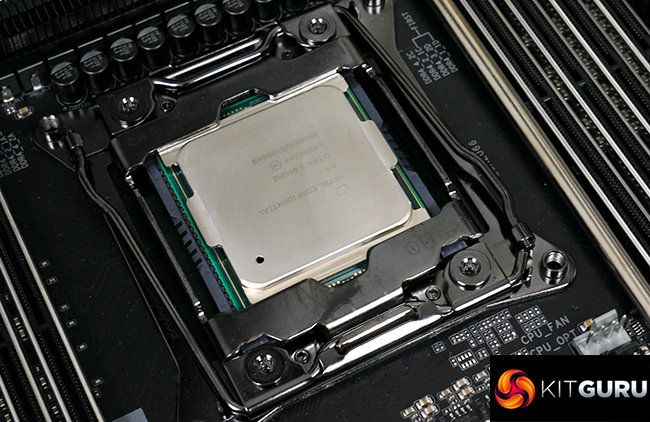 Most importantly, though, is the massive $1000 price reduction for the Core i9-10980XE versus the Core i9-9980XE it replaces. This is a big deal as it now makes the flagship 18-core reasonably affordable, plus it gives a good upgrade path for early X299 adopters on the 10-core 7900X who may have otherwise been tempted by Threadripper 3000.
Intel's new pricing puts the flagship nicely in the rather large void left by AMD's Zen 2 line-up between $749 and $1399. It will be interesting to see if Intel enjoys a performance lead versus the older Threadripper parts that AMD expects to fill the void.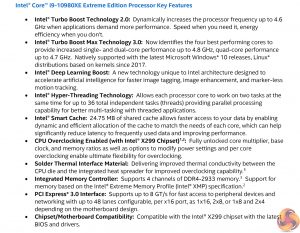 Be sure to check out our sponsors store EKWB here