7-Zip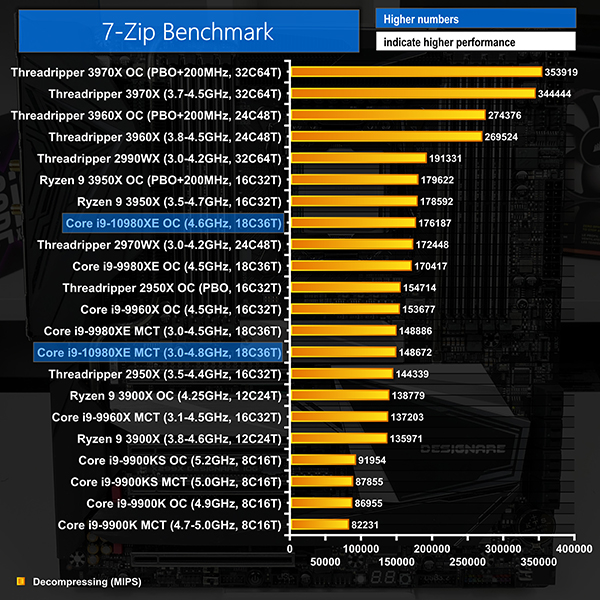 In 7-Zip's decompression test, we, yet again, see that performance of the 10980XE is basically identical to the 9980XE. AMD's cheaper Ryzen 9 3950X and Ryzen Threadripper 2970WX both deliver commanding victories versus the Intel HEDT flagship as AMD's Zen architecture is particularly strong for this decompression workload. Even a heavy overclock to 4.6GHz only allows Intel's best Core i9 to roughly keep pace with AMD's cheaper contenders.

Looking at Cascade Lake-X versus Threadripper 3000, the 40% more expensive AMD 3960X 24-core chip is 81% faster stock versus stock and 56% better OC versus OC.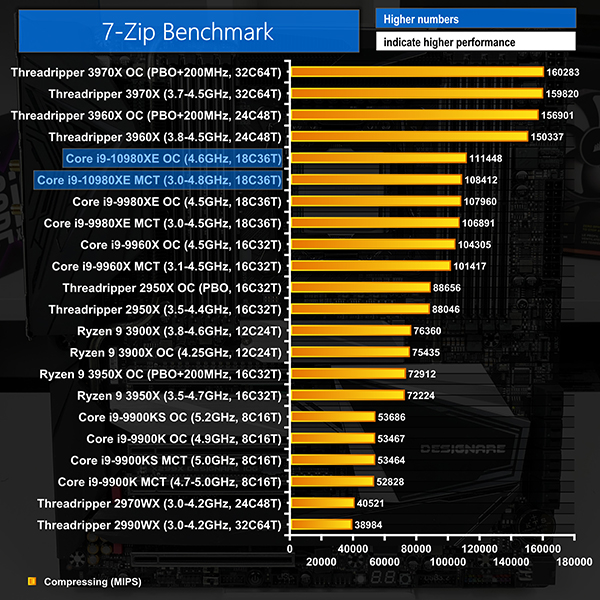 Memory bandwidth and accessibility play more important roles in the 7-Zip compression test and this allows the Core i9-10980XE to comfortably outperform AMD's dual-channel Ryzen 9 3950X in addition to the Threadripper 2970WX with its unique memory system. Even the 16-core, quad-channel Ryzen Threadripper 2950X is outgunned by Intel's Cascade Lake-X flagship to the tune of 23%.
This is a strong result for Intel's new HEDT flagship, though the benefit of those 18 cores are somewhat questionable, given the proximity of the 16-core i9-9960X's performance. That's the same story for Threadripper 3000 which, as it happens, offers significantly higher performance than Intel's more affordable HEDT chips.
Handbrake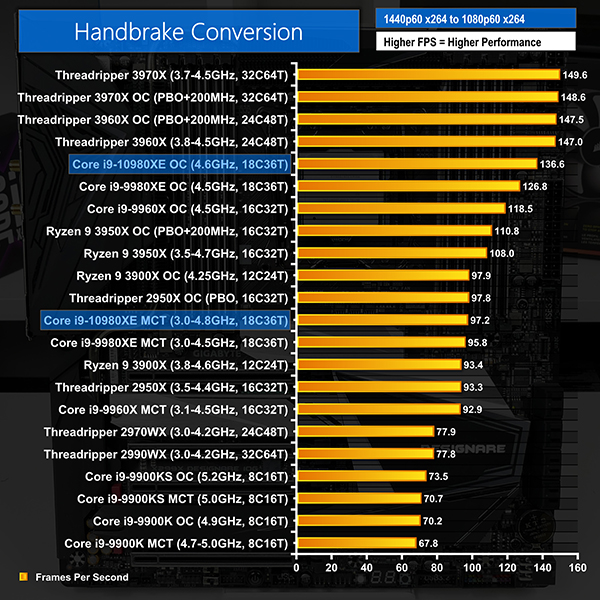 Handbrake struggles to saturate 100% of the CPU resources on these high core count chips, so operating frequency becomes even more important. The Core i9-10980XE is a smidgen faster than the Core i9-9980XE as the newer chip is more able to sustain higher frequencies in light of the AVX offset trigger in this workload. AMD's cheaper Threadripper 2950X needs a PBO overclock to outperform the stock 10980XE, while memory accessibility issues for the 2970WX mean Intel's stock Core i9 flagship is 25% faster.
The $749 Ryzen 9 3950X puts in a strong fight against the more costly Cascade Lake-X chip, with AMD's mainstream part offering 11% higher performance. Throw overclocking into the mix and the strong frequency capability from Intel's 14nm chip and the removal of AVX speed reductions delivers a large performance boost that is only bested by Threadripper 3000. Clearly, our Handbrake x264 conversion test loves frequency in addition to many cores, and Intel's HEDT flagship delivers well on that front.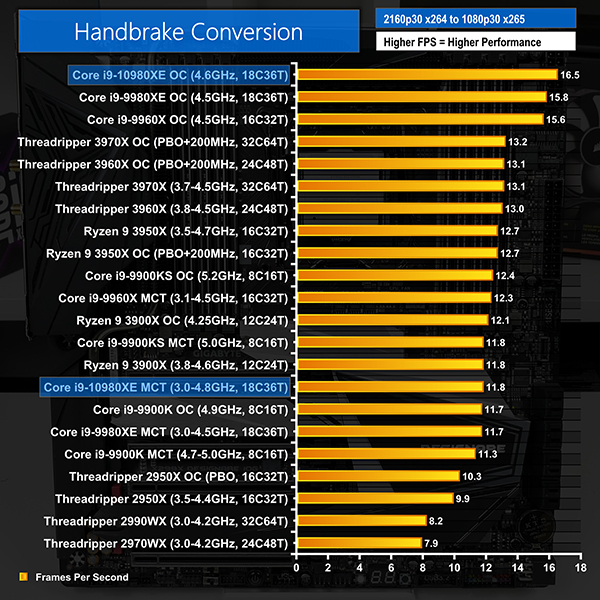 Resource utilisation on high core count CPUs is even lower for our Handbrake x265 test. Intel's Core i9-10980XE is, again, almost identical to the i9-9980XE it replaces. Compared to Ryzen 9 3950X, AMD's $749 chip is faster than Intel's $979 one thanks to higher sustained frequencies. Intel does, however, manage to comfortably outperform the Threadripper 2970WX and its awkward memory configuration with the 10980XE.
Overclocking is where the Intel HEDT chips really shine, and Intel's new Cascade Lake-X flagship shoots straight to the top of our chart at 4.6GHz. Even AMD's hefty Threadripper 3000 parts cannot keep pace with the 4.5GHz-plus Intel HEDT chips. If you only want to do single video conversion with Handbrake x265, the Core i9-10980XE is a performance leader when overclocked and still has ample CPU resources spare for reasonable background multi-tasking.