Cinebench R15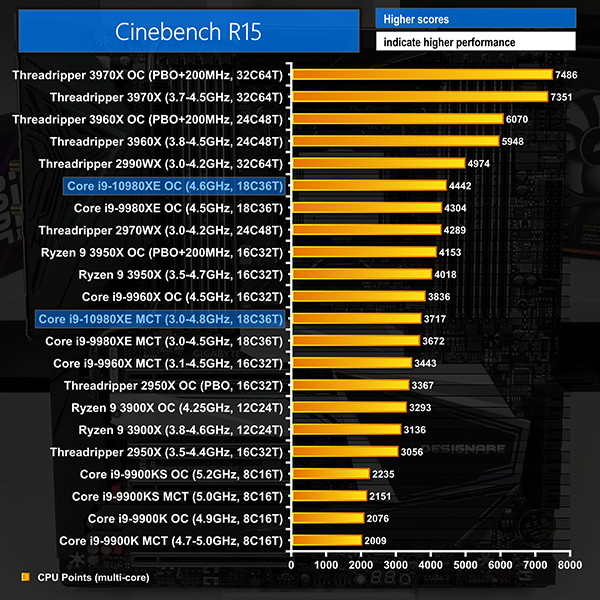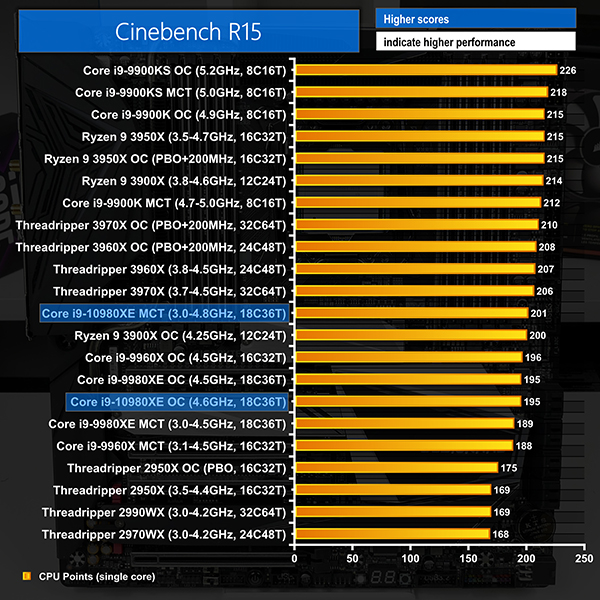 Starting with Cinebench R15 multi-threaded, the similarities between the 10980XE and the 9980XE it replaces are clear to see. Intel's roughly £1000 HEDT flagship has a tough time hanging with the similarly priced Threadripper 2970WX, with AMD's last-gen chip offering 15% higher performance stock versus stock. Even worse for Intel, the $749 Ryzen 9 3950X also offers higher performance out of the box.
Overclocking is where Intel's chip shines, with the speed bump to 4.6GHz delivering 20% extra performance, now putting the 10980XE faster than the stock-clocked Threadripper 2970WX and the PBO overclocked 3950X.
Compared to AMD's new Ryzen Threadripper 3000 chips, Intel cannot really compete in this test. At stock clocks, AMD's $1400 24-core 3960X is 60% faster and the 32-core 3970X offers nearly double the performance, albeit at double the price.
Cinebench R20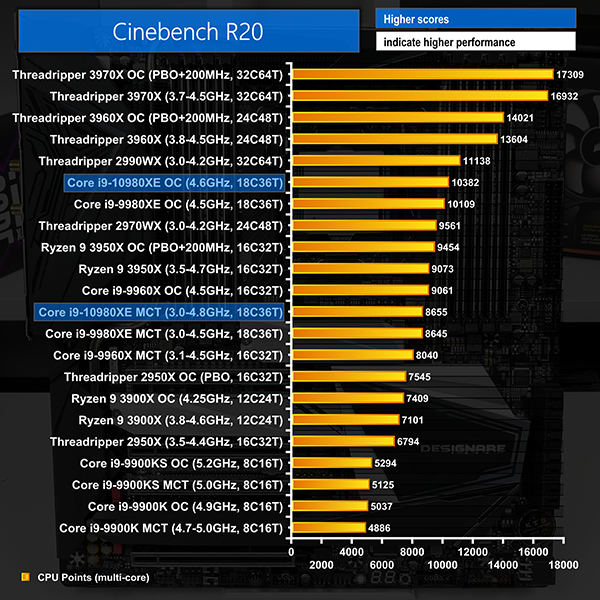 Despite the longer run time and more demanding workload for Cinebench R20, the same performance trends are observed. The 9980XE and 10980XE are basically identical as they both share a 3.8GHz all-core frequency, provided AVX limits aren't hit. Last-gen Threadripper 2970WX is faster than the Core i9-10980XE by 10%, while the cheaper Ryzen 9 3950X is 5% faster.
Leveraging Intel's heavy frequency headroom puts the Core i9-10980XE above stock-clocked Threadripper 2970WX by 9%. Intel's OC versus OC performance lead against Ryzen 9 3950X is 10%, albeit with a $230 price premium.
Once again, AMD's more expensive Threadripper 3000 series HEDT parts are at a completely different performance level to Intel's HEDT Core i9 flagship.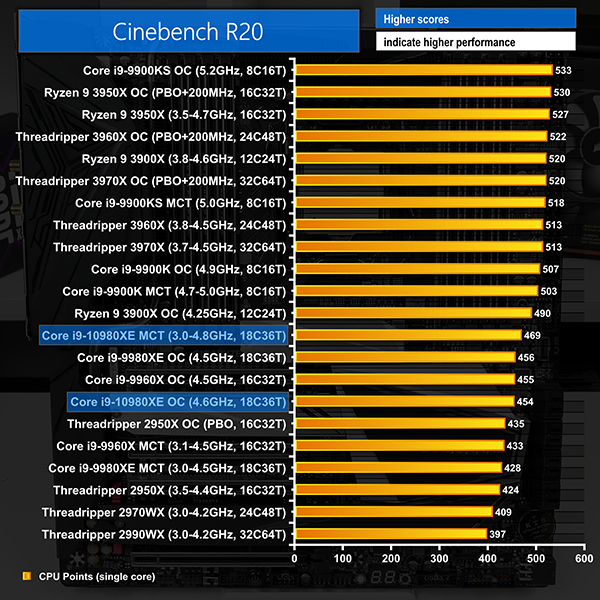 A higher maximum boost clock versus the older 18-core HEDT flagship delivers a strong performance uplift for the 10980XE in the Cinebench 1T test. Versus AMD's last gen Threadripper chips, Intel's single-threaded performance lead is mighty, even when the 18-core's top-end frequency is reduced in favour of an all-core overclock.
With that said, Intel's Cascade Lake-X is outperformed by the Ryzen Threadripper 3000 processors and the cheaper Ryzen 9 3950X. Versus AMD's Zen 2 parts, it is clear that Intel's historic single-threaded performance lead in applications such as Cinebench has been eroded.
Blender BMW Benchmark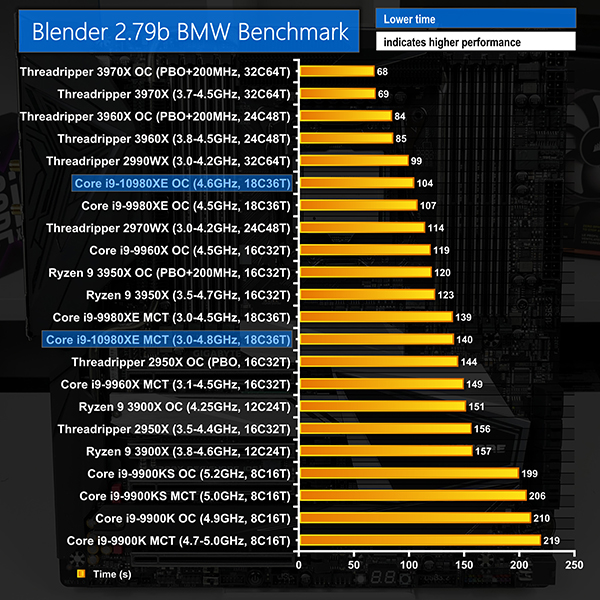 Next, we will look at Blender performance. Bear in mind that a render time reduction of 50% mathematically converts into a performance increase of 100% as you can get twice the work done in the same period of time. Put another way, a chip that requires 70 seconds to complete the render can do twice as much work (100% more) than a chip that takes 140 seconds to complete the render.
Yet again, we see basically identical performance between the Core i9-10980XE and its i9-9980XE predecessor in Blender. AMD's Threadripper 2970WX is 19% quicker to complete the render, which converts into 23% higher performance. The lower-cost Ryzen 9 3950X finishes 17 seconds or 12% faster than the Cascade Lake-X flagship, which translates into 14% higher performance for AMD's mainstream chip. Once again, the more expensive Threadripper 3000 HEDT chips from AMD are at a completely different performance level, with the 32-core 3970X flagship actually offering more than double the stock 10980XE's performance.
Overclocking is yet again Intel's saviour, with the 4.6GHz 18-core outperforming both of the price comparable AMD parts by a comfortable margin and getting to within 5% of AMD's 32-core Threadripper 2990WX performance.