Today is a big day for Intel, following pressure from AMD's success with Ryzen, Intel is launching its 8th-Gen Coffee Lake CPUs, bumping up the core count for its Core i7 and Core i5 SKUs and rolling out a new chipset- Z370.
We have already had a chance to review the Core i7-8700K and came away thoroughly impressed, praising the jump to six cores, easy overclocking and IPC performance. We were less impressed by Intel's continued use of TIM but a decent cooler should do the job.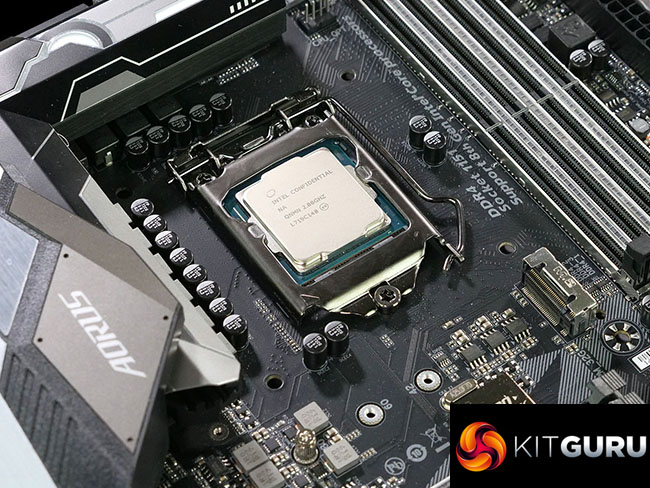 Here is a breakdown of Intel's Coffee Lake lineup:
Intel Core™ i7-8700K (6 Cores / 12 Threads) 3.7GHz, 4.7 Turbo Unlocked, £359.99
Intel Core™ i7-8700 (6 Cores / 12 Threads) 3.2GHz, 4.3 Turbo, £329.99
Intel Core™ i5-8600K (6 Cores / 6 Threads) 3.6GHz, 4.3 Turbo Unlocked, £269.99
Intel Core™ i5-8400 (6 Cores / 12 Threads) 2.8GHz 4.0 Turbo, £179.99
Intel Core™ i3-8350K (4 Cores / 4 Threads) 4GHz Unlocked, £169.99
Intel Core™ i3-8100 (4 Cores / 4Threads) 3.6GHz, £109.99
There are also a bunch of Z370 motherboards rolling out to support the launch. Right now at OverclockersUK, you can choose between nine different ASUS boards, four Gigabyte ones, 10 boards from MSI and eight from ASRock.
As for CPUs, the Core i7-8700K and Core i5-8600K are both up for pre-order, with stock expected to arrive and start shipping out any day now. If you don't necessarily need a K-series CPU, then the Core i5-8400 and Core i7-8700 are both in stock already. There are also some pre-overclocked 8700Ks available, with guaranteed speeds of 5GHz, 5.1GHz or 5.2GHz.
If you just need a Core i3, then the 8350K and 8100 are both in stock too. You can find the entire Coffee Lake range at Overclockers UK, HERE. You can find the Z370 motherboard selection, HERE.
KitGuru Says: So far, reviews of the Core i7-8700K appear to be pretty good, though people seem less happy about the mandatory jump to Z370 over Z270. Are any of you planning on upgrading to Coffee Lake? I must admit, I'm quite tempted myself.