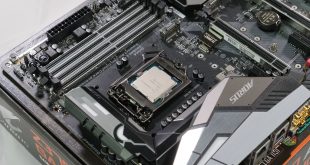 Intel has rolled out its family of 8th Generation Coffee Lake CPUs along with the Z370 chipset. The headline news is an increase in core counts so Core i7-8700K/8700 have six cores and 12 threads, Core i5-8600K/8400 has six cores/ six threads and Core i3-8350K/8100 are quad core without Hyper Threading or Turbo Boost.
It is crystal clear that 8th Gen. is Intel's response to the eight-core Ryzen 7 and six-core Ryzen 5 1600X. Intel has a proven history of combining high clock speeds with superior IPC which raises a bunch of fascinating questions. Throughout our review of this new platform we used a Z370 Aorus Gaming 7 motherboard to give both the Core i7-8700K and Core i5-8400 a thorough shake-down. Spoiler alert: if you're still using Sandy Bridge or Ivy Bridge the time has come for a major upgrade to your gaming PC.
Watch the video via our VIMEO Channel (Below) or over on YouTube at 2160p HERE
The feeds and speeds for the new CPUs tell you pretty much everything you need to know, if you compare Coffee Lake to Kaby Lake or Skylake. Core i7-8700K has 50 percent extra cores compared to Core i7-7700K yet the TDP has barely changed from 91W to 95W. You still use dual channel DDR4 memory with a modest nominal increase in speed from 2400MHz to 2666MHz which will be eclipsed as soon as you enable XMP.
The fabrication process has, apparently, been tweaked from 14nm+ to 14nm++, however Intel has given no details what that means. We have seen photos that show the new die is larger, but you would expect that extra cores requires extra die area. Similarly, the amount of cache has increased pro rata from 8MB to 12MB.
Intel has been cagey about details such as All Core Turbo speeds and has instead focussed on the Maximum Turbo speed, which is irrelevant to the enthusiast. Our Core i7-8700K has a range from 3.7GHz Base to 4.7GHz Turbo Boost 2.0 on a single core, but you won't learn the All Core Turbo is 4.3Ghz until you strap the CPU to a test bench and put it under load. This is an impressively high figure as the comparable number for the quad core i7-7700K is 4.5GHz.
On the one hand six cores running at 4.3GHz with a 95W TDP and on the other hand four cores at 4.5GHz and 91W TDP. This suggests Intel has either done something clever with 14nm++ or those extra 200MHz cost a painful amount of power.
It is difficult to do a similar comparison with Core i5-8400 as we have not previously seen a six core processor that doesn't use Hyper Threading, which means we have six core/six threads running at an All Core Turbo speed of 3.8GHz however this locked CPU doesn't have any scope for overclocking. Balanced against that the TDP of 65W is exactly where you expect it in the mid-range for desktop CPUs.
The kick in the pants from Intel comes when we discuss CPU sockets and chipsets. You have to use 8th Gen. with a new Z370 motherboard and cannot run an older 7th. Gen in the new motherboard. This looks like a bad move from Intel as there is no obvious reason why i7-7700K should not run in our Z370 Aorus Gaming 7 but it doesn't and that is the end of the matter. The CPU socket has been described as LGA1151-2 but it is the same as previous LGA1151 sockets and the disabling appears to have been performed in the BIOS. Z370 is the only chipset for this platform in 2017 and as far as we can see it is nothing more than a renamed Z270. In 2018 we expect to see H370, H310 and B360 chipsets which all appear to be based on Z270 and by mid-2018 we expect to see Intel Z390 which will will be the real Coffee Lake chipset with USB 3.1 support.
There is the outside chance that you are interested in the IGP. The Core i7-7700K includes Intel HD Graphics 630 with a base speed of 350MHz and max speed of 1.15GHz. By contrast Core i7-8700K has graphics called Intel UHD Graphics 630 with the same base speed of 350MHz and a maximum clock speed of 1.20GHz. Core i5-8400 also uses Intel UHD Graphics 630 however the maximum speed appears to be 1.05GHz.
Intel has said nothing about new features in the IGP so it seems the extra 50MHz is all you get.
List prices for 8th Gen. are exactly the same as the comparable 7th Gen. CPU, although we expect there to be a small Coffee Lake tax of £20 per CPU. The price of Core i7-7700K has dropped to £299 here in the UK and we expect Core i7-8700K to sell for £320.
Core i5-8400 is listed at US$182 and will likely sell for £170 which is remarkably cheap for a six core CPU when you consider that Ryzen 5 1600X currently sells for £215.
Rumours suggest supplies will be very tight for the next couple of months.
Be sure to check out our sponsors store EKWB here