Wow. Just wow. Intel's new Core i7-8700K is fabulous and performs like a champ with those six cores and 12 threads showing that the time has come to move beyond quad core. It is painful to consider that if Intel soldered the package and allowed it to cool properly that we would be able to move to a new era of PC gaming. As things stand you have to compromise on clock speeds to keep the CPU under control 24/7 but blimey we were impressed.
We have to give a huge shout to Core i5-8400 which looks quite remarkable. It is such a shame we didn't get our hands on an unlocked Core i5-8600K but that time will come and we shall be able to see just how much value Hyper Threading delivers when you have a decent number of hardware cores.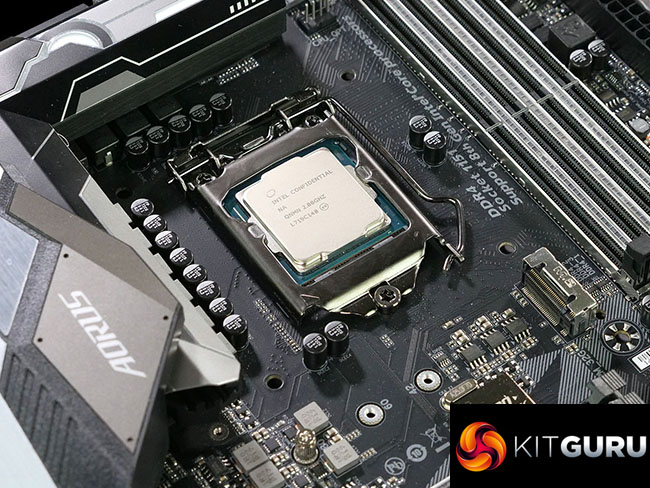 It is not all sweetness and light as Intel's insistence on using a Z370 motherboard is just plain annoying. Happily it isn't the end of the world as Kaby Lake owners can continue to be happy with their quad core system as it is still a top notch gaming platform.
As we say in our video, if you're still using an older set-up such a Sandy Bridge the time has arrived when you need to make the change. The end of 2017 is looking very good indeed for PC gamers.

Buy the i7 8700k and i5 8400 from Overclockers UK HERE.
Discuss on our Facebook page, over HERE.
Pros:
Six cores and high clock speed equals high performance.
Intel IPC is superb.
Simple overclocking with Z370 Aorus Gaming 7.
Prices have been held steady from 7th. Gen.
Cons:
CPU cooling is hindered by TIM. Again.
8th Gen. CPU requires a Z370 motherboard.
KitGuru says:  Stunning performance from i7-8700K and superb efficiency from i5-8400.