With Ryzen having been out on the market for several months now, we finally have our first updated market share report, showing how much of a boost AMD has received thanks to its new architecture launch. Judging by the number of PassMark users, AMD has managed to claim back almost 10 percent of the market from Intel.
During the first quarter of this year, AMD's share of the desktop CPU market has risen by 8.4 percent according to the latest figures from PassMark. This has given AMD a boost from 17.8 percent to 26.2 percent of PassMark users. Meanwhile, Intel's share has dropped to 69 percent.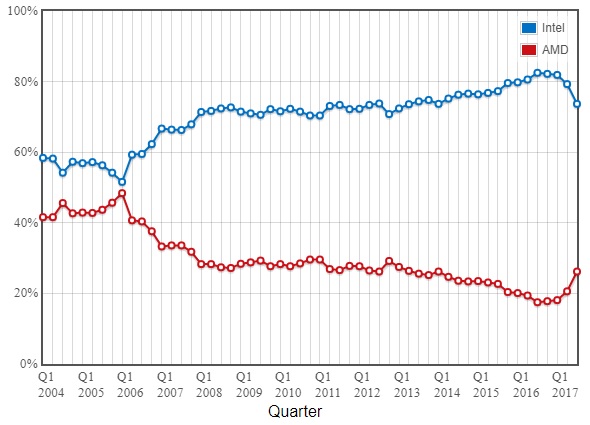 Now it is important to note that PassMark can only track data based on the number of users submitting benchmark scores, so there are limitations here. For example, given that the graph is based on active PassMark users, it only tracks the number of CPUs in use, rather than the number sold. The graph also only takes into account the Q1 2017 period, which started in January and ended on the 31st of March, meaning it only tracked one month of Ryzen availability.
Still, this is the first 'market share' report we have seen since Ryzen first became available, so it's interesting to see. Hopefully we will start to see more extensive reports as the year goes on.
KitGuru Says: Unfortunately this report does give us a fairly limited view of the market at the moment. However, this is a good start. As the year goes on and more data gets collected, we should get a stronger idea of where AMD and Intel now sit.