If you want to get your hands on some prime Intel server rib, then you can head along to eBay and check this matched pair of what the seller is claiming to be Skylake-EP processors, or as they describe it, an "Intel Xeon E5-2600 v5" CPU.
The heatspreader is engraved with the markings "Intel Xeon P 8136" as well as the sSpec and speed rating. The "P 8136" part sounds suspiciously like the recent naming change to Xeon server parts (now tiered as Platinum, Gold, Silver and Bronze). Although we hadn't heard of a P 8136, it does follow the Intel naming logic.
This matched Xeon pair, claims the seller, is for the 28-core model, 2 GHz CPUs, with 38.75 MB total cache (at least 28MB of which are part of the L2 cache), and a TDP of 165W each. They can be yours for a cool $3750, each.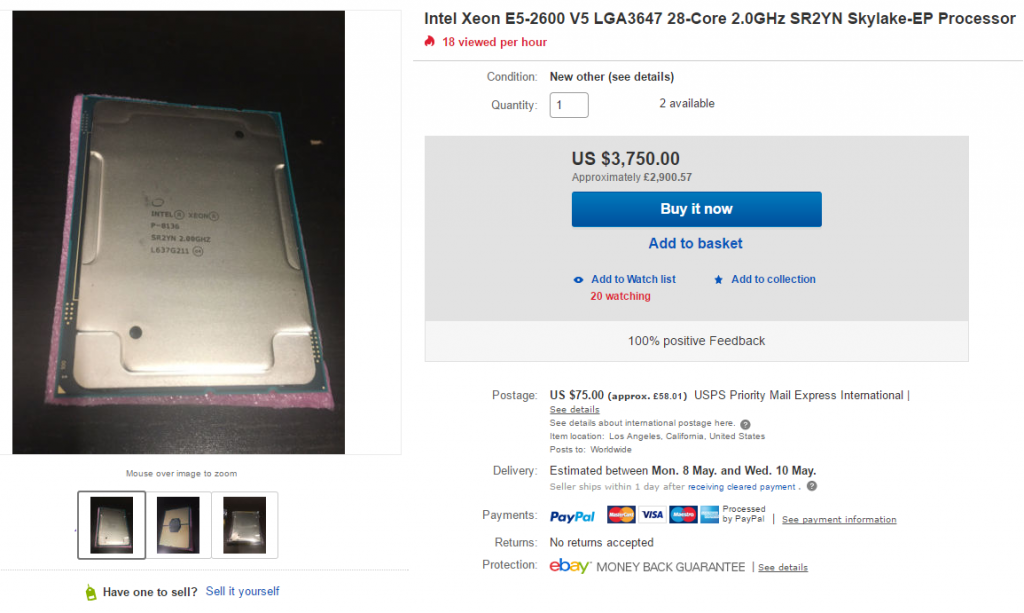 The seller does offer full disclosure about the matched pair of CPUs, though. First off, they are not ES (engineering samples) nor QS (qualification samples) of the CPU, they are final release of a previously unreleased CPU, presumably OEM. Second, best of luck finding an LGA3647 motherboard for them. Third, the seller wants you to engage in some mild banter explaining what use you'll give them, before selling you the CPUs, legitimately arguing he doesn't want any returns by people who bought it and found they don't have a motherboard to fit it on.
KitGuru Says: While eBay itself shouldn't have any issues with the sale, Intel may find it questionable if there are some agreements in place. On the other hand, conspiracy theorists might think it's a cunning Intel ploy to gain attention.