Intel has released a Product Change Notification (PCN) document informing would-be customers of its new Xeon CPU models. Apart from announcing new server CPUs, the PCN also heralds a new tier system for the segment.
The long list includes a listing of 45 Xeon processors, including 11 Xeon Phi MIC-architecture co-processing units. The Xeon CPUs proper, though, range from the high-end Xeon Platinum 8180 CPU (containing 28 CPU cores / 56 threads, running at 2.5 GHz and sporting a total cache of 38.5 MB), down to the Xeon Gold 5122, rumoured to have 12 cores and 24 threads. The new Skylake-SP (or EP, depending on who you ask), are reported to contain 1MB of L2 cache per core.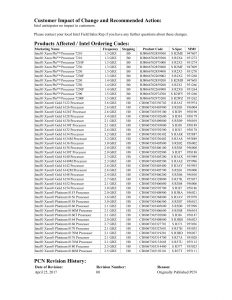 The new tier system, which Intel had been rumoured to be adopting, breaks Xeons into four segments: "Platinum", "Gold", "Silver" and "Bronze". The Platinum tier identifies the 8-socket 8xxx-series, the Gold identifies the 4-socket 6xxx- and 5xxx-series CPUs, the Xeon Silver corresponds to the 4xxx-series dual-socket systems and Xeon Bronze is reported to be the 3xxx-series uniprocessors.
Purley, Intel's new server platform, which uses yet another socket (LGA 3647), has been scheduled for a Q2 release for a while, and taking into consideration the type of CPUs this PCN discloses, this is clearly aimed at the datacenter / HPC segment which AMD Naples will eventually come to, rather than Ryzen or any other HEDT SKU. No conspiracy theories there.
Unfortunately Intel has not provided any additional information about the 4xxx- and 3xxx- series Xeons.
While Intel has not yet officially announced the CPUs, some stores are already listing them – no technical details, but pricing available. The Xeon Platinum 8180 costs a whopping £9600, while the 'M' variant, costs north of £12500. The cheapest CPU on the list, the 3.6GHz Xeon Gold 5122 costs over £1150.
KitGuru Says: Skylake EP/SP is on the verge of hitting the market as planned. AMD has nothing yet to fight it off, and it has been notoriously quiet on the Naples front.