Nvidia Corp. has managed to increase its share in the market of standalone graphics cards for personal computers, according to Jon Peddie Research. The market of graphics adapters for desktops in Q1 2015 decreased again to a new low in years, which is an alarming sign for developers of graphics processing units and makers of graphics boards.
Shipments of graphics cards in the first quarter of 2015 decreased to 11.3 million units, an 8.79 per cent drop quarter over quarter. On a year-to-year basis, JPR found that total AIB shipments during the quarter fell 19.41 per cent, which is more than desktop PCs, which sales fell 6.52 per cent.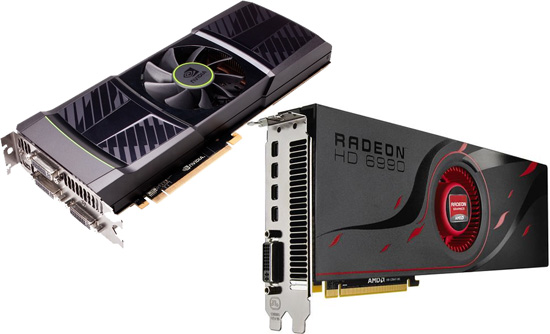 As expected, sales and market share of Advanced Micro Devices' Radeon graphics cards declined in the first quarter as the company and its partners were trying to sell-off inventory that had been shipped earlier. AMD's quarter-to-quarter total desktop graphics cards shipments decreased by whopping 14.6 per cent. By contrast, Nvidia managed to increase its market share to 77.5 per cent in Q1 2015, a record high for the company in the recent years. Nonetheless, since the market was generally weak, sales of Nvidia GeForce graphics cards for desktops also dropped by 7 per cent sequentially.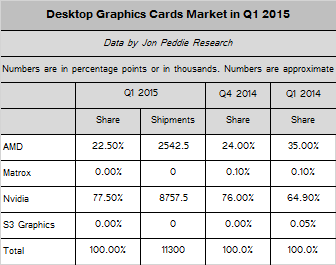 According to analysts from Jon Peddie Research, shipments drop of add-in graphics cards is seasonally understandable and everything could have been worse. Still, the overall trend is not good for discrete desktop graphics adapters: the attach rate of graphics boards to desktop PCs has declined from a high of 63 per cent in Q1 2008 to 37 per cent in Q1 2015. Nevertheless, gamers continue to buy expensive graphics cards to enjoy the latest titles.
"However, in spite of the overall decline, somewhat due to tablets and embedded graphics, the PC gaming momentum continues to build and is the bright spot in the AIB market," said Jon Peddie, the head of JPR.
Discuss on our Facebook page, HERE.
KitGuru Says: Given the lack of any announcements from AMD in the second quarter of 2015, do not expect many changes in shipments or rankings in Q2 as well. Nvidia will continue dominating the market of discrete desktop graphic cards this quarter and only sometimes in Q3 2013 AMD will finally be able to boost its sales.