Sony Corp. this week acquired a semiconductor manufacturing facility from Renesas Electronics which, among other things, makes Nintendo "Latte" graphics processing unit with 32MB eDRAM cache that is used inside Nintendo Wii U game console. While there are long-term supply agreements in place, over time Nintendo may lose the supply of its GPU.  To make the matters worse, the eDRAM cache in the chip is proprietary and cannot be made outside Renesas facilities without special agreements.
Nintendo Wii U game console is based on a multi-chip module (MCM) that features IBM Espresso central processing unit (an out-of-order microprocessor design with a short pipeline and three PowerPC 750-derived cores without new SIMD accelerators, operating at 1.24GHz) as well as AMD Latte graphics processing unit (based on custom Evergreen-derived architecture with 320 stream processors, 16 texture mapping units, 8 render operating units) with a large 32MB eDRAM cache made by Renesas. The embedded DRAM technology used in the GPU was developed by NEC (which now owns a stake in Renesas) and cannot be made at other fabs without a license. While the latter can be obtained, the problem is that many manufacturing technologies nowadays are not tailored for eDRAM.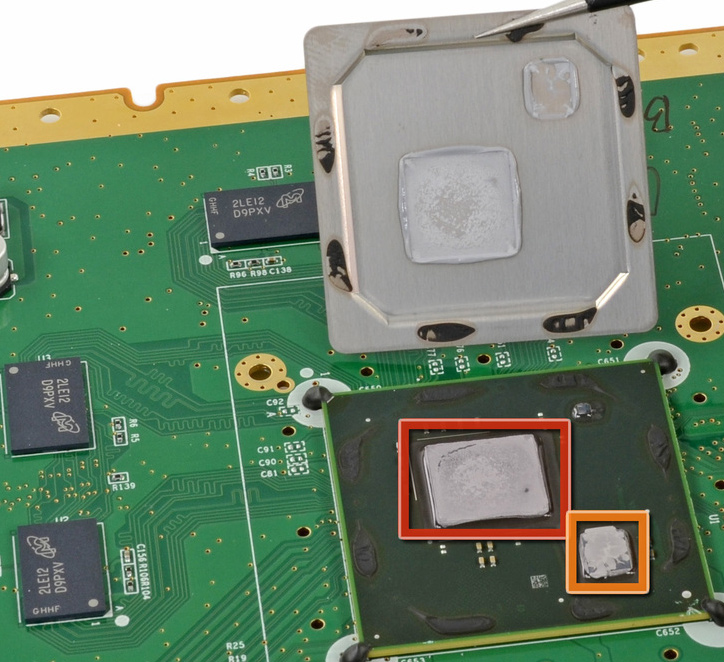 Nintendo Wii U multi-chip module. Latte GPU is marked with red, Espresso CPU is marked with orange. Image by iFixit.com. 
This week Renesas Electronics Corp. and Sony Corp. announced that they have signed a definitive agreement to transfer a semiconductor manufacturing facility and related equipment at the Tsuruoka Factory (300mm semiconductor fab) to Sony Semiconductor Corp. Effective on the 31st of March, the fab will be called Yamagata Technology Center. The Yamagata TEC will serve as a new production site for CMOS image sensors and will thus start to cut production of other products, including GPU with eDRAM cache for Nintendo Wii U game console.
After Sony gets the facility, the system chips and other products made at the Tsuruoka Factory will be manufactured there for Renesas Electronics by SCK on a contract basis for a certain period of time as agreed by Renesas Electronics and Sony. After expiration of that period, Renesas Electronics will shift the production of the system LSIs to its Naka Factory or discontinue production, as Renesas Electronics previously announced to its customers last August. Back then Nintendo said that the closure of the Renesas facility would not have an immediate effect on supply of Wii U. Since eDRAM is to a large degree an exotic memory technology, it cannot be made cost-efficiently by all foundries using all manufacturing processes.
According to estimates by UMB TechInsights, Nintendo Wii U MCM costs around $44. The Latte chip is the largest on the module and thus is the most expensive one. Perhaps, it costs $25 to make and pack at Renesas/SKC. The inbound end of its production will require Nintendo (in case it does not find the right manufacturing partner for it) to get millions of such chips in advance. That is going to cost loads of money, in case Nintendo wants to sell tens of millions of Wii U consoles.
Following the acquisition, Sony intends to convert part of the semiconductor manufacturing equipment that it will acquire to CMOS image sensor manufacturing equipment, and also to install new manufacturing equipment for CMOS image sensors in Yamagata TEC. Sony will also boos total output of the fab from 60 thousand 300mm wafers per month to 75 thousand of 300mm wafers per month.
KitGuru Says: Looks like Nintendo Wii U is simply unlucky… Finding a partner to make an exact same chip will be a tough task for Nintendo. Getting a stock of Latte GPUs may cost tens or even hundreds of millions of dollars.