Asetek, one of the world's largest suppliers of sealed liquid cooling solutions, said on Thursday that an undisclosed "OEM customer" had chosen the company's coolers for "a graphics liquid cooling product."
Asetek did not reveal anything about its new customer, but it is highly likely that the company signed a deal with a boutique PC maker, who will use certain Asetek's liquid cooling systems inside its PCs. It is also possible that a contract maker of performance notebooks has decided to use Asetek's advanced liquid-cooling based solution to cool-down future mobile GPUs. The firm also said that the "ambitious project is forecasted by the customer to result in $2 – $4 million of revenue." Shipping is scheduled to begin in the first half of 2015.
At present Asetek supplies default closed-loop liquid cooler for the AMD Radeon R9 295 X2 graphics cards.
"We have been anticipating the rising importance of graphics card cooling for many years and building an OEM business requires patience. This design win is the largest single design win in the history of the company and a great example of our long term investments paying off," said André Sloth Eriksen, Founder and CEO of Asetek. "We expect the demand for graphics liquid cooling to increase and for it to make up an increasing portion of Asetek's Desktop business revenue."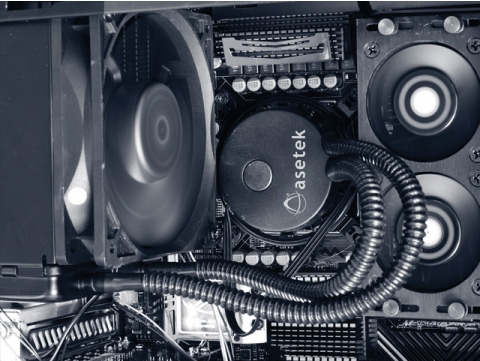 Asetek's graphics cards liquid cooling enables graphics cards manufacturers to extract more performance at significantly lower noise levels, while maintaining industry standard graphics card form factors. Factory filled and sealed for maximum reliability and ease-of-use, Asetek's liquid coolers have been thoroughly tested and certified to operate without maintenance for over 50,000 hours.
Discuss on our Facebook page, HERE.
KitGuru Says: It will be interesting to see who of the boutique PC makers decided to award Asetek with a contract and why. At present high-end PC suppliers already use sealed liquid coolers virtually across-the-board for pre-overclocked systems. Perhaps, one will completely (or almost completely) avoid air cooling solutions next year?