Right now KitGuru has staff over with AMD in Los Angeles as we prepare our launch articles, but it would appear AMD has been working with LinusTechTips to showcase an exclusive 'unboxing' of the upcoming RX Vega graphics card. The video is very light on details and has a lot of 'oohing and aahing' over bundled cables – but it shows Linus on stage with an AMD HoloCube, a 32 thread Alienware Threadripper system and some showcasing of the upcoming Radeon RX Vega. The crowd seem very young and the level of excitement in the video is so insanely high we almost felt as if we were backstage at a Justin Bieber concert. We didn't notice any panties being thrown on the stage, which was a relief.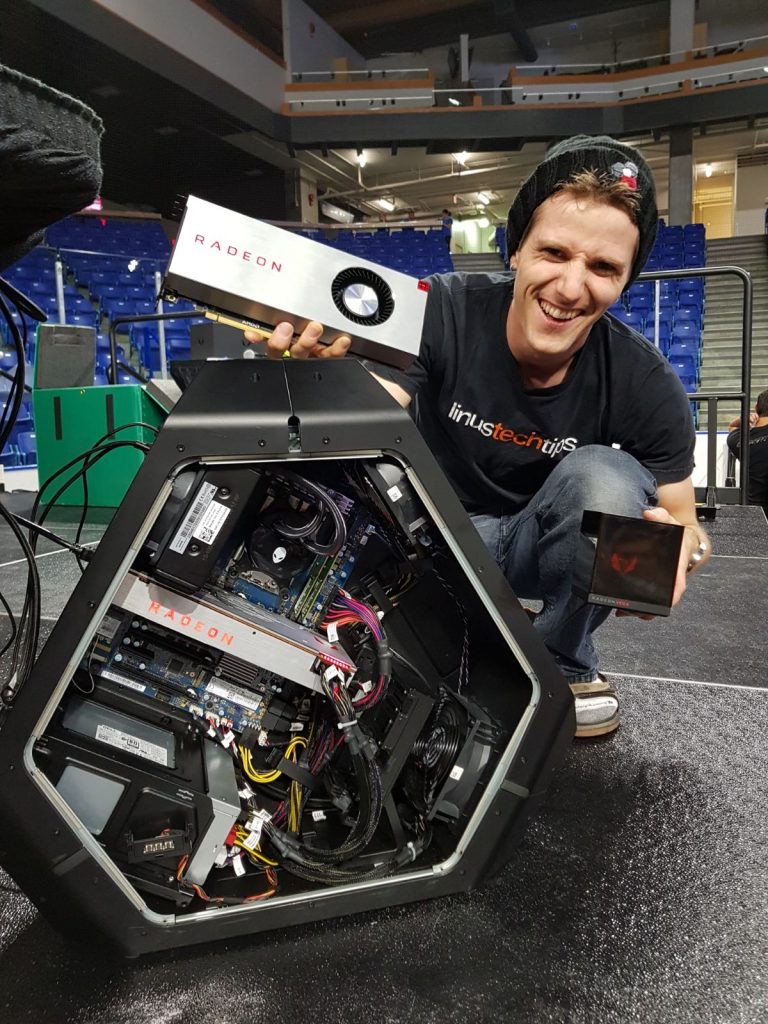 AMD have a lot riding on the success of the upcoming RX VEGA graphics card and it won't be long before we can give our full analysis on Threadripper – our guy Luke Hill is beavering away on gathering tons of benchmarks as we speak.
While the LinusTechtips video has little tangible benchmarking on show – Linus does manage to run Cinebench and gets a score of 2866 on the 32 thread Threadripper system. He shows a dab hand at changing memory in the Alienware system, as it wouldn't initially even boot up due to some  issues. Someone will likely have had their wrist slapped for that one.
We have noticed that many members of the press aren't that happy about the exclusive given to Linus with journalists such as Cameron Wilmot from Tweaktown posting 'feeling frustrated' on his own Facebook page about the event. There are many other well known people in the post chipping in to share their views. We noticed key industry people including Scan UK and Nvidia staff members such as Bryan Del Rizzo making some points in Cameron's post.
Cameron uploaded an image which says 'AMD, you gave exclusive content coverage on new products to Linus. That's like a reverse sellout or something, and totally uncool'.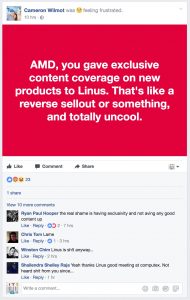 We do see the AMD shift towards social media influencers in the last year or so rather than traditional tech websites, but Cameron makes the point 'Maybe for children, but many still want detailed content with a mix of short stuff.'
Well known global tech websites such as Tweaktown have had key staff flown half way around the world to these events so its obvious that some ill feeling is likely to creep in. From our side (and I checked with my boss who seems completely disinterested in this), KitGuru already knew AMD had a very strong relationship with Linus and he has such a huge following on Youtube they obviously feel he needs some special treatment.
Playing Devils Advocate however- its a rather strange move from AMD as key members of the press will likely feel that being left out of this almost negates the purpose of  a 'unified launch' for some of the most important AMD products in the last decade.
Discuss on our Facebook page over HERE.