On this page we follow the instructions for installing the Accelero Hybrid III-140. We were sent the model designed for the GTX 980 Ti (which supports GTX 1080/1070 & Titan X as well) and are installing it on a GTX 1080 Founders Edition card.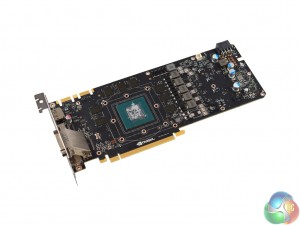 The first step is to remove the stock cooler from your graphics card. This is usually pretty simple and involves unscrewing all the screws from the back of the card, before slowly prising the cooler away from the PCB. If you are stuck, there will undoubtedly be a clear guide online somewhere.

Next, consult the manual to find out which of the three waterblock mounting holes the specific card requires you to use. For the 980 Ti model it was the furthest hole to the right (when looking down on the waterblock as above).
Once you've done that, go ahead and attach the backplate to the rear of the card. The four holes align with the four GPU screw holes on the card.
The next step is to secure the waterblock to the backplate. It sounds easy enough – simply line up all the holes and screw the waterblock in place. However, I found this part of the installation maddeningly fiddly.
This was because the mounting holes on the block are very small, so you have to be very precise – and added to the fact that the waterblock was sliding around on the GPU core thanks to the slippery thermal paste, it was far from easy.
When you eventually get the block secured, though, it should look something like the above images.
The last step is to attach the VRM heatsink to the PCB. It mounts using two of the screw holes which were originally used by the card's stock cooler. The 80mm fan simply screws on top of the heatsink and even connects to the GPU's on-board fan header.
That's it for installation, with the above images demonstrating what the finished article should look like. It may not be overly attractive, but hopefully the improved thermals will be worth it.