Temperature results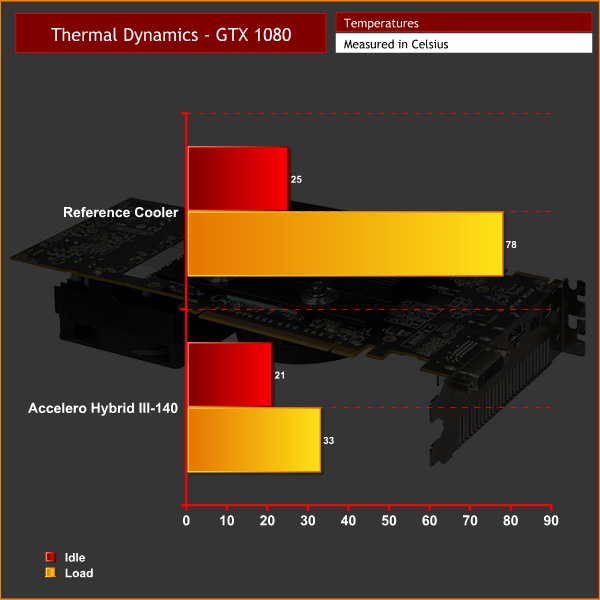 In terms of temperatures, the Accelero Hybrid III-140 makes a huge difference – reducing the max temperature by 45 degrees. This was with the radiator fan using the 'standard' fan curve as set by the motherboard's EFI, so with further tuning (at the expense of noise levels) we could even see better performance.
Core frequency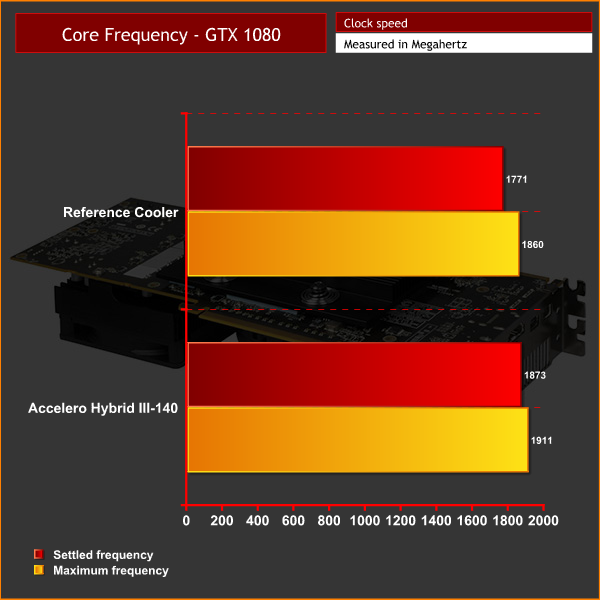 The Accelero Hybrid III-140 also helps the GTX 1080 keep its clock speed high. Out-of-the-box, with its stock cooler, the GTX 1080 boosted as high as 1860 MHz but settled at 1771 MHz after a few runs of 3DMark's stress test.
When we installed the Arctic cooler, though, the card settled at 1873 MHz – higher than even the max frequency we saw with the stock Founders Edition cooler. So just by changing the cooler – without adjusting any frequencies – the GTX 1080 was running over 100 MHz faster, giving a nice bump in performance.
Acoustics
The loudest thing about the Accelero Hybrid III-140 is the pump. With the radiator fan following the 'standard' PWM preset, it was barely audible – the pump is louder and whirrs away at a constant level. That being said, it is not intrusive – and is still markedly quieter than the Founders Edition cooler under load. In a case (I used an open-air bench) it would be drowned out by a couple of fans.