After launching as a PlayStation exclusive towards the end of last year, Hideo Kojima's Death Stranding was released on PC this week. Built on the Decima Engine, the same engine that powered Horizon Zero Dawn, we spent the last few days testing over twenty graphics cards to see what sort of performance you can expect from this game. Nvidia's DLSS 2.0 technology is also present, so naturally we put this to the test as well.
Watch via our Vimeo Channel (Below) or over on YouTube at 2160p HERE
Settings
Right off the bat, it is worth saying Death Stranding can only be played using DX12, there is simply no option to use another API.
Apart from that, there are a few options to tweak within the settings menu – but not loads. The primary settings include model quality, memory allocation, shadow resolution, ambient occlusion, and screen space reflections. There are four presets in the game, which adjust those settings just mentioned – the presets start at 'low', 'medium,' 'default', and finish with 'very high.' Default is said to offer equivalent visual fidelity to console, but for our testing we used the very high preset.
Driver Notes
We used the latest game ready drivers for our testing:
AMD GPUs were benchmarked with the Adrenalin 20.7.2 public driver.
Nvidia GPUs were benchmarked with the 451.67 public driver.
Test System
We test using the a custom built system from PCSpecialist, based on Intel's latest Comet Lake-S platform. You can read more about it over HERE, and configure your own system from PCSpecialist HERE.
CPU

Intel Core i9-10900K
Overclocked to 5.1GHz

Motherboard

 ASUS ROG Maximus XII Hero Wi-Fi

Memory

 Corsair Vengeance DDR4 3600MHz (4 X 8GB)

CL 18-22-22-42

Graphics Card

Varies

System Drive

  500GB Samsung 970 Evo Plus M.2

Games Drive
2TB Samsung 860 QVO 2.5″ SSD
Chassis
Fractal Meshify S2 Blackout Tempered Glass
CPU Cooler

 Corsair H115i RGB Platinum Hydro Series

Power Supply

 Corsair 1200W HX Series Modular 80 Plus Platinum

Operating System

Windows 10 2004
We tested a section early on in the game, where the player has to deliver a package to the Waystation West of Capital Knot City. We ran each benchmark three times, and present mean averages in our graphs. We use OCAT to measure average frame rates as well as 1% low values across our three runs.
Performance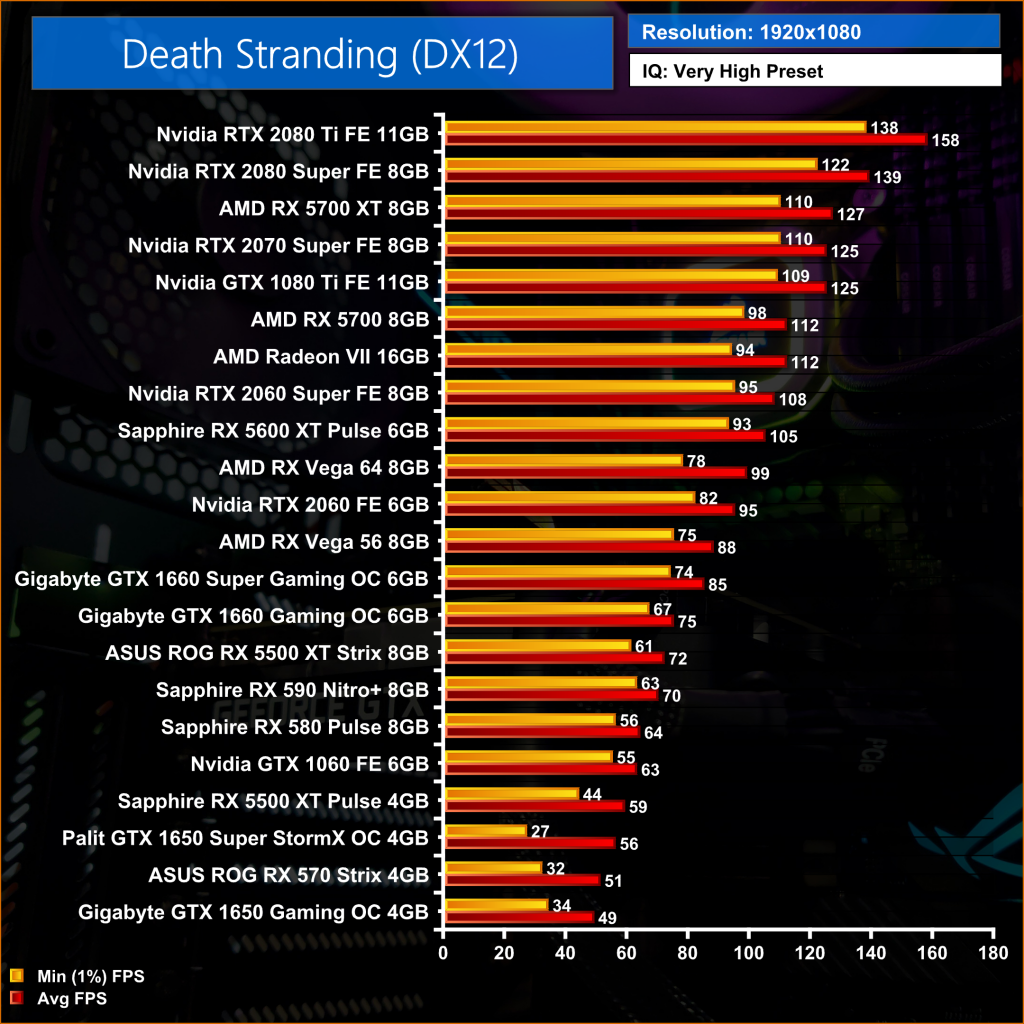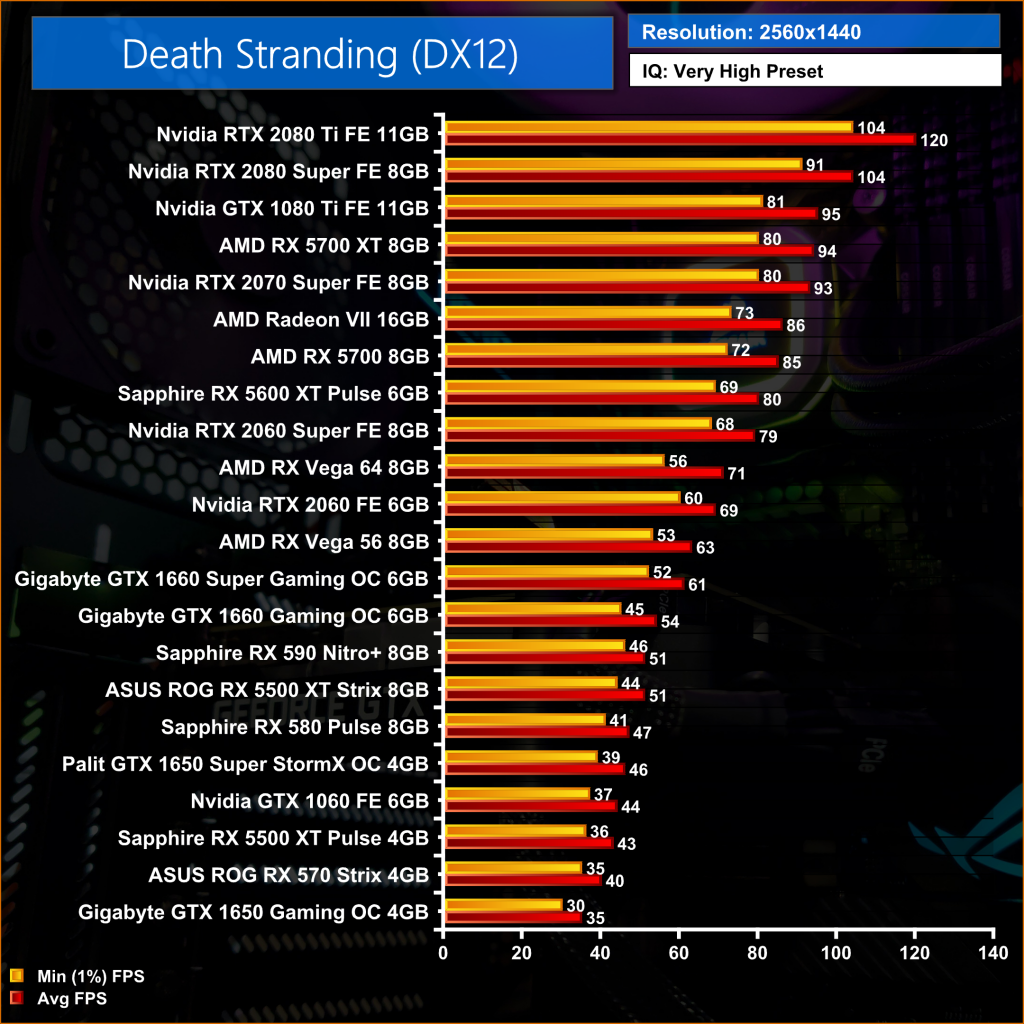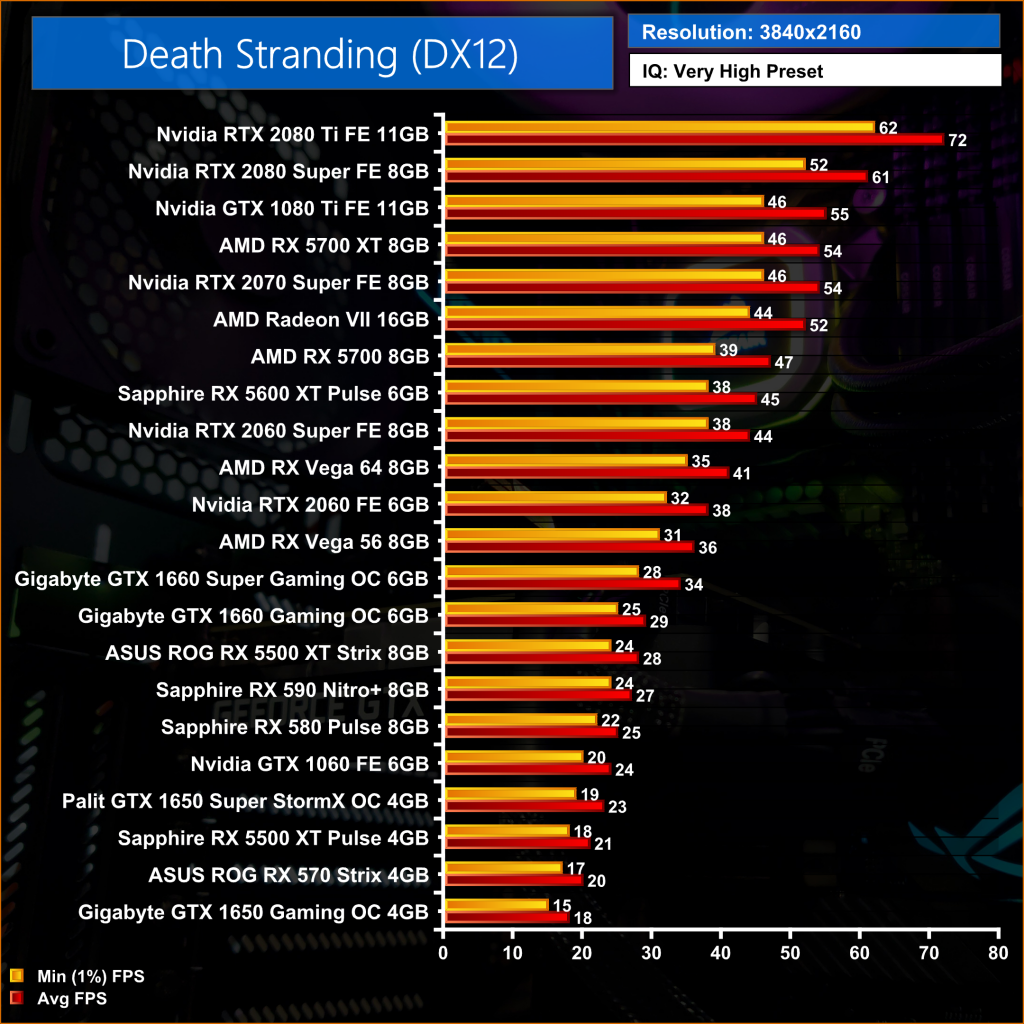 DLSS 2.0 Screenshots and Performance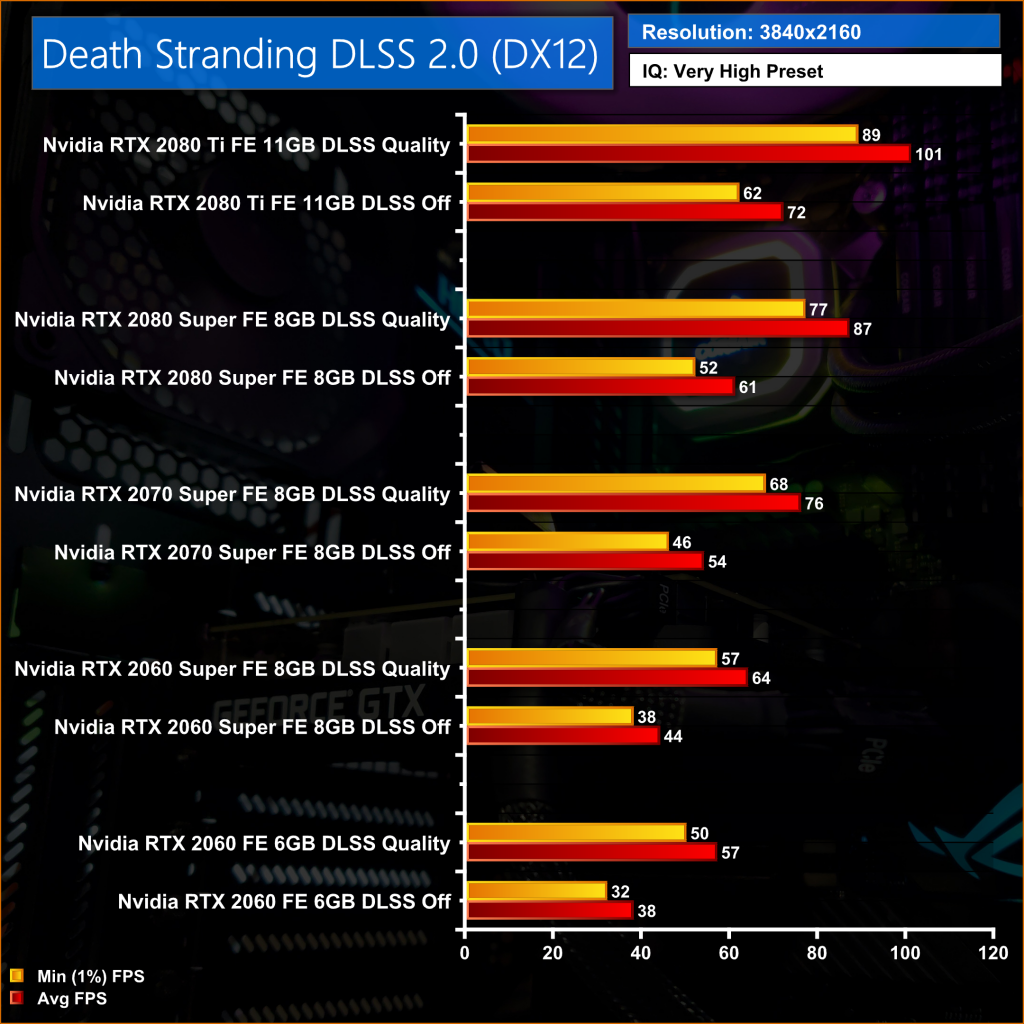 Closing Thoughts
Death Stranding may not be as easy to run as something like Doom Eternal, but despite being a visually impressive title, it is still possible to hit decent frame rates without needing a brand-new GPU. GTX 1060 and RX 580, for instance, are perfectly suited for 1080p/60fps gaming using very high settings.
The only caveat to this seems to be cards with 4GB (or less) video memory, as all the 4GB cards we tested exhibited reduced 1% low performance. Gamers with GPUs that simply don't have 6GB+ of VRAM will likely want to stick to slightly lower image quality settings than the very high preset that we used here.
Those with Nvidia RTX GPUs will certainly want to check out the game's DLSS 2.0 options. We tested using the Quality DLSS mode, and visually it is very hard to spot any differences between native 4K and a DLSS upscaled 4K image. In fact, DLSS even helps certain objects, like text or fine edges, look sharper than native 4K when using the game's TAA implementation. It is highly impressive and is not something that can be ignored considering the performance improvements of between 40-50% we saw from our testing.
Actual gameplay, I must confess, did not appeal to me at all. I played through the first couple of hours and found it quite slow and tedious, while I had to sit through what felt like endless cutscenes. Maybe that's just me though, so if you've been waiting to check out Death Stranding, this port performs well and looks very good, so it's definitely worth giving it a go on PC.
KitGuru says: The game itself may not be my cup of tea, but Death Stranding is visually impressive and doesn't require a high-end GPU for a smooth gaming experience.