The first images have emerged of Lenovo's RX 6900 XT Legion graphics card. Set to be used in the company's pre-built gaming systems, this custom card is a thick unit, with a triple-slot cooler and an overall design that is highly reminiscent of AMD's Radeon VII.
As reported by VideoCardz, these images were shared on Weibo by WolStame, Lenovo's China Gaming Desktop Product Planning Manager. WolStame has been responsible for several other news-worthy posts in the past, including an early size comparison of the RX 6800 XT and a first look at Intel's 10900K and 10700K CPUs.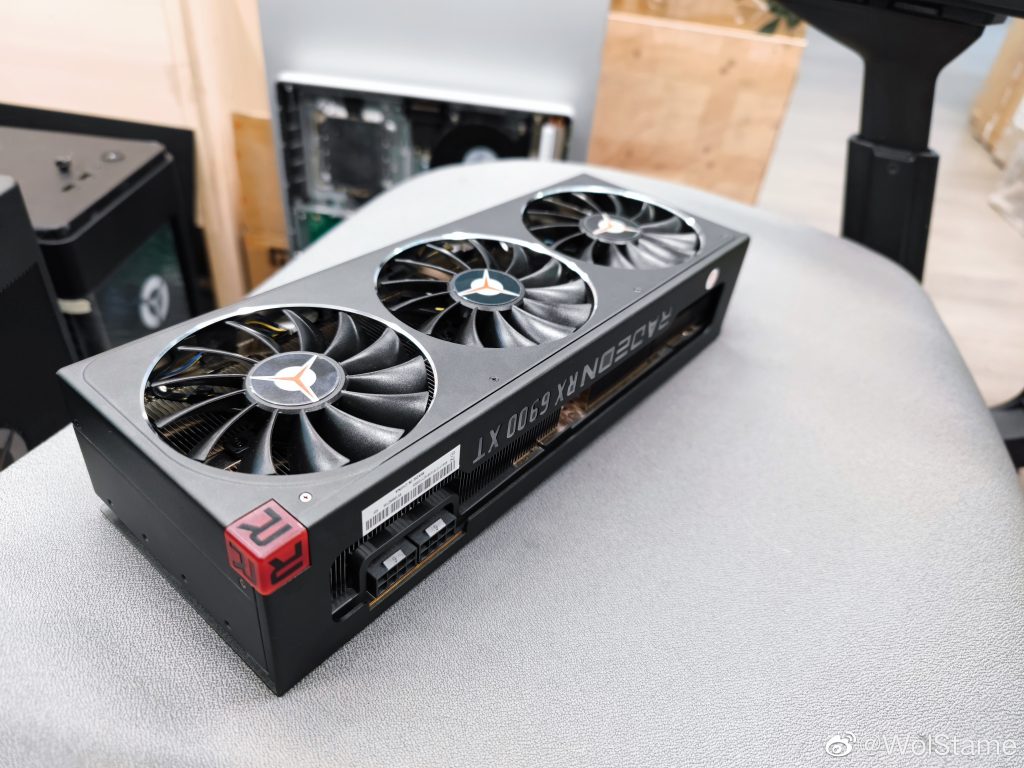 According to WolStame, this is an engineering sample, so the card is likely still in the testing phase of production. Unfortunately for DIY users, VideoCardz reports it will only be available in pre-built Lenovo Legion systems, which makes sense as Lenovo isn't a standalone graphics card manufacturer.
In terms of design, this RX 6900 XT looks like what you'd imagine the Radeon VII would've looked like if it came in a dark grey/matte black colour scheme, and was three slots thick instead of two slots. The overall squareness of the shroud is the same, and there's even the same red Radeon 'R' logo in the end corner, exactly like the reference Radeon VII.
Interestingly, while VideoCardz reports the Legion 6900 XT is using a custom PCB, it still has 'just' two 8-pin PCIe power connectors, the same as AMD's reference card. Many other third-party designs utilise three 8-pin connectors, including MSI's RX 6900 XT Gaming X Trio. However, each 8-pin connector is specified to deliver 150W, with the PCIe x16 slot capable of another 75W, so this implementation should still be capable of delivering more than enough power to the card.
KitGuru says: It will be interesting to see how this RX 6900 XT performs, particularly in terms of cooling as it's a very thick card.