We take our noise measurements with the sound meter positioned 1 foot from the graphics card. I measured the noise floor to be 32 dBA, thus anything above this level can be attributed to the graphics cards. The power supply is passive for the entire power output range we tested all graphics cards in, while all CPU and system fans were disabled.
A reading under load comes from running the 3DMark Fire Strike Ultra stress test 20 times. An idle reading comes after leaving the system on the Windows desktop for 30 minutes.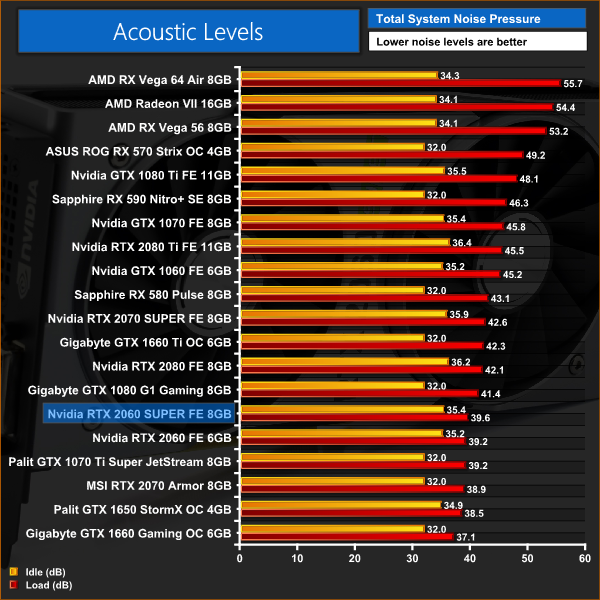 It's another very quiet Founders Edition card from Nvidia. The move to dual axial coolers has really paid off for the RTX 20-series cards as they are noticeably quieter than the previous designs. It makes life harder for Nvidia's partners, too, as it becomes difficult justifying the increased cost for an aftermarket card when the Founders Editions themselves are so good.
One thing that could be improved, however, is the idle noise. The fans don't stop spinning in low-load situations, so there is always a slight whirr from the card – it's barely noticeable, but I am certain Nvidia could get away with implementing a 'fan stop' mode for its Founders cards.