Today we are back with another extensive GPU benchmark analysis, this time around we are looking at Total War: Warhammer III, the latest game in the long running and highly popular turn-based strategy franchise. We test over thirty GPUs, three resolutions and two quality presets to find out what sort of performance you can expect from this title.
Starting with a look at the settings menu, the main Video menu lets you set your resolution, adjust brightness and pick one of four presets – Low, Medium, High and Ultra. There's a large number of adjustable graphic settings on the Advanced menu though, which we have come to expect from Total War games, so hopefully that bodes well for overall performance scaling, which we also assess today.
In this article we're testing both the Ultra and the Medium preset, though I do just want to mention I did all of my benchmarks with the Unlimited Video Memory option enabled. This just means certain settings won't be adjusted if the game deems a GPU to have insufficient VRAM to run those settings, ensuring we have results that are all directly comparable.
For the testing itself, I did opt to use the built-in battle benchmark, just because it gives highly repeatable results. Based on my playthrough of the game's prologue and a few of the quest battles, it is generally representative of the performance you can expect in a battle, though some scenes with a particularly large number of units on screen or those in heavy environments, can see lower performance, but the benchmark is still a good representation of the overall experience and it is very consistent too.
Test System:
We test using the a custom built system powered by MSI, based on Intel's Alder Lake platform. You can read more about this system HERE and check out MSI on the CCL webstore HERE.
CPU

Intel Core i9-12900K

Motherboard
Memory

32GB (2x16GB) ADATA XPG Lancer DDR5 6000MHz

CL 40-40-40

Graphics Card

Varies

SSD
Chassis
MSI MPG Velox 100P Airflow
CPU Cooler
Power Supply

 Corsair 1200W HX Series Modular 80 Plus Platinum

Operating System

Windows 11 Pro 21H2

Monitor

MSI Optix MPG321UR-QD

Resizable BAR

Enabled for all supported GPUs
Driver Notes
AMD GPUs were benchmarked with the 22.2.2 driver.
Nvidia GPUs were benchmarked with the 511.79 driver.
1080p Ultra Benchmarks
1440p Ultra Benchmarks
2160p (4K) Ultra Benchmarks
No doubt about it, GPU requirements for using the Ultra preset in Total War: Warhammer III are about as high as they come. The first GPU able to maintain a locked 60FPS at 1080p proved to be the RX 6700 XT, while you will need an RX 6800 XT to achieve the same result at 1440p. Only the RX 6900 XT, RTX 3080 and RTX 3090 are realistic candidates for 4K gaming, and even then none of those cards can hit 60FPS.
We did also spot a significant issue with framepacing for Nvidia GPUs that is explored further in the video. In a nutshell, GPUs from Team Green suffer from significantly more inconsistent frametimes than their AMD counterparts, resulting in a less-than-smooth experience, and I do wonder if it is this causing reports of particularly poor performance in Total War: Warhammer III.
Preset Scaling
It's clear those with even mid-range GPUs won't get the performance they are used to when using Ultra settings, but thankfully the game scales very well, as dropping from Ultra to High will net you a 31% performance boost, while the Medium preset is over twice as fast as the Ultra preset. You can even get another 46% boost by dropping to Low, so there clearly is a very good degree of scalability here.
Anti-Aliasing
That leads us on to our testing with the Medium preset, which is probably going to be a realistic scenario for a lot of gamers out there.
Before we do start with that though, there's one key setting I'd recommend adjusting if you do use the Medium preset, and that is the anti-aliasing. By default, the Medium preset uses FXAA, but as shown in the video, it introduces a lot of shimmering and image instability, which is especially noticeable when the camera is moving. TAA, on the other hand, cleans up a lot of this – not quite everything, but it is noticeably better. It's not that much more expensive either, as you lose 12% performance with TAA High compared to FXAA, but in my view it is 100% worth it.
1080p Medium Benchmarks
1440p Medium Benchmarks
Thankfully, playing Total War: Warhammer III with the Medium preset results in a much smoother experience, and every GPU we tested delivered a playable result, including the lowly GTX 1650. Older mid-range cards like Vega 56 are capable of pushing over 90FPS at 1080p Medium, and even get close to a 60FPS experience at 1440p, so if you are struggling to play the game at an acceptable frame rate, tinkering with the settings will yield significant benefits.
Closing Thoughts
There we have it then, those are the benchmark numbers for Total War: Warhammer III. I've been using Total War games as part of my GPUs reviews for a few years now and these games have always been pretty demanding on your hardware, but Warhammer III definitely takes it to the next level.
Of course, there's no denying that there is a lot of going on during the in-game battles – there's often significant numbers of units on screen and they use quite detailed character models considering how many there can be and the fact that the player is usually viewing the map from a relatively high position. The game's hero characters can also produce a lot of particle and alpha effects which can stress the GPU, as do the detailed map environments.
Still, all that said, there is no denying GPU requirements are punishingly high. For 1080p Ultra settings, the RX 6700 XT was the first GPU we tested able to deliver a locked 60FPS, and at 1440p only the RX 6800 XT or faster kept the 1% lows above 60FPS.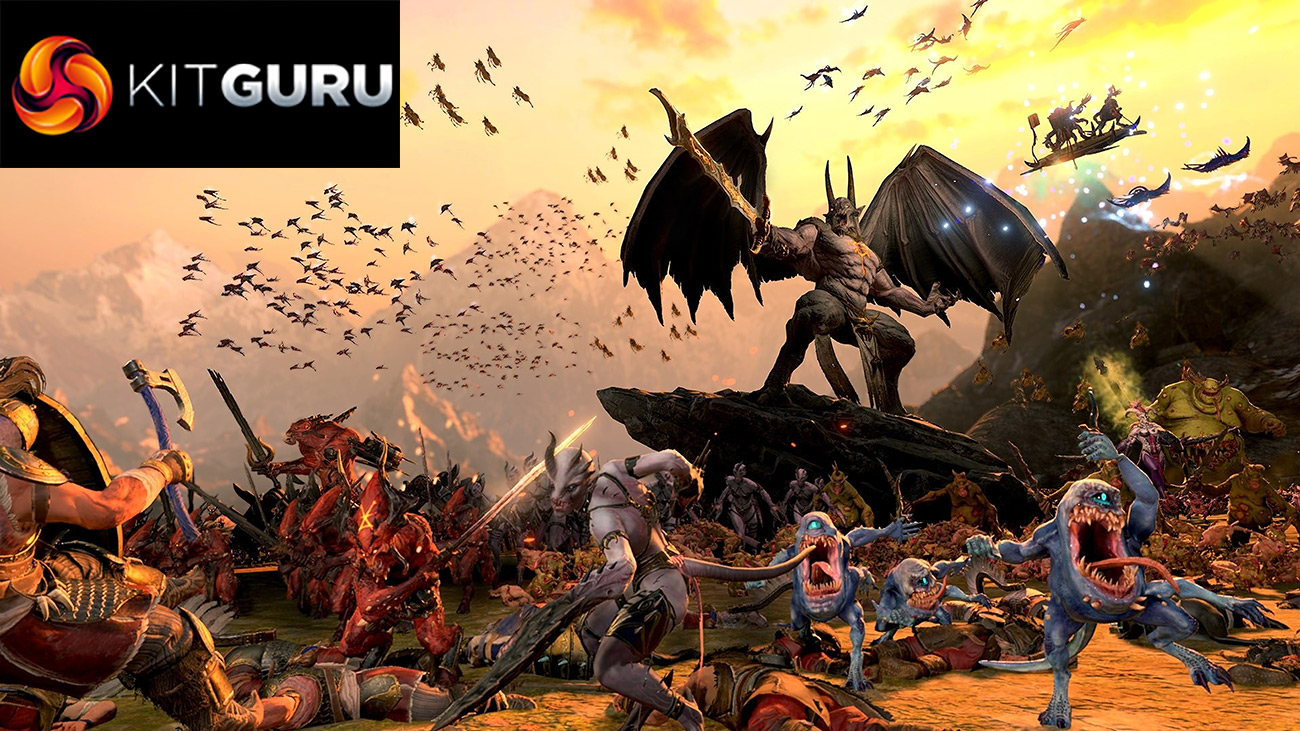 Nvidia GPUs also have a clear issue with frame pacing. Total War games do usually favour Nvidia hardware, and that's certainly what we saw when looking at the average frame rates, but frame pacing and the 1% lows are arguably even more important, and right now there is a lot of inconsistency in the frame times for Nvidia GPUs, even at Medium settings. That could well be why we've seen so many reports of poor performance and it's definitely something Nvidia and Creative Assembly need to look into.
The good news is we found the game's Medium preset to run significantly better, delivering playable frame rates on every GPU we tested at 1080p, even for slower cards like the GTX 1650. Granted it doesn't look as detailed as the Ultra preset, with sparser environments and fewer on-screen units, but it will give you a big boost in performance. I do just recommend sticking with TAA instead of FXAA as it cuts out a lot of the shimmer and instability, just for a small performance penalty.
Discuss on our Facebook page HERE.
KitGuru says: Have you been playing Total War: Warhammer III, and if so what do you make of the performance? It is certainly a demanding engine when using Ultra settings!