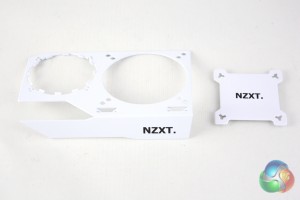 The Kraken G10 is essentially a metal plate which fits to an Asetek liquid CPU cooler, allowing it to be attached to your GPU. It is available in a number of different colour finishes to suit your system; white, black, red and blue.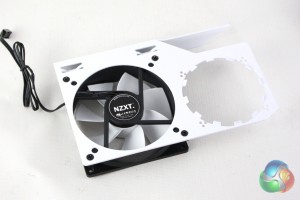 NZXT include a mounting bracket for a 92mm fan on the Kraken G10 which positioned above the VRM circuitry on the graphics card. This is designed to keep these parts of the graphics card cool without needing a custom heatsink for each different Nvidia and AMD products.
NZXT supply a fan to use with the G10, however it is a standard size so could easily be replaced with another brand.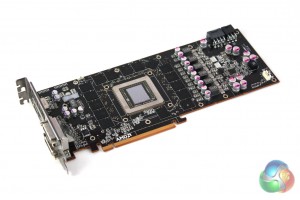 Installing the G10 is refreshingly simple, especially when compared to some older aftermarket GPU air coolers which can be quite fiddly to attach.  Firstly we are instructed to remove the reference cooler from our GPU, before attaching the fan to the main bracket using the provided screws.
Then we can secure the bolts to the back-plate using the provided nuts, ensuring that they are installed in the correct manner that corresponds to the holes in the graphics card PCB.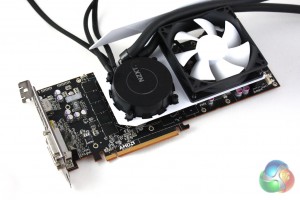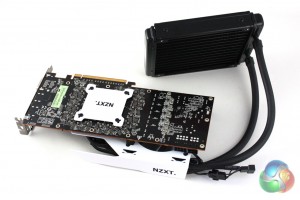 Next, the water block can be secured down onto the GPU chip using the bracket and securing it into place with the provided thumbscrews. We used the NZXT Kraken X40 as our cooler, which comes with thermal paste pre-applied to the cold-plate. Should you choose a different model, you may need to apply thermal paste before securing the block down.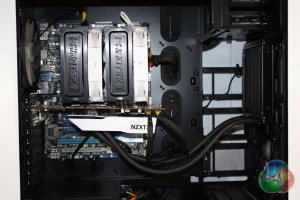 Finally, the graphics card and cooling unit can be installed into the case. We found the easiest position to install the radiator was in the front of our Corsair Graphite 780T case, with the fan acting as an intake. We considered installing it in the rear exhaust location, however this would have created quite a mess of tubes inside the case.