Update 11/05/2021: Following this article, Corsair sent us two more samples of the XG7 water block. We have subsequently tested those new blocks in a separate video and found the results did differ slightly compared to the original testing as below. We have therefore update the XG7's award to 'Worth Buying', when the original was deemed 'Worth Considering.'
Building a custom loop is never a simple task. Newcomers to the scene can find even choosing the parts a little daunting to begin with. One of the most important parts of a custom loop is the graphics card water block, but how do you know you have spent your cash on the best one available? We are here to help because this water block comparison should help you pick the perfect water block for your Nvidia RTX 3080 graphics card, as we compare offerings from three big players.
Timestamps:
00:00 Start
00:15 Introduction on RTX 3080 GPU water blocks
01:40 Corsair Hydro X XG7 (overview)
02:23 Alphacool Eisblock Aurora Acryl (overview)
02:54 EK-Quantum Vector Trinity (overview)
04:08 EK has just released an active backplate
05:05 A closer look at the GPU water blocks
05:59 Removing the Zotac RTX 3080 Trinity OC cooler
09:00 Fitting the EK-Quantum Vector Trinity
12:49 Loop built – setup
14:17 Fitting the Alphacool Eisblock Aurora Acryl
19:50 Loop built – setup (and some issues)
22:49 Fitting the Corsair Hydro X XG7
26:58 Loop built – setup
27:42 Test System
28:21 Performance test results
33:17 Closing thoughts – and the winner is …..
EKWB, Alphacool and Corsair are probably the three "household" names (yes, we know others are available) when it comes to custom water cooling a PC, so we got our hands on the latest Nvidia RTX 3080 water blocks from the aforementioned companies, and put them through their paces on our test bench. We did the hard graft so you don't have to, in the hope that by the end of this review you guys will be able to make a well-informed decision with your purchase.
The graphics card used to test the performance of these water blocks is a Zotac RTX 3080 Trinity OC which uses a reference PCB design and is compatible with the Alphacool and Corsair reference blocks. However, EKWB manufactured a specific water block for this graphics card as there was an incompatibility issue with the company's reference block. EKWB originally listed the Zotac RTX 3080 Trinity as compatible with its reference water block but later backtracked after finding this anomaly.
All three water blocks come with the appropriate installation hardware, thermal compound and thermal pads. EKWB and Alphacool blocks require the user to apply the thermal compound and install the thermal pads to the block, while Corsair pre-apply thermal compound and pre-install the thermal pads for a simplified installation process, which makes the Corsair installation a little quicker.
EK-Quantum Vector Trinity RTX 3080/3090 D-RGB – Nickel + Plexi:
Price: €138.57
Backplate price: starting from €31.01
Features:
Available in either Nickel + Plexi or Nickel + Acetal finish, both options feature a nickel-plated copper cold plate that directly contacts the GPU die, VRAM, Mosfet and other critical components on the board.
CNC machined cold plate equipped with 27 microfins and 0.5mm wide microchannels for unrestricted flow and thermal performance.
Uses a split-flow design with optimised flow paths aimed at reducing hydrodynamic instabilities and vortexing.
Digital 5v RGB illumination comprising of 12 individually addressable LEDs integrated into an aesthetic black end piece. The RGB lighting is compatible with all major motherboard manufacturers and connects to motherboard headers via a 3-pin 5v connection.
A selection of backplates is available separately including the recently released Active Backplates for water cooling the rear of the PCB.
Technical Specification:
Dimensions: (LxHxW) – 231x124x20.5mm
D-RGB cable length: 500mm
D-RGB LED count: 5
D-RGB connector: standard 3-pin (+5V, Data, Blocked, Ground)
Alphacool Eisblock Aurora Acryl GPX-N RTX 3090/3080 with Backplate (Reference):
Price: €134.99
Backplate price: Included in kit
Features:
Thermal pad thickness reduced to 1mm, moving the block closer to components along with a reduced cold plate thickness for improved thermal performance.
Digital 5V addressable RGB LED light strip embedded into the bottom of the block running its entire length to illuminate the whole water block.
Nickel-plated copper cold plate with improved nickel plating over previous versions for increased acid resistance to resist flaking.
Compatible with all Nvidia RTX 3090/3080 reference PCB design graphics cards.
Technical Specification:
Dimensions: (LxHxW): 224.9 x 121.4 x 25.5 mm
Material cooler: Nickel-plated copper
Material top: Plexi
Cooling fin thickness: 0.6 mm
Threads: 4 x G1/4"
Power connector: Digital RGB 3-Pin 5V (0.5A)
Corsair Hydro X Series XG7 RGB 30-Series Reference GPU Water Block (3090/3080):
Price: £154.99
Backplate price: Included in kit
Features:
Precision CNC machined nickel-plated copper cold plate with over 50 cooling fins positioned directly over the GPU die for optimal heat transfer.
Terminal block with G1/4" fittings featuring a design inspired by the iconic Corsair Dominator Platinum memory appearance.
A full cover aluminium backplate that completely covers vulnerable components on the rear of the PCB is included in the kit.
Built-in RGB lighting with 16 individually addressable LEDs, customisable via Corsair iCUE software (controller sold separately) or synchronised with the motherboard using the supplied 3-pin 5V header cable.
Pre-applied thermal compound and thermal pads for speedy installation.
Technical Specification:
Warranty: 3-Year
Port Thread: G1/4″ BSPP
Cold Plate Material: Nickel-Plated Copper
Fluid Chamber Material: PMMA
Operating Temperature: 60°C coolant temperature
Installation and RGB Lighting Effects:
The installation process for all three water blocks is very similar, detailed installation manuals are available either online or via paper copies supplied in the kit (Alphacool and Corsair). EKWB requires the end user to cut all thermal pads to size and apply them to the correct areas of the water block before installation. Alphacool pre-cut and number the thermal pads which means applying them correctly is easy.
Corsair takes this one step further with Hydro X, because as well as pre-cutting the thermal pads to size, Corsair pre-applies them on both the water block cold plate and on the backplate, which means the Corsair installation is simple for novice water cooling enthusiasts while also reducing the time it takes to complete the installation. Corsair also pre-applies thermal compound to the GPU die contact spot.
RGB lighting effects on all three water blocks are of a high standard, Corsair and EKWB RGB implementations are top-notch and a level above Alphacool. Both Corsair and EKWB hide the RGB LEDs behind covers which vastly improves the effect. Alphacool leaves the LED strip on show which means LED light hotspots are visible and dulls down the overall effect slightly.
The EKWB and Alphacool RGB lighting fully illuminates the whole block due to the largely acrylic design, but the Corsair Hydro X XG7 RGB lighting is a little more subtle – only lighting up the central Plexi acrylic part of the block. Corsair and EKWB RGB effects are the best out of the three, the Alphacool effect is spoilt by the LED light bleed due to the visible LED strip.
Performance Testing:
To measure the thermal performance of these three GPU water blocks we devised an easily repeatable series of tests, using the 3Dmark Time Spy Extreme and Port Royal stress tests to simulate GPU load during gaming workloads.
A simple custom loop was constructed and equipped with a 360mm radiator, triple 120mm fans and a 120mm pump/res combo that was connected to each water block individually during testing. GPU temperature and frequency were recorded during each test using GPU-Z and averages calculated for analysis.
Test system specification
CPU: Intel Core i9-9900KS
Motherboard: Gigabyte Z390 Aorus Xtreme
Memory: 32GB (4 x 8GB Modules) Aorus RGB DDR4-3600
Graphics card: Zotac RTX 3080 Trinity OC
Storage: 500GB Plextor M9PeGN NVMe PCIe Gen3x4
Case: Open test bench
CPU cooler: Cooler Master Hyper 212 Black Edition
Radiator: EK-CoolStream PE 360 (Triple)
Pump/Res combo: EK-Quantum Kinetic TBE 120 DDC PWM D-RGB – Acetal
Fans: 3 x EK-Vardar S 120ER D-RGB
Power Supply: Seasonic Prime PX-850 80+ Platinum
For the first series of tests, a custom fan curve was configured to replicate the fan speed of the stock Zotac cooler. As the GPU core temperature increases, so does the fan speed of the 360mm radiator fans, which forms part of the cooling loop. This allowed us to compare water block performance against the stock cooler.
The 3Dmark Time Spy Extreme stress test was then run in a loop 30 times, which lasts approximately 30 minutes, allowing the graphics card to reach its steady-state temperature. The board power limit was set to 105%. Average GPU core temperature, VRAM temperature and GPU frequency were calculated to measure performance.
A second run of the Time Spy stress test 30x loop followed, but with the GPU and VRAM overlocked (GPU core +140MHz, VRAM + 500MHz) to see how this impacted temperature and frequency. The same measurements were taken and plotted in the charts below.
To measure the three water blocks performance against each other under controlled conditions, the fan speed was then set to a fixed 1300RPM which also normalised noise levels. By using the 3Dmark Port Royal stress test in a loop 30 times, we could measure GPU core temperature, VRAM temperature and frequency again and analyse the results to see which water block provided the optimal thermal performance and frequency.
To measure noise levels a sound meter was placed 200mm from the test bench while each water block was being stress-tested. The peak noise level during the stress test was recorded and plotted in the chart below.
Time Spy Extreme Stress Test: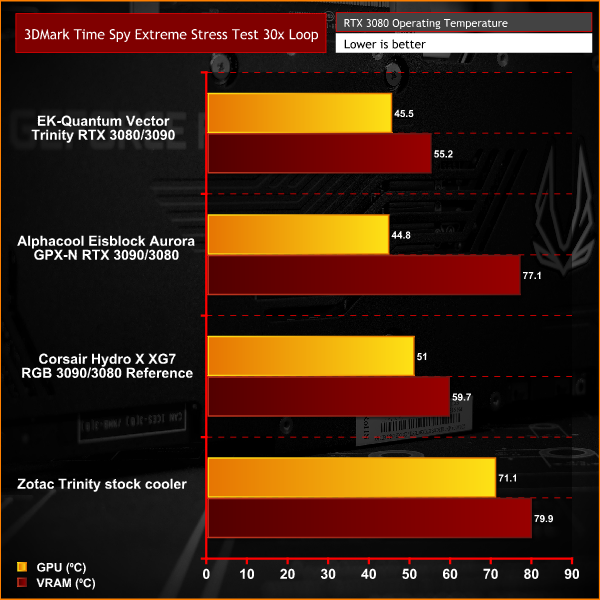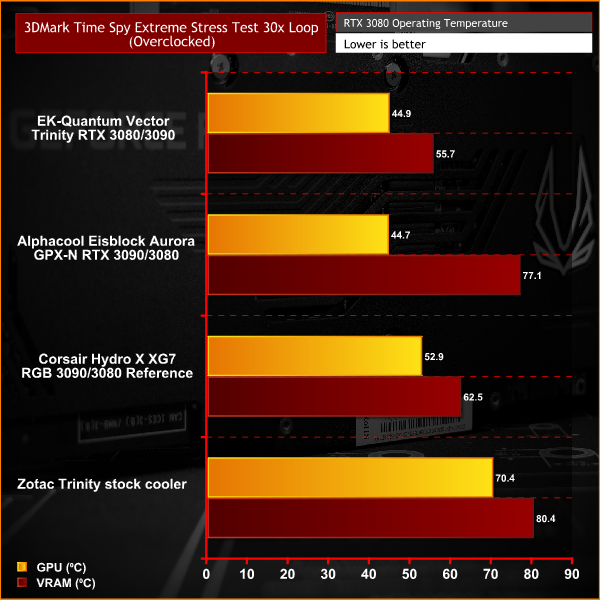 With the Graphics card running at the stock frequency or overclocked, GPU core temperature using the EK and Alphacool blocks were neck and neck. However, the Alphacool recorded a higher VRAM temperature, over 20°C higher than the EK block and virtually on par with the stock Zotac air cooler, which is certainly disappointing.
The reduction in GPU core temperature using any of the three water blocks resulted in an increase in core boost frequency. All three water blocks provided an increase in boost frequency of between 50-60MHz. The lower GPU core temperature produced by the EK and Alphacool blocks at stock clocks allowed the GPU to boost a little higher on average than the Corsair block.
Port Royal Stress Test: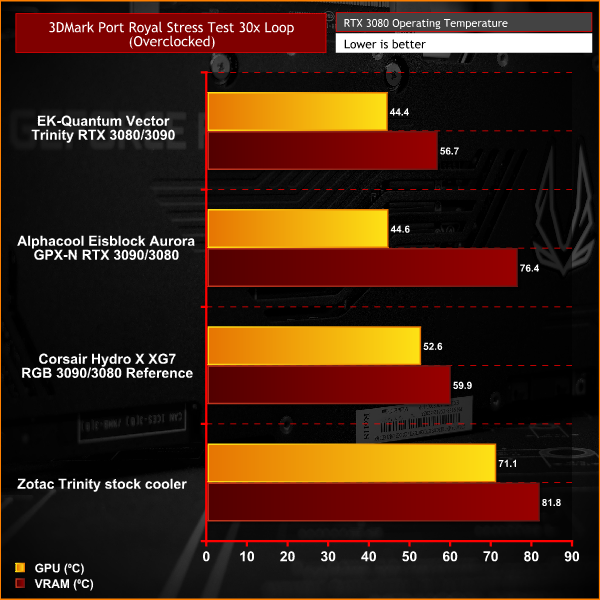 As we saw in the Time Spy Stress test, the Corsair XG7 thermal performance was slightly worse compared with the other two water blocks. Again, the Alphacool block struggled to keep the VRAM temperature down. However, it is still within the specified operating range.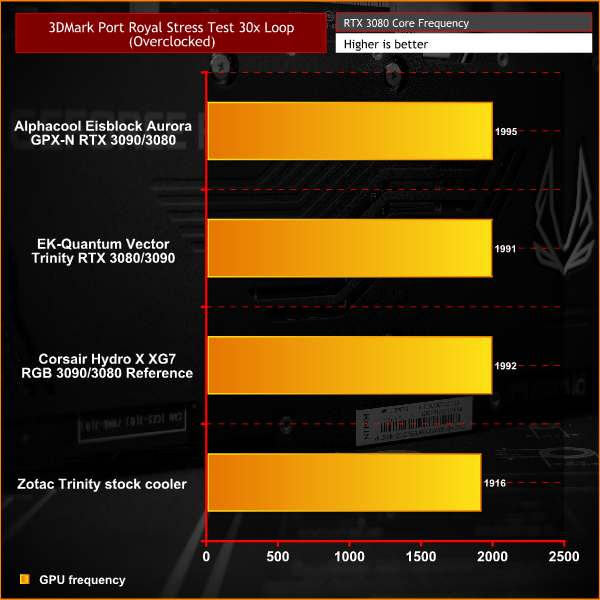 With the lower GPU core temperatures produced by the custom water blocks, gains of up to 80MHz were achieved by all three water blocks with Alphacool marginally offering the best boost frequency out of the three.
Noise Levels Under Load: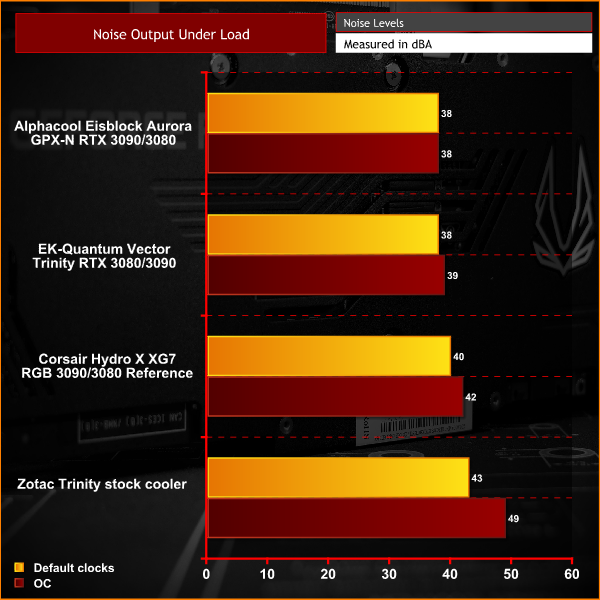 Unsurprisingly, noise levels were significantly reduced with all three water blocks installed. As well as lower temperature, reduced noise levels are a huge benefit of custom loop cooling – something which is often overlooked. With the Alphacool and EKWB blocks installed, the system was virtually silent under load.
Closing Thoughts:
Before declaring the winner of these three water blocks, I first need to mention the issues encountered with the Alphacool block and excessive VRAM temperature. The Alphacool water block was an early sample, supplied with only 2mm thermal pads for the backplate. I reached out to Alphacool about the excessive memory temperature problem and the response was that revised kits were being shipped with 3mm and 2mm backplate thermal pads (2mm for RTX 3090 and 3mm for RTX 3080).
Alphacool sent us some 3mm thermal pads to replace the 2mm backplate pads from the kit. After re-testing with the 3mm pads fitted to the backplate, there was no significant improvement in VRAM temperature. I also tried installing 0.5mm thicker thermal pads directly to the VRAM chips on the cold plate side of the block. This did significantly improve VRAM temperature under load but harmed GPU core temperature due to poor block to GPU die contact.
Maybe this issue is due to manufacturing tolerances of AIB cards and it may not be an issue with every RTX 3080 or 3090. Using the Alphacool block, the VRAM temperature was not above the recommended operating range, but with our Zotac RTX 3080 Trinity OC card, VRAM temperature was excessive. KitGuru also tested a Palit RTX 3080 with a different sample of the same Alphacool block and similar behaviour was observed with that block too. However, this block again was an early sample. Alphacool has suggested that it will try to replicate the issue internally and investigate the problem, so we will update this article if we hear more.
So, which one of these blocks is the overall winner? If it was a competition based on appearance alone, then the Corsair Hydro X block would be the winner for me. The Hydro X XG7 is a very sleek looking block, with subtle but vivid RGB lighting and a very smart looking backplate. However, performance is key with GPU water cooling and the Corsair Hydro X block was a slight disappointment in this area. Corsair is sending us a second block to test, so we will update this article if our findings change.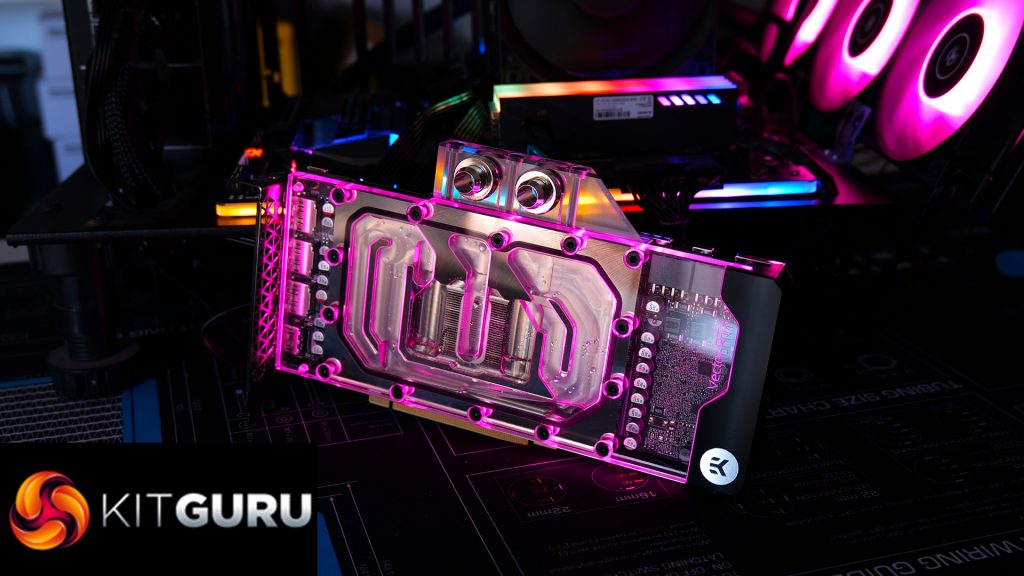 With the appearance, performance and build quality all taken into account, the EK EK-Quantum Vector Trinity RTX 3080/3090 was a clear winner. EK has found the balance between performance, build quality and cost. When you pick up an EK GPU water block you can feel the quality instantly – there are no rough edges, the block feels heavy, RGB LEDs are hidden and the effects look good. All around the EK block is a solid product.
The only minor gripe with the EK block is that it doesn't come with a backplate in the kit like the other two do. However, EKWB has a choice of backplates for some blocks, so this might explain the decision not to include one. This does increase the cost of the whole package though so consider this when budgeting for your next GPU water block.
EKWB also has new Active backplates available for RTX 30 series cards too. We were expecting one to be included in his review but the sample didn't arrive in time. I expect the active backplate to be most effective on RTX 3090 cards with memory chips on both sides of the PCB, but it will be interesting to see if they improve thermals on an RTX 3080 too. Hopefully, we will get the chance to test this soon.
EK-Quantum Vector Trinity RTX 3080/3090:
Pros:
Class-leading build quality and finish.
Hidden RGB LED strip.
Great thermal performance.
Cons:
Backplate isn't included.
Corsair Hydro X Series XG7 RGB:
Pros:
Sleek looks.
iCUE integration with optional 5v 3-pin motherboard RGB header included.
Easy installation.
Cons:
Alphacool Eisblock Aurora Acryl GPX-N:
Pros:
Excellent GPU core temperature under load.
Easy installation.
Motherboard RGB synchronisation.
Cons:
Excessive VRAM temperature.
Visible RGB LEDs look a little unsightly.
KitGuru says: Of the three water blocks on test, the EKWB was the winner for me; it had the best balance between style and performance. We know there are other GPU water blocks out there for RTX 30 series cards, so which ones would you like to see tested against the EKWB block in the future? Do you have a personal favourite?
Be sure to check out our sponsors store EKWB here