It has been a few years since we last rounded up the best mesh WiFi options in one go with our Ultimate Mesh WiFi Shootout. Until recently, the models we tested then were still worth considering. But WiFi 6 is starting to mature, and now there are some valid mesh choices that use the new wireless standard. So we thought we would put four of the best WiFi 6 mesh systems through their paces, to help you choose your next home wireless networking upgrade.

For standalone devices, WiFi 6 still feels more like future proofing than a necessity. But for mesh WiFi it makes a lot more sense, acting as the high-performance wireless backbone between the main router and its satellites. In this test we bring together the latest mainstream WiFi 6 mesh kits from NETGEAR, BT, tp-link and ASUS. Prices range from under £300 to over £900, with two or three devices in each bundle.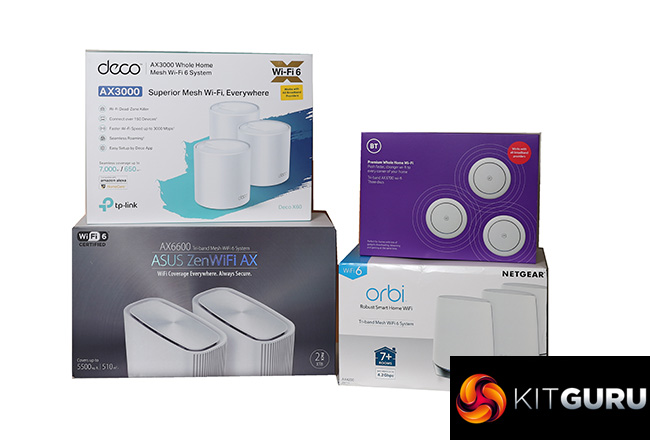 Just in case you don't know how mesh WiFi works, it is not quite the same thing as the WiFi extenders you can pick up for £50. A mesh WiFi system will usually have a dedicated wireless link called a "backhaul" between satellites and primary router, whereas an extender sits on the primary WiFi. An extender may also require your clients to connect to a separate wireless network.
Mesh WiFi seamlessly creates a single wireless network with the same SSID and authentication throughout, so you can move around any space that is in range without noticing whether you've switched to a different satellite. In theory, you can increase the footprint of your WiFi by adding more satellites, too.
Business users with wired Ethernet throughout their premises can add access points and connect them to the LAN. But most private homes don't have Ethernet wiring, which is where the wireless backhaul comes in, performing the same job. Having this wireless connection operate at the fastest speed possible means that clients can enjoy fast connections, even if they don't support WiFi 6.
The mesh system will provide faster Internet connectivity by taking the broadband, sending it at WiFi 6 speeds from router to satellite, and then clients attached to the satellite will get faster connections even if they are only 802.11ac (WiFi 5) or 802.11n.
That's the theory, anyway. In order to test this, we set up all four mesh WiFi systems in a typical terraced house, and measured the performance at various locations throughout the dwelling to see how they compared with each other when using different types of WiFi client. We also provided full details of setup procedures and how their physical and software features stack up against each other.
So read on to find out which WiFi 6 mesh system provides the fastest wireless networking and best coverage to upgrade your home network to the next level of performance.