In the time since the leaked images allegedly showing RTX 3080 came to light, Nvidia started an investigation to determine the source of the leak. There's the possibility that the Founders Editions' manufacturers are at fault, namely Foxconn and BYD (Build Your Dreams). Apparently, Nvidia's sales and product managers hadn't seen the cooler's design prior to the leak, meaning that the leaked images may well be as legit and fresh as they come.
Igor's Lab has shared multiple details regarding the upcoming RTX 3000 series. Bear in mind that, with rumours suggesting the cards are still about three months away, Nvidia still has enough time to change some specifications or design features of the upcoming graphics cards.
Starting with the cooler, Igor's Lab sources claim that the "production price" of $150 includes the complete Founders Edition design (housing, fan, and heatsinks). Given the price of this cooling solution, it is expected the total cost of the Founders Edition of the RTX 3000 graphics cards will be increased.
Given the not-so-usual cooler design, Nvidia designed a PCB with "an additional cutout" called PG133. This PCB is expected to be used on the first commercially available RTX 3000 graphics cards: RTX 3080, RTX 3080Ti/Super and RTX 3090. RTX graphics cards using the PG133 PCB will have their power connectors on the end of the card, thanks to the "use of flexible power supply cables". The other PCB mentioned is the PG132, which Igor's Lab suggests could be just 21.3cm long, and will be the reference PCB for the AIB partners. This design isn't likely to include the additional cutout.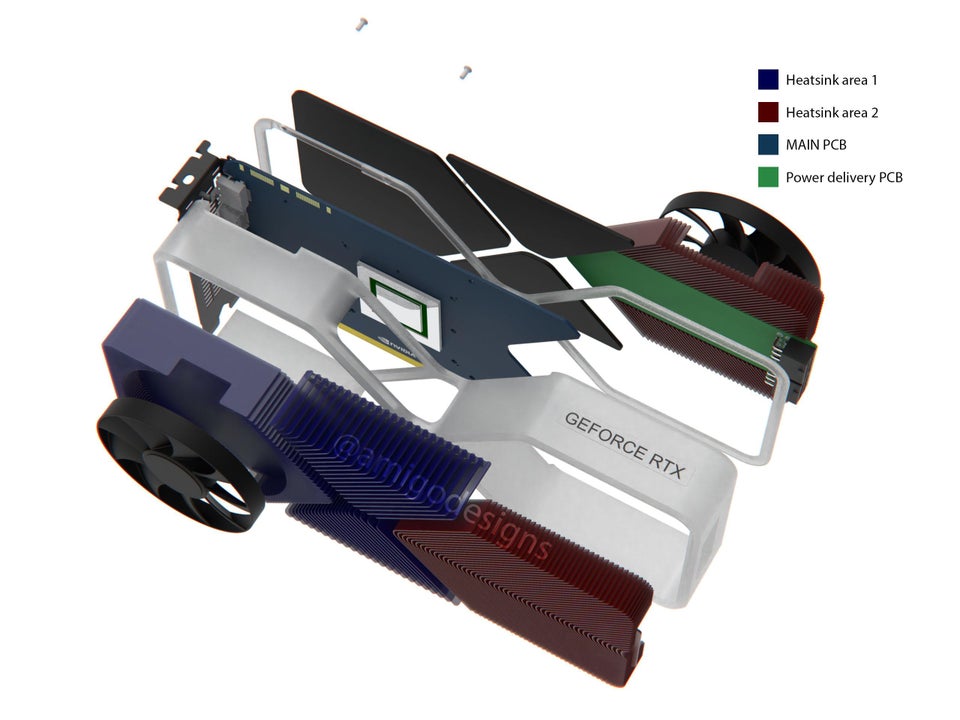 Image credit: u/tor6770
The three launch cards are expected to use the GA102 GPU and GDDR6X memory. The RTX 3080 should come with 10GB of VRAM, a 320-bit interface, and a TBP of 320W, while the RTX 3080TI/Super should have a similar TBP, but may come equipped with a wider 352-bit memory interface and 11GB of VRAM. The RTX 3090 is expected to be the most powerful model, using a 384-bit memory interface, 24GB of VRAM (double-sided) and have a 350W TBP.
We're not sure about the specifications of the RTX 3080Ti/Super given how similar they are to the RTX 3080, but Igor's suggests this could be a new way for Nvidia partition its product stack, similar to the 'A' and 'non-A' GPUs we saw with Turing. Another thing to note is the nomenclature of the RTX 3090, which hasn't been used for quite some time. Considering that none of this is official, we will have to wait for Nvidia's official announcement of the RTX 3000 series for confirmation of this information.
Discuss on our Facebook page HERE.
KitGuru says: Are you hyped about the upcoming RTX 3000 series graphics cards? Will you upgrade your graphics cards when the new Nvidia GPUs get released?