Way back in the first week of December, Sascha Krohn, Global Senior Technical Marketing Manager at Asus made the trek from his office at Asus HQ in Taipei to tease KitGuru with two new laptops that will be launched at CES, early in January. As we said we originally held this interview back in early December and ASUS were under an NVIDIA NDA at the time so they couldn't share all the details in the video – read the article below for updated specifications on the laptops.
https://www.youtube.com/watch?v=xybZmxgKEeg
ROG Zephyrus S GX701
The ROG Zephyrus S GX701 is a bigger, more impressive version of GX501 Zephyrus.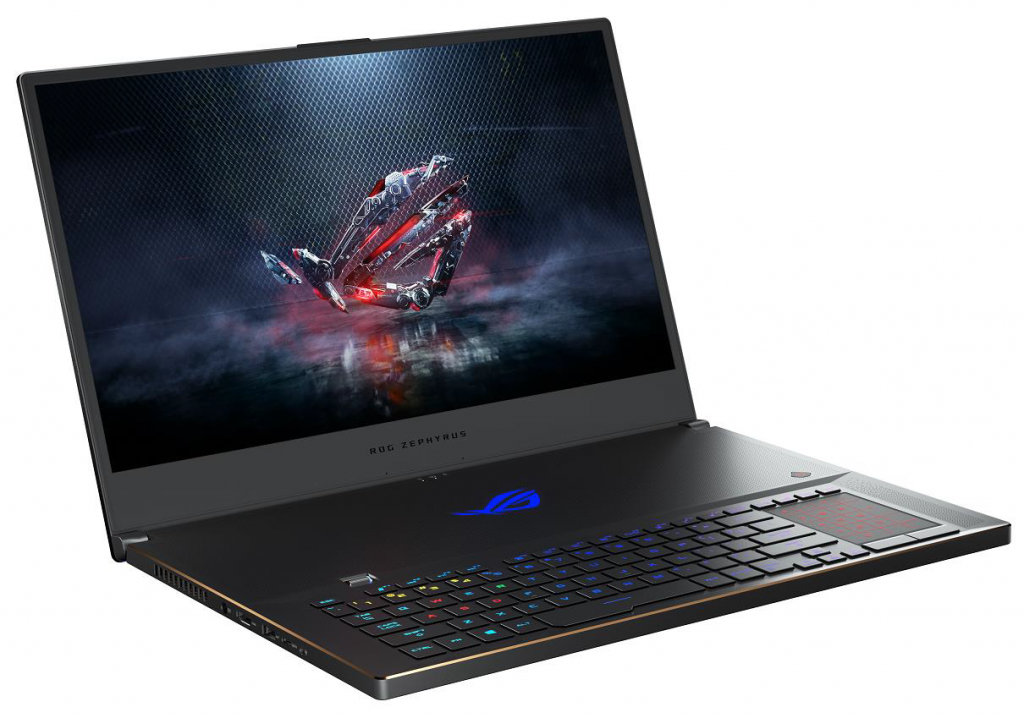 SPECIFICATIONS:

ROG Zephyrus S (GX701GX)

Processor

Intel Core i7-8750H

Operating system

Windows 10 Home
Windows 10 Pro (ASUS recommends Windows 10 Pro)

Display

17.3" FHD (1920×1080) IPS-level panel, 144Hz, 3ms, 100% sRGB, Optimus,
G-SYNC, Pantone Validated

Graphics

NVIDIA GeForce RTX 2080 with Max-Q Design
8GB GDDR6 VRAM

Memory

DDR4 2666MHz SDRAM
Up to 24GB (8GB on board memory)

Storage

M.2 NVMe PCIe 3.0 x4 1TB SSD
M.2 NVMe PCIe 3.0 x2 512GB / 1TB SSD

Wireless

802.11ac 2×2 WLAN
Bluetooth® 5.0 (Version may vary as the OS upgrades)

Connectivity

1 x USB3.1 Gen2 Type-C with DisplayPort™ 1.4 and Power Delivery
1 x USB3.1 Gen1 Type-C
1x USB3.1 Gen2 Type-A
2x USB3.1 Gen1 Type-A
1 x HDMI 2.0b
1 x 3.5mm headphone and microphone combo jack
1 x Kensington lock

Keyboard

Per-key RGB; backlit chiclet keyboard
AURA SYNC
Support N key
Hot keys: Ten-key Function / ROG Armoury Crate
1.4mm travel distance

Audio

2 x 2.5W speaker with smart amp technology
Array microphone

i Software

Armoury Crate
GameFirst
GameVisual
Sonic Studio & Sonic Radar
Aura Core
XSplit Gamecaster (Free)
Android / iOS App

AC adapter

230W power adaptor
Plug Type: ø6.0 (mm)
Output: 19.5V DC, 11.8A, 230W
Input: 100~240V AC, 50/60Hz universal

Size

399 (W) x 272 (D) x 18.7 (H) mm

Weight

2.7kg
The most obvious change is the 17.3-inch screen which (obviously) makes the chassis quite a bit larger but also has the effect of making the laptop appear thinner even though it is a couple of millimetres thicker. The removal of the webcam from the top bezel has a very positive benefit for the looks of the laptop. The screen packs a 144Hz refresh rate.
ROG GZ700GZ
And then there's the ROG GZ700GZ, which was codenamed Mothership during development and went by that name during our video.
SPECIFICATIONS:

GZ700GX (ROG Mothership)

Category

AAA Gaming

Operating System

Windows 10 Home or Windows 10 Pro

Processor

Intel Core i9-8950HK

Graphics

NVIDIA GeForce RTX 2080 8GB GDDR6 VRAM

Memory

DDR4 2666MHz SDRAM (Dual channel)
Up to 64 GB

SSD

3 x M.2 NVMe PCIE 3.0 x4 512GB SSD

Display

17.3-inch Full HD (1920×1080) IPS-level panel, 144Hz, 3ms, 100% sRGB

VR Ready

YES

Keyboard

Detachable keyboard stays wired or goes wireless
Backlit Chiclet Keyboard
N-key rollover
Per key RGB
Aura Sync (only support when keyboard is wired)
2.5mm travel distance
0.3mm keycap curve

Audio

4x4W speakers with Smart AMP technology Array Microphone

Software

Armoury Crate
GameFirst V
GameVisual
Sonic Studio & Sonic Radar lll
Aura
XSplit Gamecaster (Free)
Android / Ios App

I/O Ports

1 x USB3.1 Gen2 (Type-C) / Thunderbolt 3
1 x USB3.1 Gen2 (TypeC) / VirtualLink
3 x USB3.1 Gen2 (Type-A)
1 x USB3.1 Gen1 (Type A) / USB charger +
1x HDMI 2.0
1x 3.5mm headphone and microphone combo jack
1x 3.5mm microphone jack
1 x RJ-45 jack


1 x SD card reader
GZ700GZ is a new type of hybrid PC that stands upright and has a detachable keyboard. The chassis and parts are all made of aluminium and it looks absolutely fascinating.
And yet, you don't really want to hear about any of that. What you want to hear us talk about are the Nvidia RTX 2080 graphics inside GZ700GX and the RTX 2080 Max-Q graphics in the big new Zephyrus.
We feel your pain, honestly we do, but Asus was under the most extraordinary NDA that almost defies explanation.
There were rumours flying around in December that Nvidia would launch RTX 20-series mobile graphics at CES however none of this was solid information from manufacturers and we were not covered by NDA, which is why we were able to discuss the subject in Leo Says HERE and HERE.
Once we sign an NDA we have to officially shut up. We reason we were not covered by an Asus NDA is that Asus literally said nothing about the specs of the two laptops other than they contained 'Next Gen graphics'. They had been instructed not to turn the laptops on, even to show the desktop or to demonstrate Asus software, and that is the reason Sascha spent his time discussing cooling fans, chassis design and USB-C charging without once touching on the graphics.
We would have entirely understood the position if we had planned on running a preview of these laptops however this piece was always scheduled to go live after the Nvidia Press Conference at CES. The embargo will lift on Sunday night in Vegas, which is some awful hour of Monday morning in Europe, however you already know that because you will see hundreds of news posts appear on-line simultaneously.
Despite that statement of the obvious Asus was strictly forbidden to show off their new laptops in advance, even if the preview didn't mention the graphics or show them in action, and Asus honoured that embargo to the letter.
And that is the reason why we seem to have wilfully ignored the major features of these new laptops, not because we are utter idiots but simply because we had no choice.
We do not yet know the price of the GZ700GX Mothership but are confident it will sell at a premium as aluminium and unique designs tend to jack up the price.
There are two SKUs of GX701 coming to the UK:
One will have RTX 2070 graphics and a price of £3,199 while the other has RTX 2080 Max-Q graphics and a price of £3,499. You can currently buy the GX501 Zephyrus with GTX 1080 Max-Q at a hefty discount which suggests the new models are expected to eclipse the old models with 10-series graphics.
KitGuru says: We cannot wait to see RTX 2080 in action in laptops and the combination of the new graphics with Core i9-8950HK in GZ700 sounds utterly bonkers quite glorious. We will be sure to hunt out these new models at CES and confirm the final specification. Heck, we may even get to see them running some games!