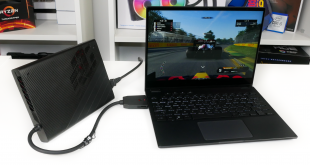 The AMD Ryzen 9 5980HS is an eight-core, sixteen-thread Zen 3 processor squeezed into a 35W TDP package. We examine the performance of AMD's newest HS series flagship processor inside the sleek ASUS ROG Flow X13 laptop. We also take a look at eGPU gaming performance using the RTX 3080 Laptop-powered ASUS ROG XG Mobile.
While the 5980HS is not technically the flagship for AMD's new Ryzen 5000 Mobile processor line-up – that honour goes to the Ryzen 9 5980HX – it is the company's fastest 35W TDP processor. That gives the chip the ability to be squeezed inside thin-and-light 13″ and 14″ form factor laptops that would have otherwise been confined to Intel or AMD low-power, 15-28W U-series chips.
The Ryzen 9 5980HS is an eight core sixteen thread Zen 3-based APU with eight Vega GPU cores. The Zen 3 cores have a base clock rated at 3.0GHz with a boost frequency reported as up to 4.8GHz.
Sixteen threads at 3.0GHz base frequency is impressive for the 35W TDP that comes with this HS series part. AMD has highlighted improvements to the on-chip power regulation – which allows dissimilar operations per core – as one of several key improvements for Ryzen 5000 Mobile.
Another key improvement is the inclusion of CPPC to allow for better selection of operating frequencies by the processor itself. This is highlighted as delivering a notable improvement to battery life for Ryzen 5000 Mobile chips.
As is usual for Zen 3 in mobile form, we get a 16MB slab of L3 cache that is directly accessible by all eight CPU cores. This unified CCX design is an improvement versus the Zen 2 core of yesteryear when it comes to core-to-cache latency. And the cores themselves maintain the same 0.5MB of L2 cache each.
The use of a single monolithic die for this APU, unlike the Core Chiplet Die and IO Die chiplet approach for Ryzen 5000 desktop processors, is also advantageous for latencies when reaching out for IO operations, according to AMD.
Despite the update to the CPU cores, the GPU cores maintain the use of AMD's older Vega architecture albeit with a clock speed bump to 2.1GHz maximum. While this is not necessarily an issue on more powerful laptops with dedicated GPUs – such as the ASUS Flow X13 – it certainly is not ideal to users wishing for the most modern AMD graphics architecture from their APU's iGPU.
Thankfully, you do at least get 4K60 iGPU decode of H.264, HEVC, and VP9 media. So at least your dGPU won't be awoken to playback common video content. And 8K30 YouTube content was fine with the iGPU but 8K60 was too much in our brief testing (if you care about 8K playback capability).
The 180mm2 SoC design features 10.7 Billion transistors fabbed on the 7nm TSMC process node.
A couple of notable points that AMD highlights for Ryzen 5000 Mobile are its flexibility that allowed rapid time to market of 90 days after the desktop processors launched. This is thanks to the Ryzen 4000 Mobile predecessor SoC being designed to handle either Zen 2 or Zen 3 cores, making the upgrade to Ryzen 5000 with Zen 3 a relatively rapid process.
This also has the benefit of making Ryzen 5000 Mobile APUs a drop-in switch for OEMs with laptop models already capable of taking Ryzen 4000 Mobile. AMD suggests that this will help to improve overall adoption for Ryzen 5000 in new laptops and it should also help with a faster time to market for OEM laptop vendors.
There are other chips in AMD's reasonably comprehensive Ryzen 5000 Mobile line-up. These are 45W+ HX series overclockable processors to compete with Intel's HK chips. 45W Ryzen 5000 H series chips to go head-to-head with Intel's H series chips. And 35W TDP HS series parts that have no logical competitor from Intel as they bridge the gap between mainstream (H series) and low-power (U series) laptop processors.
AMD also features several U-series models intended for lower power, longer battery life operation for physically smaller notebooks. The U series Ryzen 5000 Mobile processors feature a 15W nominal TDP, though we will likely see manufacturers pushing those actual operating values higher as we saw with Ryzen 4000 Mobile.
Important to note is the re-appearance of some Zen 2 processors in the U-series line-up; naming convention to distinguish between Zen 3 and Zen 2 in Ryzen 5000U form is non-existent, which is a disappointing move from AMD that will annoy and confuse consumers.
Let's take a look at the performance of AMD's Ryzen 9 5980HS mobile processor inside the ASUS ROG Flow X13 laptop.
Specifications (Ryzen 9 5980HS Processor):
Cores: 8 Zen 3 CPU cores, 16 threads
CPU Frequencies: 3.0GHz base, up to 4.8GHz boost
iGPU: 8 Vega GPU Cores at up to 2.1GHz boost
TDP: 35W TDP
Cache: 20MB total cache (16MB L3 + 4MB L2)
Memory Support: Dual 64b channel DDR4-3200 and Quad 32b channel LPDDR4X-4266 memory support
PCIe Connectivity: 8 Graphics PCIe Gen 3 lanes + 12 General PCIe Gen 3 lanes