If we start off with some quick feedback for the device housing the Ryzen 9 5980HS processor that we are specifically interested in. The ASUS ROG Flow X13 is a very likable, well-built, sleek laptop that offers a hefty punch in its 13" form factor.
A few of the quirks annoyed me with the laptop early on. I did not like the power button positioning due to accidental presses. The ASUS and other pre-installed software is a little in-your-face on times but certainly is as bad as some other offenders. And the lack of a standard print screen button certainly did not impress me.
However, with an enjoyable-to-use 13.4" 16:10 4K touch screen display the laptop certainly grew on me quickly, despite not featuring the same OLED colour punch as the Razer Blade Stealth 13 competitor.

Add in the 6-hour runtime from ASUS' 62 Whr battery according to PCMark 10 and the joy of one-handed portability thanks to the sub-16mm 1.3kg design, and I can now see the clear value of the Flow X13 as a powerful and portable, premium daily driver. Plus, the cooling performance was strong overall without unreasonable levels of noise output.
I just wish ASUS had included an additional USB-A port and a more fittingly high-end NVMe SSD. At least the 32GB of fast LPDDR4X memory kept up with my million-tab Chrome usage pattern though. The GTX 1650 Max-Q GPU is underpowered, but it will be good to see when higher-end graphics cards are available in this slender laptop in the future.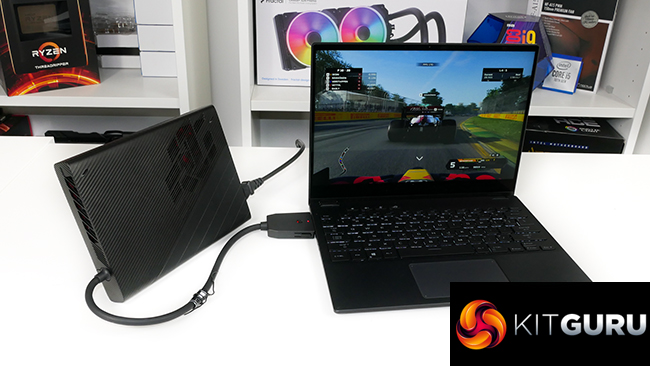 The ASUS ROG XG Mobile eGPU and its 150W RTX 3080 Laptop chip help the Flow X13 deliver a solid 1080p high refresh rate and 4K gaming experience. However, I do not feel that the solution is good enough to justify its high price tag.
There are still instances where technically slower internal laptop hardware offers better performance at 1080p. And when playing with a big 4K external monitor or TV, the Razer-based Thunderbolt 3 and desktop-calibre RTX 3080 system (which costs less than the XG Mobile RTX 3080 version) delivered a better experience. And that is without accounting for the benefit of the open Thunderbolt eco-system and graphics card upgrade potential.
Where the ROG XG Mobile does a good job is by offering a very strong boost to high-resolution monitor gaming in an incredibly portable form factor. You can sling the unit into a rucksack with ease, and when you don't need the extra GPU horsepower for gaming or rendering or video editing, a quick disconnection leaves you with the still powerful and portable Flow X13 laptop.
Next time, though, I would rather see a Thunderbolt implementation if possible, or even a full-fat desktop-calibre GPU at this asking price, even if it means including an added external power brick.
With a price in the order of £2900 for the laptop plus RTX 3080 dock, the overall solution is very expensive given the eGPU performance on offer. But for the laptop alone, if the 4K, Ryzen 9 5980HS, 32GB version comes in for around £2K, that will be a very appealing solution especially versus the likes of the Tiger Lake-powered Razer Blade Stealth 13.
Focussing now on the AMD processor, the Ryzen 9 5980HS is a really strong performer that opens up a new level of CPU grunt for this 13-14" slim and light laptop form factor.
You get vastly superior multi-threaded performance versus the current alternatives in this design space – namely Intel's Comet Lake 10th Gen and Tiger Lake 11th Gen up to 28W chips. And the 5980HS is even very strong versus Intel's latest-and-greatest in Tiger Lake when it comes to single-threaded and lightly-threaded performance. Plus, the victories with the 35W Ryzen 9 versus a 45W or 56W Core i9-10980HK are consistently in favour of the AMD processor.
Power-biased performance of the chip is very good – with all eight cores running at around 3.3GHz for a 35W package reading. Of course, you also still get the punchy short duration power dynamics with lofty initial boost clocks. And then we get all the Zen 3 and TSMC 7nm goodness including strong efficiency from the process node and a large slab of L3 cache which looks to be good for gaming when partnered with an appropriate graphics card.
It's not all smooth sailing though. AMD is still using the older Vega architecture for its iGPU in the Ryzen 9 5980HS which – while not a problem for this GTX 1650-equipped laptop – is slightly disappointing from an acceleration and iGPU decode/encode perspective. AMD also uses PCIe Gen 3 lanes for the Ryzen 5000 Mobile SoC versus Gen 4 that we see from Intel's Tiger Lake. And AMD-powered laptop vendors really do need to find a way to compete effectively against the widespread and bulletproof Thunderbolt ecosystem on Intel competitors.
With that said, the Ryzen 9 5980HS is an absolutely superb offering from AMD. You get high levels of compute performance across sixteen threads, lofty clock speeds, and excellent power efficiency that allow this 35W-class chip to fit inside sleek laptop form factors that we do not associate with Intel H-series competitors.
Plus, to top it off, you get pretty much across-the-board better performance than Intel's current Core i9-10980HK flagship, even when that chip is given far more juice than AMD's Zen 3 processor in a physically more cumbersome chassis.

Overclockers UK is taking pre-orders on the Flow X13 + RTX 3080 eGP for £2899.99 HERE.
Pros:
Excellent all-round performance from the Ryzen 9 5980HS processor.
Strong power efficiency from AMD's eight-core CPU.
Good all-core and boost clock frequencies from the 5980HS.
35W TDP is advantageous for thermals, noise output, and battery life.
The Ryzen 9 5980HS looks to have strong gaming performance when partnered with the correct GPU.
ASUS' ROG Flow X13 laptop is a well-designed system that smartly exploits the benefits of the Ryzen 9 5980HS.
Cons:
No PCIe Gen 4 from the Ryzen 9 5980HS.
Onboard Vega GPU is starting to look like old tech, notably from the media encode/decode perspective.
AMD and laptop partners need to find a way to better compete with Intel's superb Thunderbolt eco-system.
KitGuru says: The Ryzen 9 5980HS is looking like a fantastic go-to option for high levels of energy-efficient performance in 14"-calibre laptops. And the ASUS ROG Flow X13 is a sleek laptop that is fittingly designed to take advantage of the Ryzen 9 5980HS chip's benefits. The ROG XG Mobile RTX 3080 Laptop-grade eGPU is very expensive for the performance if offers, though.