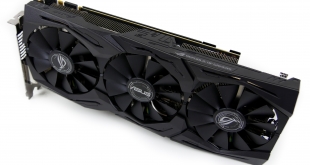 Today we are taking a look at the slightly more conservatively clocked 'A8G' ASUS ROG STRIX GTX 1080. With an out-of-the-box boost clock of up to 1809MHz (1835MHz if you enable the OC mode in ASUS' software), the A8G STRIX is around 90MHz slower than the STRIX OC O8G model. But for the A8G's reduced clock speed you get a purchase cost saving pushing towards £100 and considerably wider availability from retailers. So how does the ASUS ROG STRIX GTX 1080 A8G Advanced Gaming Aura perform?

Star of the show is ASUS' triple-fan STRIX/DirectCU III cooler. Sat on top of the 180W-rated (by default) GTX 1080 GPU, the extended and widened DC3 cooler should have no problems taming the core's thermal energy with relative ease.
ASUS also makes provision for memory and VRM cooling with the heatsink, which is always good to see for a card of this calibre. A feature unique to some more recent ASUS GPUs is the ability to control case fans using two 4-pin headers mounted on the graphics card's PCB.
Given that 2016 has been the year of RGB-ify everything, it should come as no surprise that the A8G STRIX GTX 1080 is fully ASUS AURA compatible. There are a number of lighting sections on the card itself, including the eye-catching ROG logo cut into the backplate, and different activation colours and modes can be selected to suit your preference.
Out-of-the-box, the ASUS ROG STRIX GTX 1080 'A8G' runs with a 1671MHz GPU clock and 1809MHz boost (64MHz and 75MHz faster than the GTX 1080 FE, respectively). There is also an 'OC Mode' which can be activated using ASUS' GPU Tweak software and increases the clocks to 1695MHz base and 1835MHz boost. Memory is set at the reference effective speed of 10,010MHz.
We observed the A8G operating at around 1911MHz GPU clock as its settling point under real-world gaming conditions.
Be sure to check out our sponsors store EKWB here