We measure graphics card acoustic emissions using a dedicated, passively-cooled system. The fan speed level at each point of interest is recorded when the card is in our test system. This fan speed is then manually set using the passively-cooled system and the noise output is recorded.
We measure at a distance of around 12 inches from the card and 12 inches above it. While this is arguably not the most realistic test scenario for acoustic emissions, it allows us to record perceivable difference in the cards' noise outputs while staying within the operating range of our recording hardware.
KitGuru noise guide
10dBA – Normal Breathing/Rustling Leaves
20-25dBA – Whisper
30dBA – High Quality Computer fan
40dBA – A Bubbling Brook, or a Refrigerator
50dBA – Normal Conversation
60dBA – Laughter
70dBA – Vacuum Cleaner or Hairdryer
80dBA – City Traffic or a Garbage Disposal
90dBA – Motorcycle or Lawnmower
100dBA – MP3 player at maximum output
110dBA – Orchestra
120dBA – Front row rock concert/Jet Engine
130dBA – Threshold of Pain
140dBA – Military Jet takeoff/Gunshot (close range)
160dBA – Instant Perforation of eardrum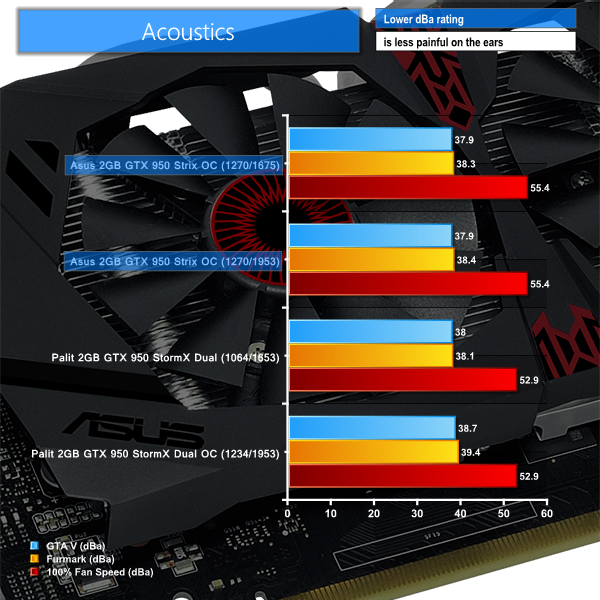 When idling and under low load, the pair of fans enter their 0 dB mode and completely stop spinning. This feature can be used to build a system that is very quiet when browsing the web, but then has promising cooling potential when a game is fired up.
It is very difficult to register any difference in sound level between the card's operating states. We did not see the fan speed level pass 44% throughout our testing. While 38.4 dB is audible (barely), it is difficult to identify when the fans are or are not spinning. Having to physically look to see if the fans are spinning is a welcomed sign of quiet operation.
The graphics card's cooler is loud at full speed (albeit not in the region of blower-style cooler noise output) although it is hard to imagine a usage scenario where the fans will reach anywhere near 100% operation.