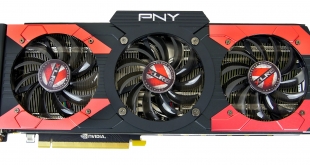 Nvidia's GTX 1070 graphics card remains the go-to option for 1440p gaming enthusiast due to a (current) lack of modern competition from AMD and the sheer expense of the GTX 1080 and Titan X Pascal chips. More than half-a-year after its launch and the GTX 1070 is still managing to hold its price in the UK, aided by the political events of 2016. We examine PNY's ~£450 GTX 1070 XLR8 OC to see how the company's triple-fan cooler and aggressive core overclock tackle modern games.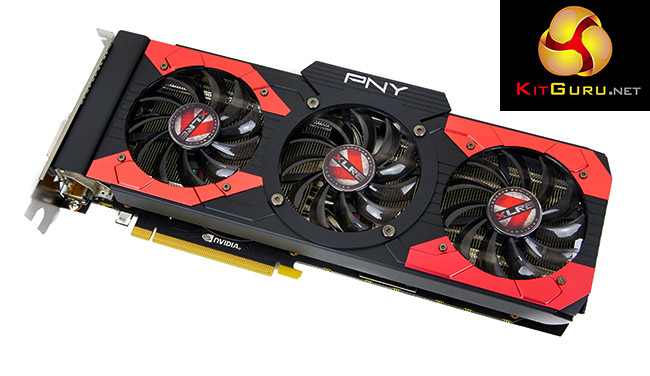 Going with a gamer-orientated style from yesteryear, PNY colours the GTX 1070 XLR8 OC's triple fan cooler in a red and black style. Red LEDs are also fitted to the board and activate continuously when one's system is powered on. If you like red in your system, PNY has made a good start on this card.
Good news for tinkerers who may be toying with the prospect of watercooling in the future, PNY uses the same reference GTX 1070 PCB for its XLR8 OC card. You get the same 4+1 phase power delivery system and single 8-pin PCIe power connector feeding the GP104 GPU and 8GB of GDDR5 memory.
Despite the included backplate, there are no flashy RGBs or 0dB fan operating modes for the GTX 1070 XLR8 OC so PNY is clearly relying upon build quality and straight-up performance to win over buyers.
PNY overclocks the core to 1607MHz (1797MHz Boost) which is an aggressive increase from the 1506MHz/1683MHz reference GTX 1070 FE frequencies. Memory is left unchanged at 8Gbps effective.
As shown in the MSI Afterburner screenshot above, PNY's GTX 1070 XLR8 OC will happily hover around and just above the 1900MHz GPU Core clock mark under gaming conditions. The higher the resolution, the lower the boost speed, but even at 4K the card would sit around 1911MHz.
Be sure to check out our sponsors store EKWB here