When the AMD R9 Fury X launched this year, reviewers quickly found out that there would be limited overclocking potential due to voltage locks, as well as limitations placed on the speed the card's high bandwidth memory (HBM) could run at. Now, it looks like things are loosening up a bit, with Sapphire's Trixx 5.2.1 software able to unlock both of those things.
This means the voltage of the R9 Fury X core can be unlocked, which means buyers may be able to access any untapped overclocking headroom and squeeze more performance out of the GPU.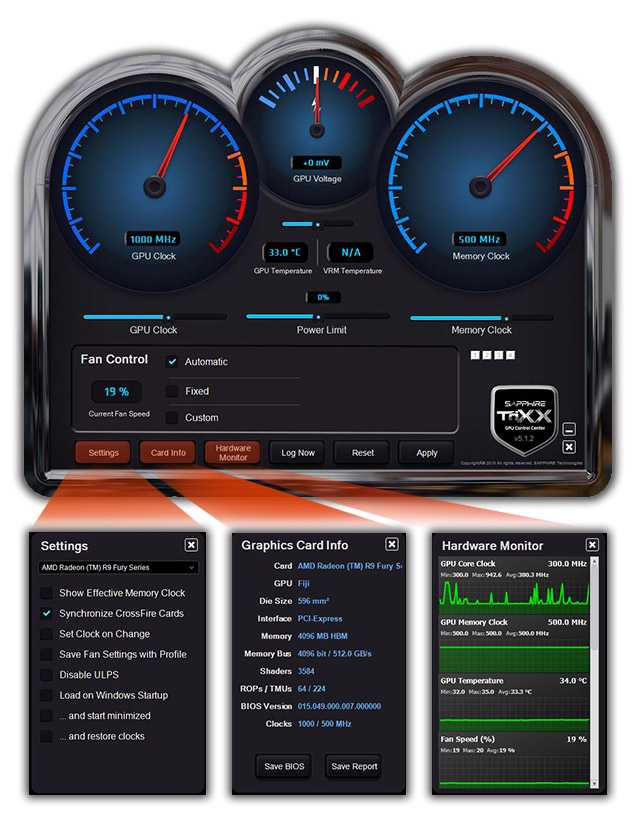 The Fury X shipped with a liquid cooler capable of 500 watts of thermal dissipation, this keeps the card very cool under gaming load. This also means that there is untapped thermal headroom for overclocking too, so now we just have to wait and see how much extra performance is possible with faster HBM and Fiji core speeds.
For reference, we were able to get our Fury X review sample from its base clock of 1050MHz to 1130MHz with the voltage restrictions in place. Fury X users can find the latest version of Sapphire Trixx, HERE. 
Discuss on our Facebook page, HERE.
KitGuru Says: Right now we don't know if other software suites will also offer HBM overclocking and over-volting for the Fury X. However, it will be interesting to see if Fury X owners can now squeeze some extra performance out of their cards.