Last week, ASRock made its venture into the GPU market official, announcing a new 'Phantom Gaming' series of graphics cards for AMD's RX-500 series. Prior to the announcement of these gaming-oriented cards, it was speculated that ASRock would also be looking to release GPUs for mining too, and we know that is definitely the case.
Speaking with crypto news site, Coindesk, an ASRock US representative confirmed that four of the new graphics cards are for 'mining only'. There are five different SKUs of the Phantom Gaming RX 570, and according to an internal presentation slide leaked by Videocardz, four of them target the mining segment. The fifth SKU of this RX 570 is intended for gamers, though discerning which is which will be difficult, particularly given that all the cards carry the 'Phantom Gaming' branding'.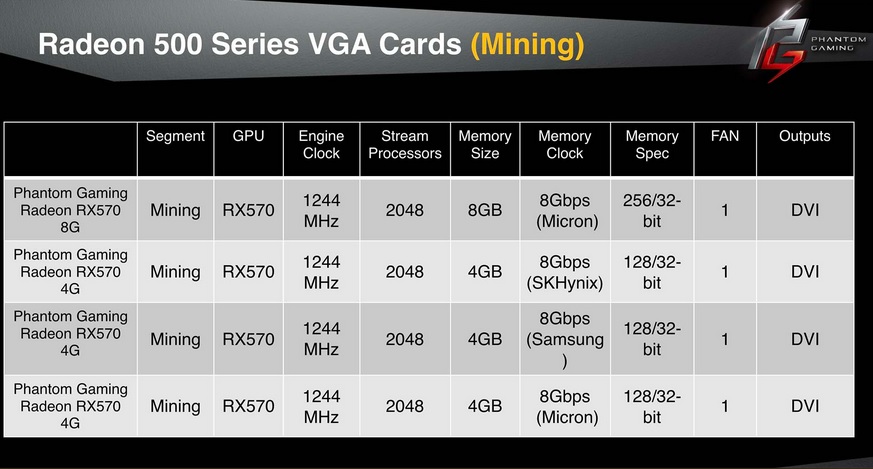 Graphics card vendors rarely reveal key details about individual SKUs to consumers. The leaked slide above has one particularly interesting point of note, as it shows the memory manufacturer being used for each version of the RX 570.
As Jason Evangelho notes, currently, Samsung is regarded as the top producer of VRAM in mining circles. Samsung's VRAM tends to overclock higher, which is important when trying to get peak results using mining algorithms.
Clock speeds across ASRock's stack of RX 570 cards remain the same, but three of them only come with 4GB of VRAM rather than 8GB.
KitGuru Says: We already figured that ASRock would release a set of graphics cards targeted towards the mining crowd, though I would have expected them to be branded differently to help buyers separate them. Perhaps this is something that will change in the future when these GPUs start to hit shelves.