Back at the start of 2016 it was starting to look like Microsoft had completely forgotten how to deliver a solid PC game. Efforts like Quantum Break underperformed on PC hardware and the early days of the Universal Windows Platform were riddled with missing features. However, today might mark the start of a new chapter as Gears of War 4 has arrived and it is excellent – from the graphics options right down to just how well it runs. 
Click images to enlarge.
Gears 4 has an options menu to end all options menus. As you can see in the six screenshots above, The Coalition has spared no expense when it comes to providing complete adjustability. Not only are all of the basics there but you get access to features like super sampling and even dynamic resolution, which will allow the game to adjust image quality on the fly to ensure frame rates remain steady even in the most demanding scenarios.
Texture quality adjustments are split up, so rather than having one texture option that affects the entire game, you can pick and choose to have higher textures on characters but lower resolution ones for the world itself or vice versa. Also if you are a stickler for anti-aliasing, you can adjust the sharpening level to make sure no jaggies are ever present.
All UWP games work with DirectX 12 so in the advanced settings, you will also find some specific features like Asynchronous Compute and Tiled Resources, which will help you balance your graphics card's workload for better performance. These options will only appear if you are running a capable card, so in our tests today it was present for the R9 290, R9 390x, R9 FuryX and GTX 1080 but not the GTX 970.
If all of that wasn't enough to impress you, then you can also find details on exactly what every option in the menu does and how much it will impact CPU, GPU or VRAM performance while hovering over each setting. The Coalition and Microsoft have paid a lot of attention to detail here.
Click images to enlarge. Click the thumbnail images for 1440p screenshots.

Gears 4 is set many years after the locust war. Civilisation is rebuilding and humans have banded together in individual settlements/villages with the government rationing out resources. This makes for some interesting scenery, with military controlled zones looking rather high-tech and secure, while the main protagonist's village is more basic with amateur buildings but much more grass and trees.
I have played through the first two acts of the game, so I have seen plenty of explosions, extreme weather effects and crumbling buildings. This game is based on Unreal Engine 4 which produces some fantastic visuals, with Gears of War 4 fitting in well with other high-end games on PC today.
For our performance tests today I will be running Gears of War 4 on the following system:
CPU: Intel Core i7 6700K with 4.2GHz boost clock.
Motherboard: Asus Maximus VIII Hero.
RAM: G.Skill 16GB 3200MHz DDR4.
Storage: 1TB Samsung 850 Evo SSD.
OS: Windows 10: Anniversary Update.
For graphics cards we will be running the following:
MSI GTX 1080 Gaming X.
MSI GTX 970 Gaming 4G.
AMD R9 Fury X.
XFX R9 390x Ghost Edition.
Sapphire R9 290 Vapor-X.
These are the current graphics cards I personally have on hand for these performance tests. Do keep in mind that I work away from our GPU review team, so while they have extra cards like the RX 480 and GTX 1060 for graphics card review comparisons, I do not have either of those cards at present. We will look into getting more graphics cards for these tests specifically in the future.
All of the graphics cards included in this test were run with the latest drivers installed. In Nvidia's case that would be Driver Version 373.06 and on the AMD side we are using Radeon Software 16.10.1. Both of these drivers were released with optimisations for Gears of War 4. Our results were obtained using the in-game benchmarking tool and verified through campaign play.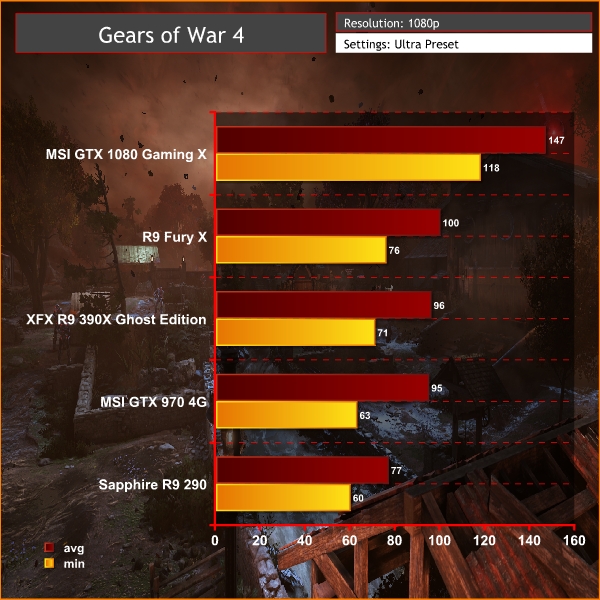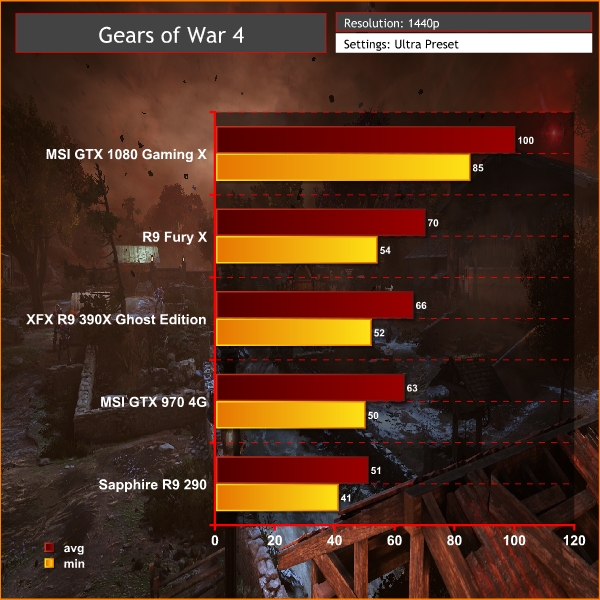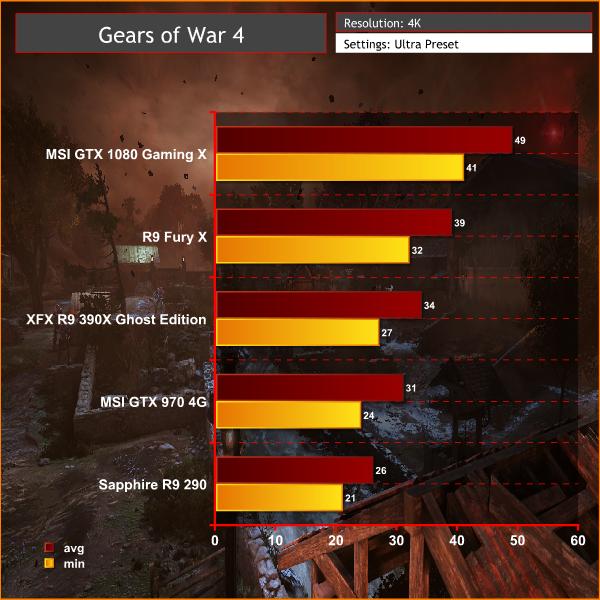 As you can see from our results, Gears of War 4 is a heavily optimised title, especially at 1080p and 1440p. Ultra HD resolutions are still a struggle but I was able to achieve a 64 frames per second average on the GTX 1080 by using high details instead of ultra. The other GPUs in our test today couldn't really come close to that without being dialled down to low settings and even then, only the Fury X managed to break the 60 barrier, while the GTX 970, R9 290 and R9 390x sat in the low 50's.
However, if you are looking to play at 1440p, the situation is much brighter. You can easily handle ultra settings on the R9 390x and GTX 970, with both achieving well over 60 frames per second on average. Unfortunately, the R9 290 did fall behind a bit, just managing to muster over 50 frames per second. If you are on an older GPU like the R9 290, simply moving down to the high preset should net you back some frames.
If you own a 1440p/144Hz monitor, then the GTX 1080 seems like an ideal pairing for this game, averaging a hair over 100 frames per second. Even Fury X owners will see some benefit on higher refresh rate monitors as our graph shows, though not quite to the same extent.
On the flip side, if you are a 1080p/144Hz gamer, then all of the cards in our test today are capable of smashing out high frame rates. The R9 290 was the lowest but even then, it held 77 frames per second on average. Meanwhile the R9 390x and GTX 970 are nearing the 100 frames per second mark, with the Fury X sitting dead on.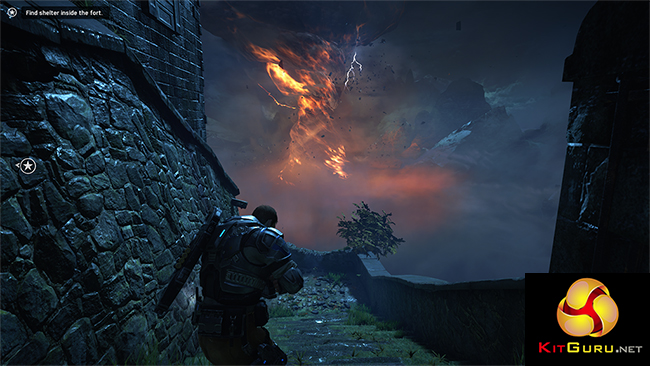 Honestly, I wasn't expecting a lot from Gears 4 on PC. However, The Coalition and Microsoft have really nailed it this time around. Not only does this game run like a dream across a range of graphics cards but it is clear that the Universal Windows Platform has finally been given the features it really needs. I for one am hoping that this can wipe the slate clean and be the start of a bright new chapter for UWP games.
The only complaint I do have is with the Windows Store. It's still not great and could do with a complete UI overhaul. Perhaps Microsoft should think about making a separate store entirely for its PC game releases. That said, you only have to visit the store once to buy the game and start the download, after that, Gears 4 will sit in your start menu. If we keep getting quality titles like this, then putting up with the dreaded Windows Store once in a while doesn't seem like such a bad trade-off.
Discuss on our Facebook page HERE.
KitGuru Says: Gears of War 4 is an example of PC gaming done right. The graphics are good and it runs like a dream. If you were ever a fan of the Gears series before it went Xbox-exclusive, I would highly recommend jumping back in for this one on PC. The campaign contains a prologue that gets you up to speed on how the locust war ended and sets up this new adventure nicely in a way that makes sense even if you didn't play the old 360 games.