The reviews are in and Pascal is officially here, making its début with the GTX 1080 which by all accounts, is an excellent graphics card. However, Nvidia has one other Pascal graphics card coming out fairly soon- the GTX 1070 and today, we got confirmation on some of its specifications and price so we have a better idea of what to expect from the cheaper Pascal offering.
The GTX 1070 uses the same GP104 chip as its bigger brother but it has been cut down in areas to hit a price point, while also lowering the overall TDP from 180W to 150W. One of the differentiating areas between the two cards is in the video memory, the GTX 1070 trades in the 8GB of GDDR5X found on the 1080 for a standard 8GB of GDDR5.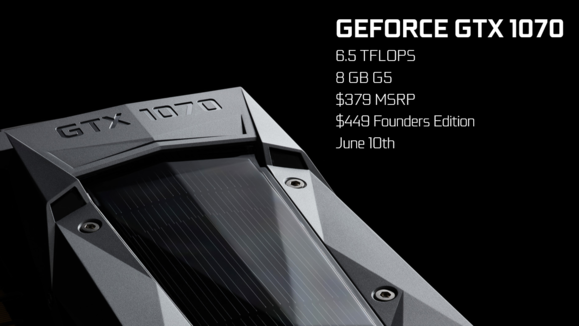 The GTX 1070 also uses a single 8-pin connector for its power needs but it saves on CUDA Cores, cutting down from 2560 on the GTX 1080 to 1920. The boost core clock for this GPU sits at 1.6GHz but if what we have seen so far is any indication, Pascal seems to play nicely with large overclocks, so we may see many buyers able to push this speed even further.
The GTX 1070 also comes equipped with 15 out of 20 Streaming Multiprocessors enabled on the GP104, 120 TMUs, 64 ROPs, 256-bit memory bus and 6.5 TFLOP/s of raw compute performance. The GTX 1070 is coming on the 10th of June, with a starting price of $379.99 or $449.99 for the Founders Edition.
KitGuru Says: The GTX 1080 is one hell of a card but it is still quite expensive so many will likely be looking forward to the GTX 1070, which from the sounds of it, will also pack quite a punch. Have any of you been catching up on all of the GTX 1080 reviews today? Do you think you will be making the jump to Pascal?