Intel has been quietly working away on its upcoming Xe graphics architecture for quite some time now. We've heard tidbits of information over time, including multi-GPU scaling support, ray-tracing capabilities and plans to bring Xe graphics to all major markets, from gaming to data centres. A new report this week has given us a bit more to talk about, with one upcoming Xe GPU apparently being codenamed 'Ponte Vecchio', based on the 7nm process. 
As reported by Videocardz, there is word going around that Intel has officially codenamed one of its upcoming Xe GPUs for the first time. The name 'Ponte Vecchio' comes from an old stone bridge in Italy. The name is supposed to reference the interconnection between GPUs, which Intel is currently calling Compute Express Link (CXL). This ties in to news from a few weeks ago, as multi-GPU scaling references on Xe GPUs were found in Linux driver code.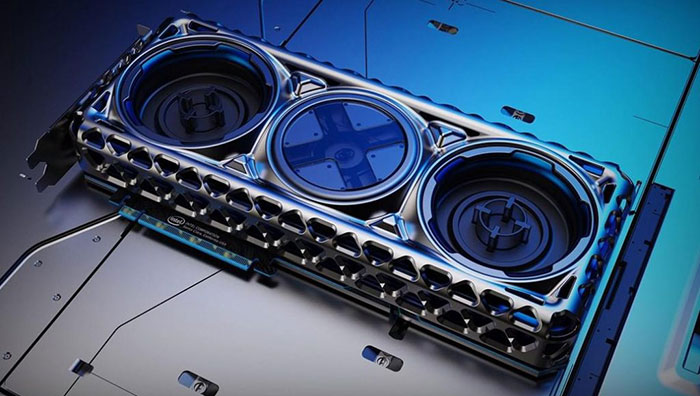 Image: Intel Xe GPU early render. Credit: Intel Corp. 
One important note about this particular graphics card is that it is not a consumer-oriented gaming product. The first Xe graphics cards will be for supercomputers with the goal of providing exascale computing performance. This GPU is supposedly part of 'Project Aurora', which will combine two 'Sapphire Rapids' Intel Xeon processors with Intel's 7nm Xe GPU with CXL interconnects for scaling across multiple cards, each with HBM memory and a sizeable cache. Intel's 'OneAPI' will play a big part in getting the most performance out of this supercomputer project, which is set to be available to enterprise customers in 2021.
According to the report, Intel will be announcing most of these details publicly on the 17th of November. We are also expecting more details on other Xe GPUs next year, targeting workstation, gaming and mobile markets.
KitGuru Says: Currently, everything appears to be on track for the first Intel Xe GPUs to launch in 2020. If there is a Project Aurora announcement coming next week, then Intel may briefly touch on its plans for GPUs outside the supercomputer realm, so we'll be keeping a close eye out for details.