With AMD entering the ray-tracing capable GPU market this month, there has been some confusion around what games will be supported and whether or not previous RTX-supported titles are using proprietary technology for ray-tracing. Fortunately, Nvidia has begun clearing the air. 
In a recent interview with AdoredTV, an AMD spokesperson said that it won't support "games making use of proprietary raytracing APIs and extensions". This caused a stir and some assumptions that RTX-supported titles are using a proprietary Nvidia API or extension. This is not the case though, as the vast majority of ray-tracing titles use Microsoft's DirectX Raytracing, itself an extension of DX12, which is open to all platforms.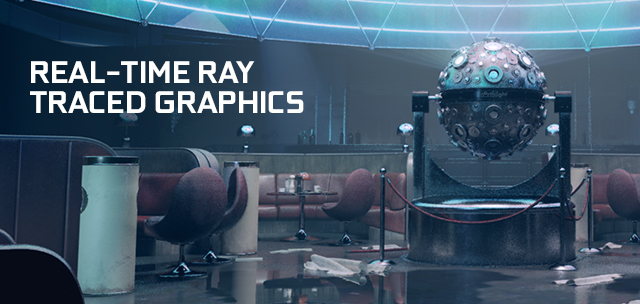 Speaking with wccftech, Nvidia's Brian Burke explained that there are just three games on the market that aren't using Microsoft's DXR technology – Quake II RTX, Wolfenstein: Youngblood and JX3. These three games use an Nvidia ray-tracing extension for the Vulkan API, simply as a workaround while the official Vulkan Ray Tracing extension is being worked on.
Both Nvidia and AMD GPUs with ray-tracing acceleration will be able to use the current industry standard, which is Microsoft's DXR. This clarifies previous confusion around Cyberpunk 2077, which was incorrectly claimed to only support ray tracing on Nvidia GPUs, but as it uses DXR, ray tracing will work on AMD's RX 6000 series cards. Nvidia also claims there is also nothing stopping AMD from creating its own RT-extension for Vulkan while the Khronos Group finalises its official extension for industry-wide use.
Lastly, AMD could also potentially use Nvidia's Vulkan ray-tracing extension as well. This is something that Intel has been considering itself for future Xe HPG GPUs, as pointed out by Tom's Hardware. Nvidia has spoken to us about this and made it clear that this extension is not 'proprietary' in the sense that it is open for other manufacturers to use. Nvidia is adamant AMD could implement support for its Vulkan extension should it wish to.
We reached out to AMD to get a statement on this and a spokesperson told us the following: "AMD will support all raytracing titles using industry-based standards, including the Microsoft DXR API and the upcoming Vulkan raytracing API. Games making of use of proprietary raytracing APIs and extensions will not be supported."
KitGuru Says: Hopefully this clears up any confusion. Rest assured, when RX 6000 series GPUs launch, they should be capable of ray-tracing in most games that include it.