In an effort to try and hurt Call of Duty sales this year, EA has gone ahead and released two massive multiplayer shooters within the space of one week – Battlefield 1 and Titanfall 2. In this performance analysis, we will be focussing on Titanfall 2, which is Respawn Entertainment's chance to reinvigorate the IP with new mechanics and a full campaign mode, after the original game underwhelmed and lost a good chunk of players fairly early on in its life cycle.
Click images to enlarge.
Titanfall 2 is still based on the Source Engine, albeit a highly modified version, so all of the graphical features you would expect from a decent PC game are present. You can adjust the field of view up to 90, which is the sweet spot in my opinion. The game also comes with support for 21:9 resolutions and high refresh rate monitors.
Anti-aliasing comes in two forms, MSAA and TSAA. Texture quality can be set up to 'Insane' while Shadows can be set to 'Very High', everything else caps out at a 'High' setting. There are some options missing, such as ambient occlusion and compared to Gears of War 4, the list actually seems pretty bare. However, given the engine Respawn has chosen to work with, this is a pretty decent turnout.
Click images to enlarge.
Titanfall 2 hasn't received much of a visual upgrade compared to the original 2014 title but it still holds its own. It might be based on the Source Engine but textures are all still great, gun models look excellent and the maps and game-world maintain a high level of graphical prowess.
For our performance tests today I will be running Titanfall 2 on the following system:
CPU: Intel Core i7 6700K with 4.2GHz boost clock.
Motherboard: Asus Maximus VIII Hero.
RAM: G.Skill 16GB 3200MHz DDR4.
Storage: 1TB Samsung 850 Evo SSD.
OS: Windows 10: Anniversary Update.
For graphics cards, I will be running the following:
MSI GTX 1080 Gaming X.
Asus GTX 1060 Strix.
MSI GTX 970 Gaming 4G.
AMD R9 Fury X.
XFX R9 390x Ghost Edition.
Sapphire R9 290 Vapor-X.
Sapphire RX 480 Nitro+.
All of the graphics cards included in this test were run with the latest drivers installed. In Nvidia's case that would be Driver Version 375.63 and on the AMD side, we are using Radeon Software 16.10.3. Both of these drivers were released with optimisations for Battlefield 1 and Titanfall 2. Our results were obtained using FRAPS to record average and minimum frame rates. We chose the first level of the campaign to benchmark.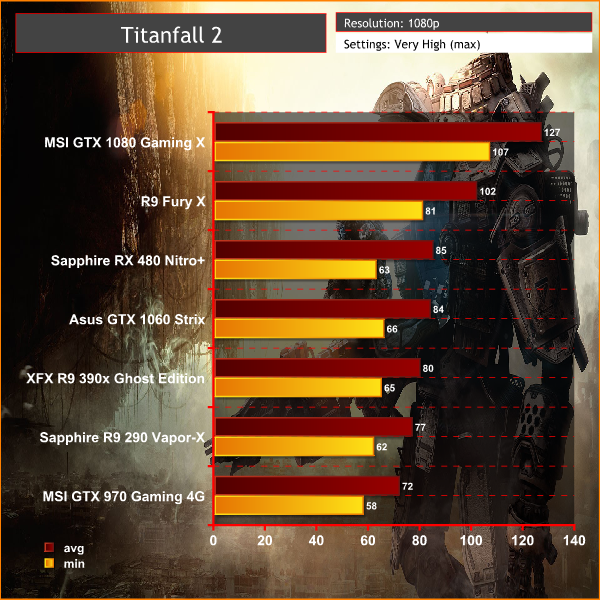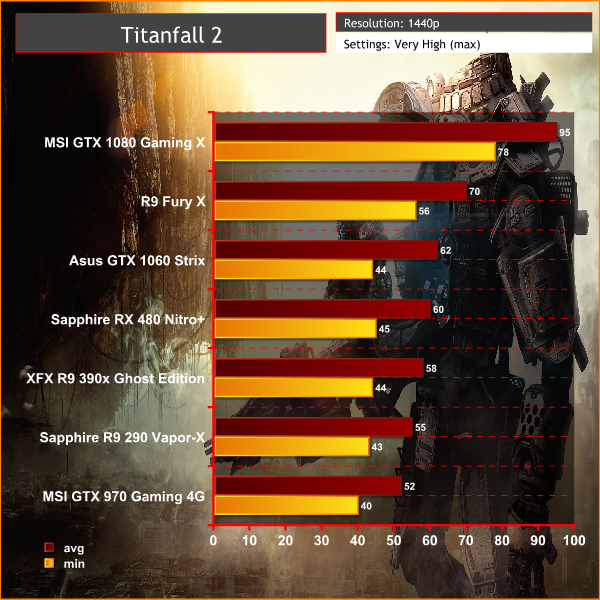 Respawn Entertainment decided to leave the PC out of its beta testing plans for Titanfall 2 earlier this year, instead choosing to focus on the Xbox One and PS4. This did lead to some concern over the quality of the PC version but it turns out that Respawn has actually done a solid job as far as optimisation goes.
Prior to release, Respawn put out a set of system requirements for varying resolutions, with each spec geared towards hitting 60 frames per second. As you can see from our graphs above, hitting that average frame rate is fairly easy across all of our GPUs – even at 1440p. Some of our older cards, like the R9 290 and GTX 970 do buckle a bit at 1440p but turning a few settings down should solve that fairly quickly. Trading in Insane textures for a more stable 60 frames per second seems like a fair and sensible trade-off.
Hitting the 60 frames per second sweet spot is naturally a lot more difficult at 4K. Respawn recommends that you have at least a GTX 1080 for Ultra-HD resolutions and it is easy to see why. In our tests, it was the only card capable of truly coming close to the target.
Titanfall 2 runs like a dream but what about gameplay? Well, Respawn has made a number of really interesting changes for this sequel while still trying to stay true to the core of the original game. While maps in Titanfall were often smaller and tailored more towards parkour, the sequel opens things up a bit.
There are less seamless paths for pilots to run across as new maps are slightly larger with wider, more open spaces at some points. This change has made Titan combat much more appealing, as simply getting around is less of a hassle.
Click images to enlarge.
However, to make up for the more open map layout, pilots now come equipped with a grappling hook, allowing them to swing from one place to the next if they can't quite reach on foot. As someone who loved the pilot movement in the original game, this change did worry me on paper. However, in practice, it is an awesome addition that allows levels to strike a much better balance for both Titans and Pilots.
Gunplay is excellent, with all weapons feeling incredibly accurate and easy to come to grips with – in some ways it almost reminds me of Counter-Strike Source thanks to the tight bullet spread and super accurate crosshairs.
I have had limited time with Titanfall 2 over the weekend, so I have only been able to scrape around four hours of game time, most of which was spent within multiplayer. However, from what I have played of the campaign, it is a welcome addition to the game. Titanfall 1 had so many interesting ideas in terms of lore but you never got to truly learn about any of it within the game itself. That is different this time around and honestly, the story is far more interesting than the last few Call of Duty and Battlefield campaigns.
Discuss on our Facebook page HERE.
KitGuru Says: I have really enjoyed my time with Titanfall 2 so far. It has fun mechanics, the gunplay feels accurate and fast-paced, even the campaign seems like a cut above the rest from what I have experienced so far. However, with the game releasing between Battlefield 1 and Call of Duty, it may have a rough time in terms of sales.