Our acoustic measurements are less precise on this mid-range test system, the noise floor of the totally quiet testing room is 34 dBA as measured with a Benetech GM1351 Digital Sound Level Meter.
We take our measurements with the decibel meter on the top and middle section of the case, overhanging the side panel (PSU side, not Motherboard tray side) by exactly 1 inch to avoid any airflow pressure coming from the exhausting H100i V2.
The underlying noise level of the system, emitted by all the non-GPU hardware combined, is 35 dBa thus anything above this level can be attributed to the graphics cards. The PSU is passive for the entire power output range we tested all graphics cards in and all CPU and System fans have a fixed fan speed completely isolating them from any changes in temperature across the system.
Noise levels were measured after 5 minutes of load under three scenario: Furmark, Unigine Heaven and desktop idle in sequential order with 2 minutes downtime in between each test.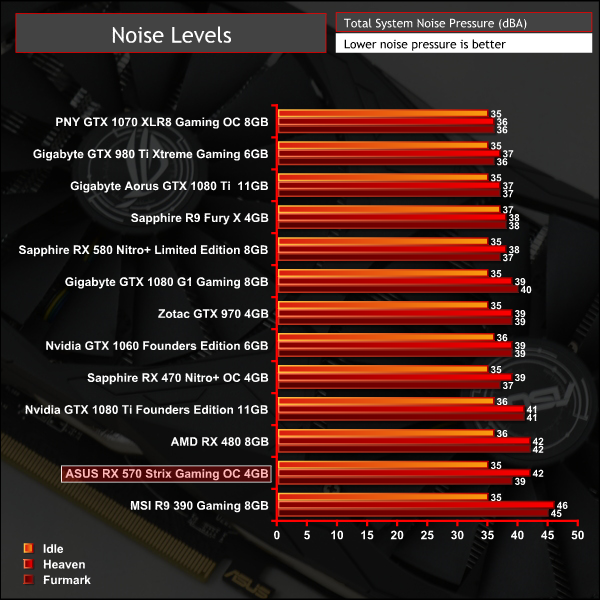 A crucial element of any well designed graphics card is figuring out the optimal trade-off between fan speed and GPU temperatures. The ASUS card has not achieved this balance well as it was the second noisiest graphics card on test reaching 68% fan duty after 10 minutes of 3D Loading (5 minutes of Furmark followed by 5 minutes of Unigine Heaven) for our noise tests.
Interestingly, during the rest of our benchmarking which takes around 4 hours (and doesn't form part of our noise test) the ASUS card reached as high as 84% fan duty which was too loud. ASUS has temperature headroom to spare since we did not observe a temperature any higher than 71 degrees Celsius throughout all our testing, it should increase the temperature target to reduce fan noise.
Be sure to check out our sponsors store EKWB here