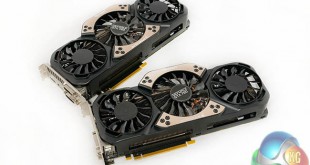 Nvidia have always said that the GTX Titan and GTX Titan Black graphics cards were never released to target the gaming audience, however that hasn't stopped demanding enthusiast gamers buying them by the bucket load. As the GTX780 Ti is 'only' equipped with 3GB of GDDR5 memory the move to 'Titan gaming' has been the only way for a wealthy Nvidia user to double the memory count. If you want to game at Ultra HD 4K resolution – or across multiple screens then the 6GB of GDDR5 makes sense. Nvidia knew there was a gap and have recently been working with their partners to double the memory count on the older non TI GTX780.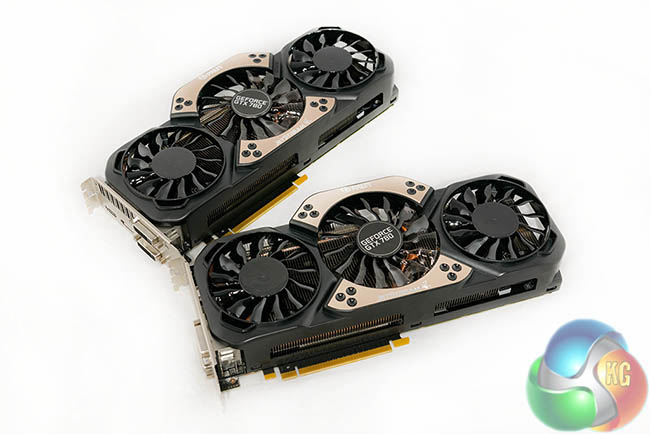 We received two of these samples direct from the oriental Palit headquarters. Both cards feature the triple fan Jetstream cooler and have an enhanced 8 Phase PWM. We look at the hardware in more detail on the next page.
Ref Nvidia GTX780Ti
Ref Nvidia GTX780
Palit GTX780 Jetstream 6GB

Ref Nvidia GTX Titan
GPU
GK110
GK110
GK110
Technology
28nm
28nm
28nm
Transistors
7.1Bn
7.1Bn
7.1Bn
ROP's
48
48
48
TMU's
240
192
224
CUDA Cores

2880
2304
2688
Pixel Filrate
42.0 GPixel/s
41.4 GPixel/s
43.3 GPixel/s
40.2 GPixel/s
Memory Size
3GB
3GB
6GB
6GB
Texture Filrate
210.2 GTexel/s
165.7 GTexel/s
173.2 GTexel/s
187.5 GTexel/s
Bus Width
384 bit
384 bit
384 bit
Bandwidth
336 GB/s
288.4 GB/s
288.4 GB/s
GPU clock speed
876mhz
863mhz
902mhz
837mhz
Boost clock speed
928mhz
902mhz
954mhz
876mhz
Memory clock speed
1,750mhz
1,502mhz
1,502mhz
The Palit GTX780 Jetstream 6GB is clocked at 902mhz, with a boost speed of 954mhz. Memory is held at 1,502mhz (6Gbps effective). The card has 48 ROPS, 192 texture units and 2304 CUDA cores. The 6GB of Hynix GDDR5 memory is connected via a 384 bit memory interface.