Apple's mobile devices feature very advanced application processors as well as operating system, but they still cannot run two apps on the same screen at once, something that greatly limits functionality of such devices. According to unofficial information, starting this Fall, when Apple releases its new iOS 8, the iPads will finally get support for split-screen multi-tasking.
Sources with knowledge of Apple iOS 8 development plans revealed to 9to5Mac that among the key advantages of the new operating system will be ability to run and interact with two applications at once on the same screen. This will be extremely useful for customers, who need to handle multiple tasks simultaneously, particularly users in the office or enterprise spaces. Moreover, this will allow iPad to finally become a proper replacement for a laptop.
Additionally, Apple wants to let applications to easily interact with each other while being launched in landscape split-screen mode. For instance, a user may be able to copy and paste content, such as text, video, or images, from one app to another. Apple is reportedly working on capabilities for developers to be able to design their apps to interact with each other.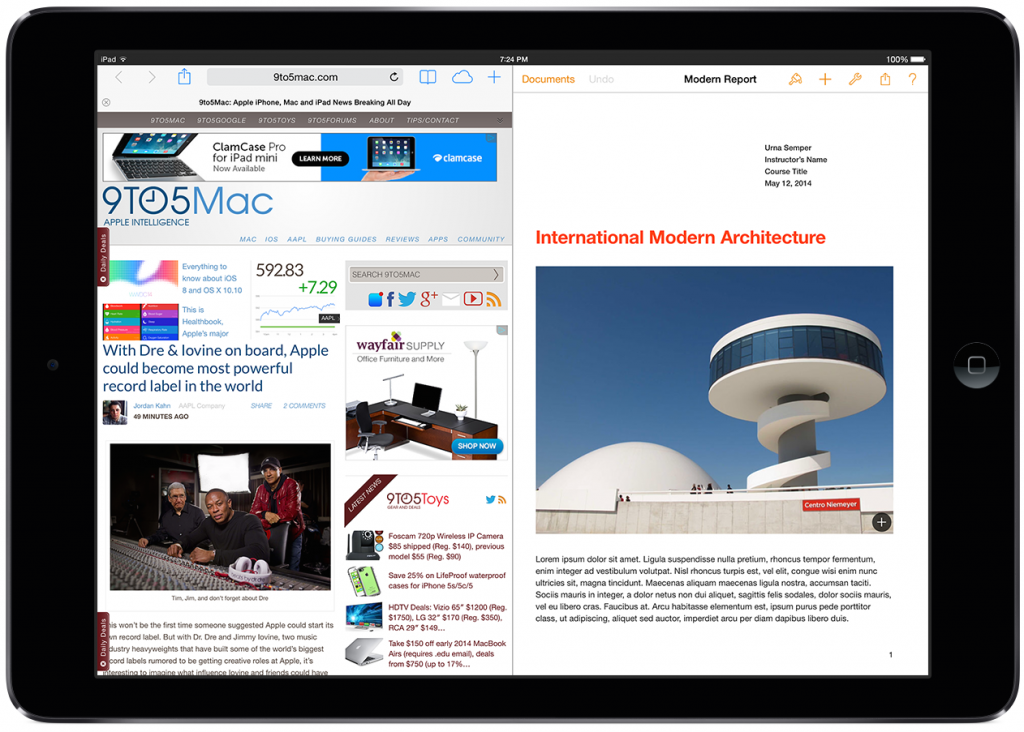 Since Apple iOS is based on the same NeXTSTEP core as the MacOS X, it can perform similar functions relatively easily and even run applications in windows. However, it has taken Apple over four years to implement rather basic split-screen multitasking, assuming that the information is correct.
At present Microsoft Corp.'s Surface RT tablet supports split-screen multitasking, which is one of its major advantages over the iPad.
Apple did not comment on the news-story.
Discuss on our Facebook page, HERE.
KitGuru Says: The split-screen multitasking capability will clearly be welcome by Apple iPad users and will strengthen its positions on the enterprise markets. But why did it take so long to enable such a simple feature?