Seagate Technology this week demonstrated a NAS packed with hard disk drives that use heat-assisted magnetic recording (HAMR) technology. While the company claims that the NAS worked flawlessly, Seagate again reconsidered the launch timeframe for its HAMR HDDs and delayed them to 2017 – 2018. Nonetheless, the company is already working on heated-dot magnetic recording (HDMR) tech, which will enable 100TB+ drives a decade from now.
Seagate shows off NAS with HAMR-based HDDs
At the IEEE International Magnetics Conference (InterMag), Seagate demonstrated its Business Storage 8-Bay Rackmount NAS that fits eight hot-swappable 3.5" drives with Serial ATA-6Gb/s interface and is powered by a dual-core Intel Atom processor for storage applications as well as Seagate NAS OS (which is a custom embedded Linux). The NAS was loaded with eight hard disk drives featuring HAMR platters, which worked in a RAID configuration. Seagate ran a mixture of videos, and also recorded a live camera stream.
"The system worked perfectly, it ran continuously for three days, and was another powerful milestone in our journey to ship HAMR drives to select customers by 2017, with full production in 2018," wrote Mark Re, chief technology officer at Seagate, in a blog post.

Seagate did not disclose any details about the HAMR-based hard drives. What we do know about them is that they use industry-standard Serial ATA-6Gb/s interface and can work with modern network area storage devices, which means that their power consumption and heat dissipation is comparable to those of today's HDDs. The company already has appropriate electronics (e.g., controller chips, firmware, etc.), motors, read/write heads and other hardware necessary to build HAMR-based drives. Moreover, the demonstration shows that Seagate's HAMR hard disks are already compatible with the company's software. Finally, the drives not only work, but can be actually used for demanding workloads.
HAMR: The enabler for 40TB – 50TB hard disk drives
Modern leading-edge hard disk drives can store up to 10TB of data on seven 1.43TB platters with ~0.95Tbpsi (Terra-bit per square inch) areal density. Many believe that 1Tbpsi is the limit for perpendicular magnetic recording and shingled magnetic recording technologies used today, but Seagate's recently introduced 4TB 2.5" hard drive actually features slightly higher areal density of around 1.056Tbpsi.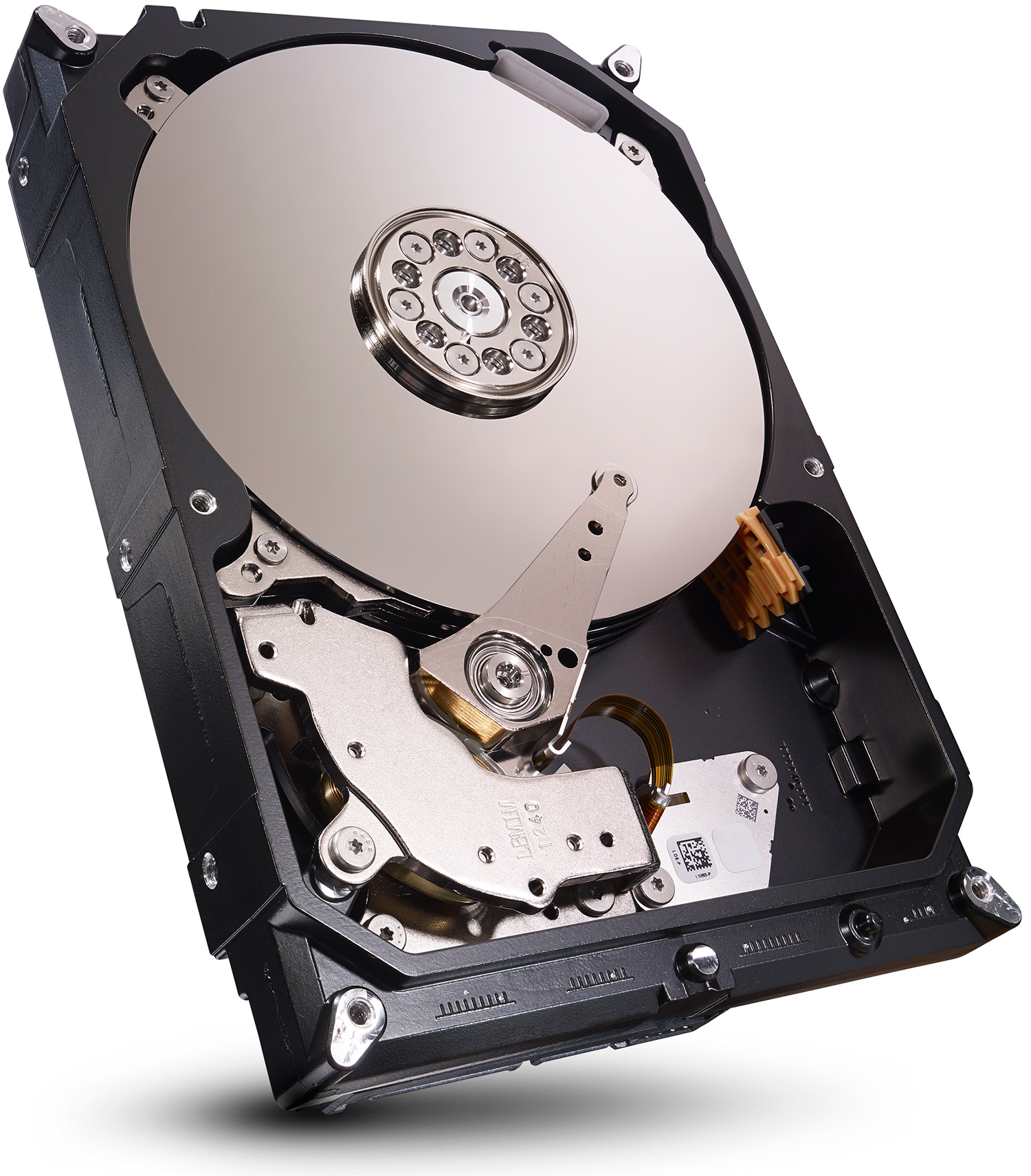 Capacities of contemporary hard disk drives are – among other things – constrained by the areal density. The latter is constrained by the physical size of "pitches" on hard disk drives media required to store a single bit of information. Nowadays the pitches are already very small and if they are made considerably smaller – to cram more pitches on a standard disk platter – it will be impossible to write data into them because it is not possible to produce a more powerful magnetic field in the smaller space using current technologies. Heat-assisted magnetic recording (HAMR) technology magnetically records data on high-stability media (such as iron platinum alloy) with laser thermal assistance to heat the material and reduce its coercivity for a short amount of time required to write one bit. HAMR allows to significantly reduce the size of "pitches" without negative effects on read-ability, write-ability and stability. Hard drives with HAMR technology will feature considerably higher bit densities and will therefore store more data than today's hard HDDs featuring perpendicular recording tech.
Industry experts believe that HAMR – or TAMR [thermally-assisted magnetic recording] – will help to increase areal density of magnetic platters to 2Tbpsi in the coming years and then to up to 4Tbpsi or even 5Tbpsi. Such areal densities will enable enterprise-class six-platter hard drives with capacities of 40TB or 50TB as well as 25TB – 32TB consumer-class HDDs.
Availability of HAMR
Seagate, Western Digital, Fujitsu as well as other makers of hard drives, HDD platters and HDD heads have demonstrated prototype drives with HAMR for a number of times in the recent years and revealed different timeframes of their commercial availability. For example, last year TDK predicted that HAMR drives would debut in 2015, whereas Seagate anticipated to start shipments of HAMR HDDs in 2016 – 2017.
As it appears, Seagate is now more conservative regarding volume shipments of drives with HAMR technology than it used to be. The company promises to ship HAMR drives to select customers in 2017 and enter full production in 2018. Typically, it means that Seagate plans to use HAMR for select enterprise-class models first and may not even sell such drives to all clients. Starting 2018, the company will begin to mass produce HAMR-based drives for certain mass market segments, but it remains to be seen when such HDDs reach mainstream price-points.
Beyond HAMR
HAMR is not the pinnacle of hard disk drive evolution. Advanced Storage Technology Consortium (ASTC), which unites numerous makers of hard disk drives as well as developers of storage solutions, last year demonstrated a roadmap describing the evolution of hard disk drives going forward. The roadmap covers multiple magnetic recording technologies and spans to 2025 and beyond.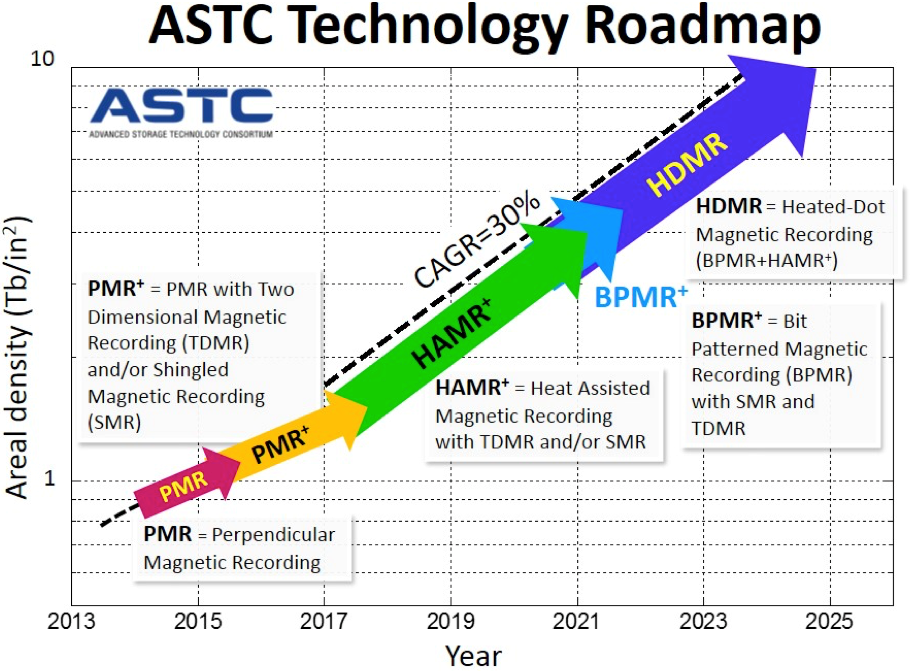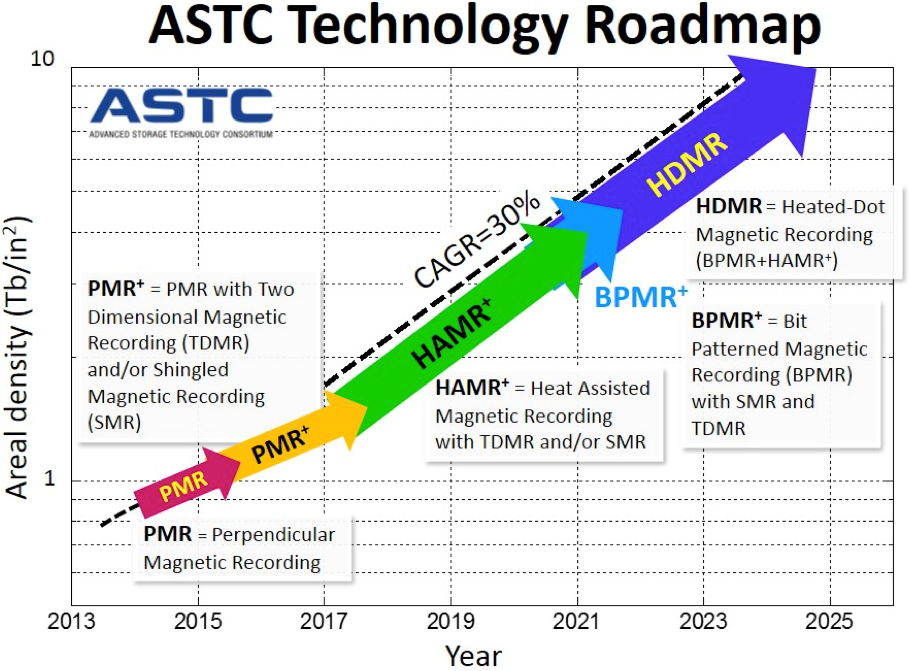 At InterMag Seagate also presented a new paper that discussed a new technology called "heated-dot magnetic recording," or HDMR, that should enable areal densities up to 10Tbpsi. HDMR combines the techniques used in HAMR with bit-patterned media and, possibly, two dimensional magnetic recording (TDMR).
Thanks to storage media with 10Tbpsi areal densities, it will be possible to build 100TB+ hard drives a little more than 10 years from now.
Discuss on our Facebook page, HERE.
KitGuru Says: It is obvious that hard disk drives featuring HAMR technology will be available later this decade. However, it is also clear that it is taking a longer time to transit to a new type of magnetic media than it used to before. Is it a local problem with thermally-assisted magnetic recording and the evolution of HDDs will continue at a rapid pace once all the challenges get resolved? Or the hard drive evolution is getting generally slower from now on because of slower migration to newer magnetic recording technologies? Only time will tell.