Toshiba Corp. has introduced the world's highest-capacity 2.5" hard disk drive. The offering can hold 3TB of data and sets up a record, however, the drive may not be suitable for mainstream laptops.
The Toshiba MQ03ABB300 hard disk drive with 3TB capacity is based on four perpendicular magnetic recording (PMR) 750GB platters. Since the hard drive employs so many platters, it is 15mm thick, which means that it will not fit into the vast majority of laptops. According to Toshiba, the hard drive is designed for "personal external storage and space-constrained needs".
The MQ03ABB300 hard disk drive features 5400rpm spindle speed, 16MB cache, Serial ATA-6Gb/s interface as well as 512e advanced formats. Toshiba declares 5.56ms average latency time. The drive typically consumes 1.7W and 0.7W in idle mode, which means that it is very power efficient for its capacity.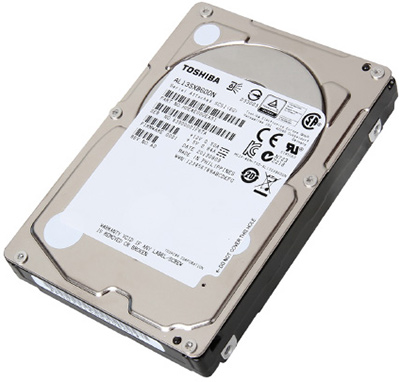 The new hard drive for Toshiba is suitable for single and multi-drive HDD home and SMB storage enclosures by providing ample space for data storage. The power efficient design also makes it a suitable solution for USB connected external personal storage applications.
Sample shipments of the Toshiba MQ03ABB300 will begin in May. Pricing is unknown.
Discuss on our Facebook page, HERE.
KitGuru Says: Western Digital also has technology to integrate four platters into a 2.5" hard drive. Therefore, expect WD to introduce a similar 3TB 2.5" HDD in the foreseeable future.