Western Digital on Tuesday demonstrated the industry's first solid-state hybrid drives (SSHDs) with the SATA Express interface (SATAe) at the Computex trade-show in Taipei, Taiwan. The new drives are not going to show up on the market for some time, but it looks like WD is ready to adopt the new interconnection technology.
At the Computex WD demonstrated prototypes of its hybrid drive that combine a 4TB hard disk drive along with a 128GB solid-state drive in one 3.5" package. The devices use the Serial ATA Express interface, but Western Digital remains tight-lipped about other specifications of the WD Black prototypes and its SATAe-related commercial plans.
The SATA Express is the next-generation interface for storage devices that is based on the PCI Express 2.0 (5GT/s) or the PCI Express 3.0 (8GT/s) protocols and which can increase maximum bandwidth to 1GB/s (PCIe 2.0) or 2GB/s (in case of the PCIe 3.0). The SATA Express is compatible both with the current-generation Serial ATA devices as well as the next-generation storage products with the SATAe interface.
"WD has been at the forefront of SATA technology, and we see a vibrant growth path for adoption of the future SATA Express Roadmap," said Matt Rutledge, senior vice president of storage technology at WD. "SATA will remain a standard for many years in many applications, and for customers who want to discuss a future beyond vanilla SATA, WD is ready to plan the future with them.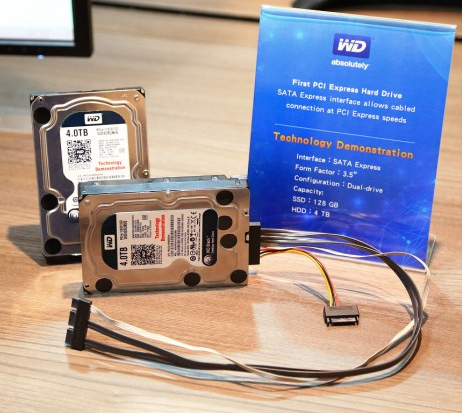 WD Black SSHD with SATA Express interface. Image by LegitReviews
While modern hard disk drives are considerably faster compared to HDDs a decade ago, they, unlike solid-state drives, greatly underutilize modern storage interfaces, such as the Serial ATA-6Gb/s. The majority of consumer hard drives cannot read or write data at rates faster than 200MB/s, hence, they do not even need the current-gen interface. In fact, it is highly likely that the SSHD that was on the display at Computex 2014 also does not fully take advantage of the SATAe's 1GB/s maximum bandwidth.
WD used SATA Express-equipped mainboards from Asustek Computer and Gigabyte Technology to demo the SATAe-based drives.
Discuss on our Facebook page, HERE.
KitGuru Says: It will be interesting to see how long it will take the SATA Express to leave behind traditional SATA in terms of market share. Hard disk drives will not benefit from the SATAe's bandwidth anytime soon, but solid-state drives could take advantage of the technology even now. Since HDDs are not going anywhere, it looks like SATA is going to stay on the market for many years to come.