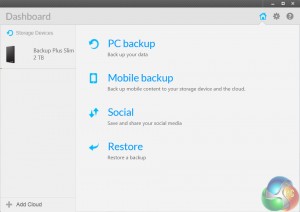 The Backup Plus Slim comes with backup software on the drive already, so you can just run the setup application to install Seagate Dashboard on your computer.
It is a simple yet useful piece of kit which allows for a few different ways to back up your data. Of course, you can ignore all of it and manually copy over your desired folders and files, but that may not be for everybody so I shall detail some different ways of using Seagate Dashboard.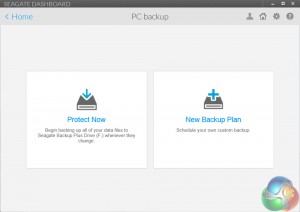 Upon opening the Dashboard, users are greeted with 4 main options to choose from, as you can see at the top of this page. For those just interested in making a backup of all their data and files, the quickest and simplest way of doing things is to use the 'Protect Now' mode (once you have selected PC Backup, of course.) This simply copies over all your files and folders to the Backup Plus, and just requires a simple click to confirm.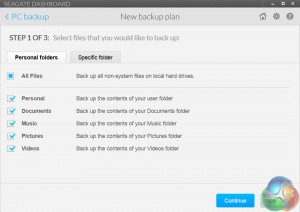 Other users may wish to specify which folders and file types they want to be copied over. In this case, there is the option of creating a new backup plan. Here, users can choose to copy over all or some of their photos, music files, videos and documents. You can even manually select specific folders for extra precision.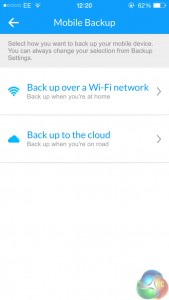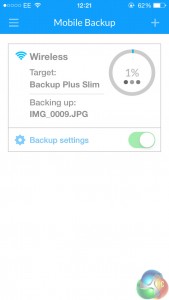 Another nifty feature of Seagate Dashboard is its ability to backup the contents of your mobile device. Using either an iOS or Android smartphone, users can download the 'Seagate Backup' app and, provided both the smartphone and computer where the Backup Plus is attached are connected to the same WiFi network, you can then begin to backup photos, videos and mobile contacts. This does require creating a Seagate account, but it is a painless affair and provides quite a useful function.
On the whole, Seagate Dashboard is very useful. It provides a clean and simple, yet efficient way of choosing what data you want to backup, while also allowing you to save the contents of your smartphone.