Psst Mister, fancy buying a 5TB or 6TB hard drive? Going cheap? Well, cheapish anyway. In a perfect world it would be simple to sort out storage for your new PC or laptop by installing a 4TB Samsung 890 SSD at a cost of £99, and once they develop such a drive I shall be sure to buy one myself.
Right now any self-respecting tech enthusiast is booting off a relatively expensive SSD with a hefty hard drive for their movies and other files. Hard drives may sound like yesterday's technology but you can buy a colossal amount of storage for very little money. For example a 3TB Seagate Barracuda 7,200rpm desktop drive currently costs £75 inc VAT which is cheap enough to make a MacBook Air owner spit tacks.
There are times it seems the industry has rationed storage just to make our lives difficult and expensive. Laptop users are usually limited to a single drive bay while thin and light laptop owners are hampered by fixed flash storage.
These days we all own a smartphone and also wish we had an SD card slot but are instead limited to 16GB or 32GB of flash memory. Did you know you can buy a 64GB Class 10 SanDisk MicroSD card for £30?
The IT industry – that's Amazon, Apple, Dropbox, Google, HP, Microsoft, Mozy and a thousand other companies – are keen to charge you for cloud storage. There's no denying the Cloud is convenient, provided you have superb Wi-Fi or a brilliant mobile data tariff, but it is expensive. For example Dropbox will charge you £399 a year for 500GB of storage.
That's a lot of money to store a few Blu-ray rips. In fact it makes better sense to store your files on your own NAS where they are safe from the prying eyes of Amazon, Google and the NSA, which means you're going to need a hefty hard drive or two. Or three or four.
Up to the end of 2013 the largest drive you could economically buy was 4TB in size and 3TB rapidly established itself as the best value and most popular capacity.
We know that 8TB development drives are in circulation but right now the largest drives on the market are 5TB and 6TB in capacity.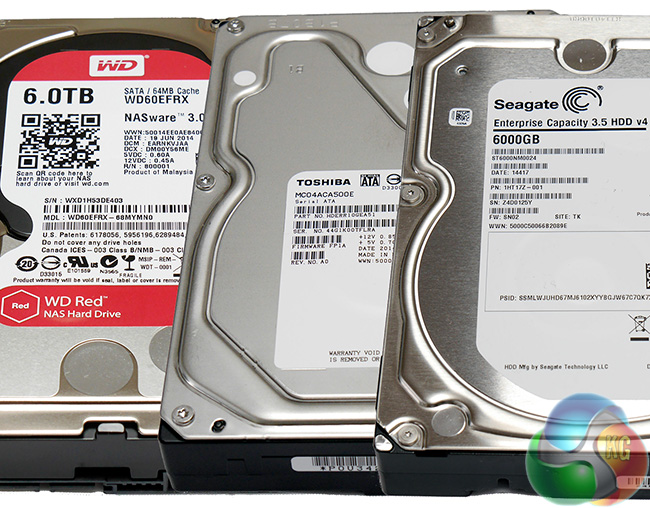 We have three drives lined up here; the 6TB Seagate Enterprise v4 costs £430, the 5TB Toshiba Nearline Enterprise costs £270 and the 6TB Western Digital Red £210 – so that is a total of 17TB of storage for £900.
System
Seagate Enterprise v4 6TB
Toshiba Nearline Enterprise 5TB

Western Digital Red 6TB
Model Code
ST6000NM0024
MC04ACA500E
WD60EFRX
Capacity
6TB
5TB
6TB
Firmware
SN02
FP1A
NASware 3.0
Price
£420
£270
£210
Type Of Drive
3.5 inch SATA
3.5 inch SATA
3.5 inch SATA
Formatting
512E
512E
512E
Sustained data transfer speed
216MB/sec
205MB/sec
175MB/sec
Formatted Capacity
5.59TB
4.66TB
5.59TB
Cost Per GB
7.5p
5.8p
3.8p
Rotational speed
7,200 rpm
7,200 rpm
Intellipower – 5,700 rpm
Drive configuration
six platters/twelve heads
Five platters/ten heads
Five platters/ten heads
Platter density
1TB
1TB
1.2TB
Cache
128MB
128MB
64MB
Interface
Sata 6Gbps
Sata 6Gbps
Sata 6Gbps
Other capacities
2TB, 4TB, 5TB
2TB, 3TB, 4TB
1TB, 2TB, 3TB, 4TB, 5TB
Utilities
Seatools 1.2
Instant Secure Erase
Warranty
Five Years
Five Years
Three Years