The box the Rugged comes in has a good clear image of the drive showing both the Thunderbolt and USB-C connections and a label displaying the drive's capacity. The rear of the box has another view of the drive pointing out its features and an image of the other connection cables provided. There's also a speed comparison chart showing the differences between USB 3.0, 3.1 and Thunderbolt.

Finally, there are multilingual descriptions of connections and the protection offered by the drive.

One side of the box has a list of the drives specifications, its protection features, system requirements and finally whats included in the box. The other side of the box has a full-size side profile of the drive on it.
The drive is protected by a clear plastic shell which sits on top of a cardboard inner tray that not only holds the two USB cables; USB-C and USB-C to A, but also has useful diagrams on the outside to show how to hook the drive up,
The integrated Thunderbolt cable neatly wraps around the drive in a channel in the rubber outer case when not in use and the connection end clips onto the removable port cover so the whole cable tucks out of sight. The single USB-C port is also to be found under this cover. Should this cover go missing then a spare is provided with the drive.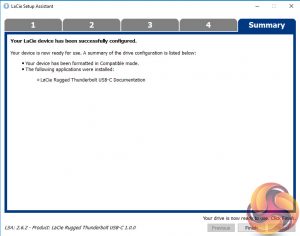 Preinstalled on the drive is LaCie's Setup Assistant which aids in formatting the drive (it supports NTFS, HFS+, exFAT and FAT32) as well as the option to load Adobe Reader and Genie Timeline, LaCie's backup software.